Baylor Bears
Matt Rhule Would be Interested in Michigan Job if Jim Harbaugh Leaves: Report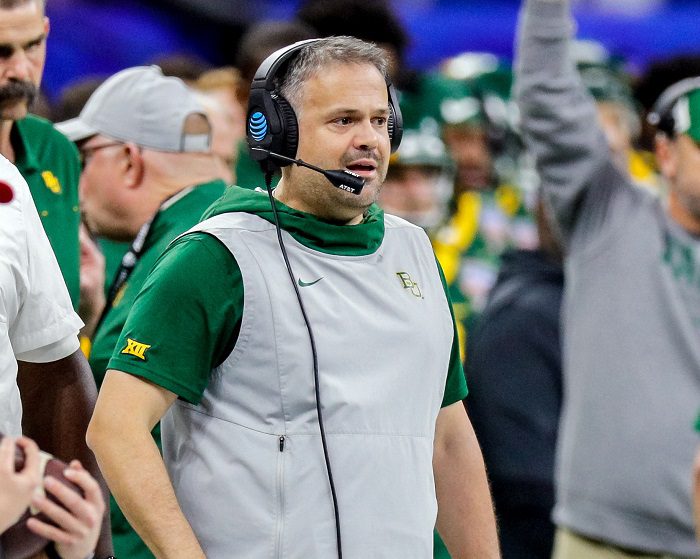 There continue to be reports swirling around whether or not Michigan head coach Jim Harbaugh could be heading back to the NFL. Of course, Harbaugh took the San Francisco 49ers to the Super Bowl before eventually taking the job at his alma mater.
And while there's still a lot left to be determined, one name to keep an eye on if the Michigan job does open up: Former Baylor head coach and current Panthers coach Matt Rhule.
This according to a report from CBS Sports' Jason La Canfora.
According to the report, Michigan is trying to re-work Harbaugh's contract, but the NFL opening that could lure him away from the Wolverines is the Las Vegas Raiders. And if he goes, Rhule would work to put his name near the top of the list.
Since leaving Baylor, Rhule has had a mediocre two seasons in Carolina, and it's well noted he is on the hot seat entering the 2022 season. La Canfora adds that Rhule was very interested in the possibility of the Penn State job opening up, but ultimately James Franklin signed a big extension to stay in Happy Valley.
Rhule also apparently may have pursued LSU, if there was more interest in him. The Tigers ultimately landed Brian Kelly from Notre Dame.
Rhule spent just three seasons with the Baylor Bears and took them from one win in 2017 to 11 wins in 2019, including a trip to the Big 12 Championship Game and then a New Year's Six game. He left Baylor for the Carolina job after that season, and the Bears hired LSU defensive coordinator Dave Aranda, who did one better than Rhule by winning the 2021 Big 12 Championship.