Baylor Bears
Three Thoughts on Baylor's 65-51 win over Oklahoma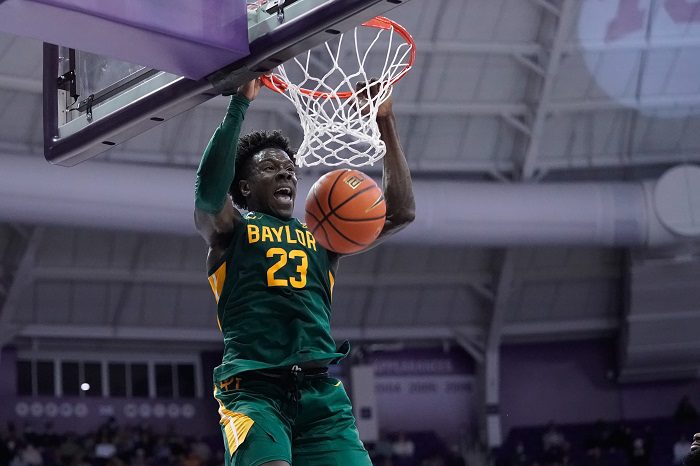 The Baylor Bears defeated the Oklahoma Sooners, 65-51, in a Big 12 men's basketball contest at the Lloyd Noble Center in Waco, Texas, on Saturday.
It was a game of streaks. It was a game with some controversy. And it was a game where Baylor (17-2, 5-2 in Big 12) ultimately won its eighth straight game over Oklahoma (12-7, 2-5).
The Bears were led by Adam Flagler, who scored 16 points. LJ Cryer added 14 points, Matthew Mayer scored 12 points and Kendall Brown added 10 points. Flo Thamba had 10 rebounds to go along with seven points.
The Sooners were paced by Umoja Gibson, who had 13 points. Elijah Harkless had 12 points and Tanner Groves added 11 points. The Sooners were stymied by 25 turnovers, even though they forced 17 turnovers out of the Bears. But Baylor turned those turnovers into 35 points.
Here are three thoughts from the game.
The Bizzarro Runs
So, Baylor started the game on a 10-0 run. You know, Baylor is pretty good on offense, so that's not surprising. What was stunning early was how Oklahoma didn't possess the ball well at all. The Sooners turned the ball over on eight of their first 10 possessions. Awful, even when you know Baylor will turn up the heat on defense.
So, how did Oklahoma respond? By scoring 21 of the game's next 28 points. The Sooners' 21-7 run from there gave the Sooners a 21-17 lead with 4:33 left in the first half. Sounds like the Sooners had something on the Bears at that point, right?
Well, the game pivoted again. The Bears then got back to scoring on offense with a 16-0 run that started late in the first half and carried over into the second half. The Bears had a 33-21 lead just two minutes into the second half.
That's all? Of course not, this is the Big 12. The Sooners put together another run, a 12-1 run, that cut Baylor's lead to 45-42 with 7:14 left in the game.
And Then … Chaos
So, Baylor cooled off that 12-1 Sooners run with a James Akinjo layup, which unfortunately led to Akinjo injuring himself and leaving the game. It appeared that he re-injured the tailbone that kept him out of the West Virginia game.
So, at that point the Bears were up by five points. If you watched the game, you know what happened next.
Oklahoma's Tanner Groves was trying to gather a loose ball in the paint when Baylor's Matthew Mayer came over the top of him to try to get the ball. I don't write about officiating much, but in my mind Mayer should have been called for an over the back foul, but he wasn't. In fact, as we learned through replay, Mayer accidentally hit Groves in the head with his knee. Groves, as one might expect, was unhappy and told the official. And it earned him a technical foul.
While that was happening, there was a foul called on OU's Elijah Harkless on Baylor's end of the floor. So, now, the Bears had four free throws. Baylor made all of them, all being shot by LJ Cryer, and the Bears had a 51-42 lead and the game was never the same after that.
OU head coach Porter Moser asked for a review of the play to see if the Mayer should have been called for a flagrant foul. After the review, it was considered a common foul. I'll note that the play-by-play shows that Mayer wasn't charged with a foul of any kind.
So, the definition of a flagrant foul is "excessive or severe contact during a live ball, including especially when a player 'swings an elbow and makes illegal, non-excessive contact with an opponent above the shoulders.'" Flagrant one fouls are typically reserved for those instances that have excessive contact but aren't intentional.
I don't believe Mayer's foul was intentional. But I do believe it was excessive and warranted a flagrant one.
ESPN's announcers noted that the game official who made the call told them that he believed Mayer was looking for a place to land when he went up and that they didn't see excessive contact on the video.
Never mind that Mayer was obviously out of control and that his knee was going up when it hit Groves in the face and not down. And never mind the immediate swelling on Groves' right eye.
It ended up being an unfortunate final turning point to the game.
A Team Going Back Up and a Team Going … Down?
Baylor has now reassured the basketball world that the sky isn't falling after two straight losses to Texas Tech and Oklahoma State last week. After beating West Virginia and Oklahoma, both of which came on the road, the Bears have stabilized themselves heading into next week. But Akinjo's condition bears monitoring, because he's really the Bears' only true point guard.
As for Oklahoma, a couple of weeks ago I was criticizing AP poll voters for not having the Sooners in the Top 25. Now, the Sooners have lost four straight games and are headed to West Virginia for a game on Wednesday that will pit two teams in dire need of a win. The Sooners may need it more than WVU, because OU will catch Auburn in the Big 12-SEC Challenge next Saturday.
You can find Matthew Postins on Twitter @PostinsPostcard.