Kansas Jayhawks
Watch: Bill Self Chokes Up in Post-Game Referencing His Father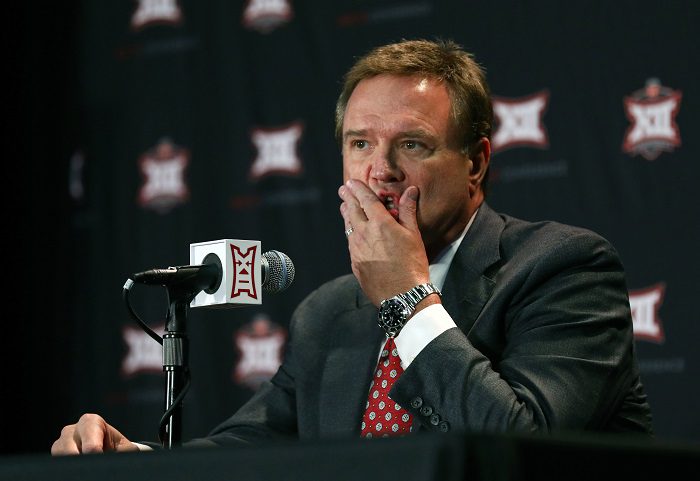 Bill Self lost his father this week at the age of 82. But of course, there was a game to coach on Saturday in the Sunflower Showdown against K-State, which the Jayhawks had to come back in the second half to win 78-75 in Manhattan.
And after the game, Kansas head coach Bill Self addressed his team in the locker room, and got choked up when he referenced his father by saying, "You guys know this. This one meant something to me."
Check out the video.
The Jayhawks had to rally from 16 points down at halftime. And it all led to one wild finish in the place they call the 'Octagon of Doom', with of course, Big 12 officials playing into the equation as well.
For Kansas, Ochai Agbaji finished with 29 points, while Jalen Wilson scored 16 points and added 10 rebounds, while Christian Braun scored 11 points. David McCormack finished with 11 points and 15 rebounds.
Self Sr. was a former Oklahoma Secondary School Activities Association executive director. He was also a state champion basketball coach, coaching Morris High School to a Class B girls state championship at State Fair Arena in 1966.
Bill Self Sr. was known as a coach and educator who prioritized toughness and hard work. One of his best-known sayings was, "Don't worry about the mules, just load the wagon."
With the win, the Jayhawks improved to 16-2 on the season and are in first place in the Big 12 Conference with a 5-1 record.