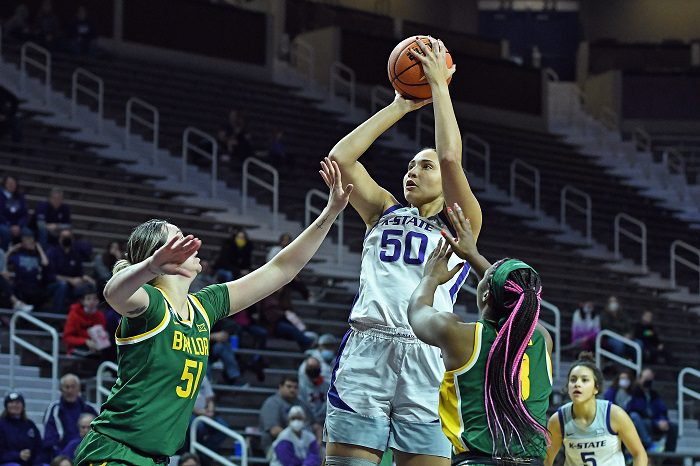 Ayoka Lee set a new NCAA record with 61 points as the Wildcats defeated the No. 14 Oklahoma Sooners, 94-65, in Big 12 women's basketball action on Sunday.
Lee previously set her career best and school record of 43 points in the season opener. Lee passed both of those marks with a layup with 1:50 left in the third quarter.
By the end of the third quarter, Lee had 49 points and was one point shy of Brittany Griner's Big 12 record of 50 points. Griner set that record while playing for Baylor and did it against Kansas State.
Lee then broke Griner's record with a turnaround layup with 9:01 left in the fourth quarter.
She finished with 61 points on a layup with 2:53 left before head coach Jeff Mittie took her out of the game to a long round of applause from the Kansas State fans in attendance at Bramlage Coliseum.
Lee's incredible afternoon led the Wildcats (15-4, 5-2 in Big 12) past the Sooners (16-3, 5-2), the second-highest scoring team in the country that had won its past four games. By halftime, Lee had outscored the Sooners 32-27. With 7:19 left in the game, Lee had 51 points and the Sooners had 51 points.
Kansas State won its second straight game after falling in two straight games the previous weeks, after the Wildcats reached the AP Top 25 for the first time this season.
Lee's final stats included a 23-for-30 clip from the floor, 15-for-17 from the free throw line, 12 rebounds and three blocked shots.
Lee also became the seventh Division I player in the last 20 seasons to have at least 50 points and at least 10 rebounds in a single game.
Entering the game, Lee was tied with Navy's Jennifer Coleman as the nation's third-leading scorer.
The Sooners were unable to slow Lee or the Wildcats down, as Kansas State started the game on a 15-0 run, with Lee scoring 10 of those points. From there, Kansas State kept up its defensive pressure on the Sooners and their leading scorer, guard Taylor Robertson. She finished with 19 points, but the Wildcat defense make her work for everything she got.
Madi Williams added 11 points. Kansas State held the Sooners to 37.7 percent shooting and forced 17 Sooner turnovers.
For Kansas State, guard Serena Sundell scored 11 points and dished out eight assists. Jaelyn Glenn had eight points, 11 rebounds and seven assists, while Emilee Ebert scored two points, but had six assists, four rebounds and two steals. Kansas State shot 50.8 percent from the floor.
By halftime, Kansas State was up 51-27. The closest the Sooners got was late in the third quarter when they were able to cut the lead to 15 points.
You can find Matthew Postins on Twitter @PostinsPostcard.
**Want to win a $20 gift card? Go sign up here and join our conversation! The best poster each week wins a gift card to your favorite establishment!**