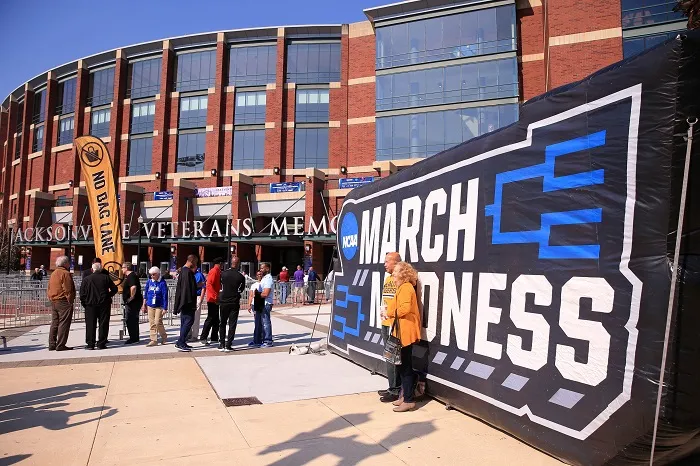 It's less than two months until March, when underdogs prove their worth and powerhouse programs face daunting expectations.
March Madness is just around the corner, and college basketball fans are rejoicing. With most of its teams already at double-digit wins this season, the Big 12 could make a splash come tournament time.
League followers are in for an entertaining NCAA Tournament, but it could be even crazier. Here is how March Madness 2022 can be even more exciting for Big 12 fans:
Fans' picks win cash
Perhaps the only thing that can make college basketball better is the chance to earn some money off it.
With both retail and mobile sports betting active in Iowa, Illinois and Michigan, it's not hard for Big 12 fans to place a bet on their preferred teams. Plus, online sports betting will soon be active in Ohio, so residents there can take advantage of sportsbooks like DraftKings Ohio to get even more action.
It's always fun to fill out brackets, but for those wanting to put their money where their mouth is, sports betting is the perfect opportunity.
Baylor stays hot
The Baylor Bears have been one of the top teams in college basketball this season, and if they stay hot throughout March, Big 12 fans are in for a treat.
The No. 1 ranked team in the country, Baylor was 15-0 before losing to No. 19 Texas Tech, 65-62, on Jan. 11. Though it's rare for teams to make it through the regular season undefeated, it was still a shock to see the cruising Bears fall.
Despite the disappointing loss, Baylor still looks like a national title contender. It's led by senior guard James Akinjo, who averages around 15 points per game and can drain long-distance shots.
If they can string together wins in the NCAA Tournament, the Bears could become the latest Big 12 team to win it all. History is on Baylor's side, as past seasons prove the last team to have an unbeaten record usually does well in March, according to CBS Sports' Matt Norlander.
Texas Tech keeps pulling upsets
Their upset of Baylor stole national headlines, and if the Texas Tech Red Raiders can keep downing highly ranked teams, Big 12 fans are in for a crazy March.
Though Texas Tech was already ranked No. 19 when it upset Baylor, the Bears were unbeaten and the top team in college basketball. Senior guard Adonis Arms tallied 14 points and forwards Kevin Obanor and Bryson Williams both scored 13 to lead the Red Raiders' upset effort.
If the Red Raiders weren't on the national radar before, they certainly are now. Their ideal next step is to keep winning and prove themselves as a true contender.
Major upsets make March Madness the best time of the year for college hoops fans, and Texas Tech has already shown it's capable of pulling them off.
Iowa State wins away from home
Iowa State has had a slow start to conference play, but it's no doubt the team plays amazingly in its own gym.
The Cyclones have already won double digit games at home this season, so visiting teams should quiver in fear when they enter Hilton Coliseum.
The problem for Iowa State, though, is that it won't always play in friendly confines. The Cyclones need to learn to win on the road to have a chance come March, as the NCAA Tournament, should they qualify, won't just take them to other gyms; they could be making long trips across the country to unfamiliar venues.
If it can learn to win on the road like it does at home, Iowa State will be a team to watch for Big 12 fans when March Madness kicks off.
Kansas State quickly improves
While Baylor and Texas Tech are the Big 12's darlings, Kansas State is its bottom dweller.
The Wildcats dropped games to Oklahoma, Texas, West Virginia and TCU to start conference play, and they've also dealt with COVID issues, specifically to coach Bruce Weber. They need fast improvement to keep this season from ending as a disappointment.
That's a tough task with games against Baylor and Kansas looming, but crazier things have happened, especially in college basketball.
If Kansas State can improve and win key games down the stretch, it would not only shake up the Big 12 standings, but also make the conference's March Madness outlook that much more interesting.
The Wildcats have a long way to go in making the NCAA Tournament, but if they do through quick improvement, it would certainly make this a much more exciting March for Big 12 fans.