Baylor Bears
2022 Big 12 Football: Way-Too-Early Contenders and Pretenders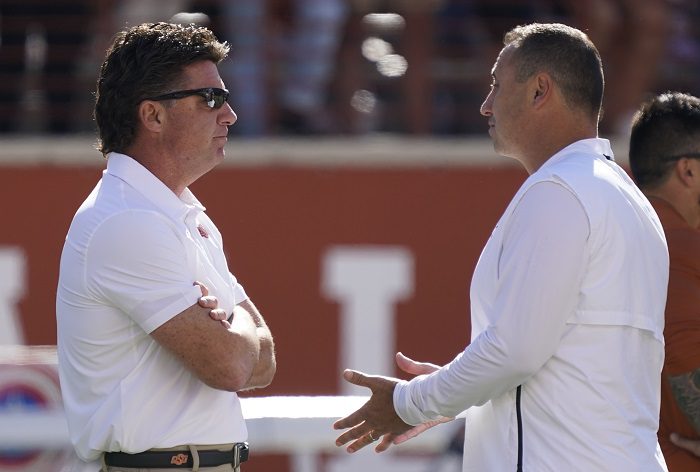 After the ride the Big 12 conference had before, during, and after the 2021 season, the league's composite picture has changed dramatically compared to where we were one year ago. Never has there been less certainty.
POTENTIAL CONTENDERS
For the purposes of this article, I'm defining "contender" as any team that has knowable attributes that could lead to it seriously contending for a spot in the Big 12 Championship game.
Baylor has to be considered the favorite to win the league again in 2022. The Dave Aranda era in Waco is now in full swing, and the team returns enough on both sides of the ball to get back the title game. However, while Baylor is clearly the favorite, the picture gets pretty murky afterward.
Oklahoma State loses some important pieces from last season but returns enough to also be considered a contender. Plus, head coach Mike Gundy appears to be hitting his stride once again. The primary questions for the Cowboys are who will tote the rock and how will the defense look?
Kansas State returns a lot of production on both sides of the ball from a team that won eight games last season, and the Cats have made some nice additions through the transfer portal to reload what they're losing. With Collin Klein now calling the plays on offense, the Cats look like a potential contender in 2022, but can they put the streakiness of their first three seasons under Chris Klieman behind them?
Iowa State loses a ton of production on offense, but the defense should remain strong even if it does have some reloading to do. Moreover, the Cyclones have been solid for enough seasons in a row now to be given the benefit of the doubt and considered potential contenders. Matt Campbell has the opportunity to prove that his program isn't going anywhere, and I expect he will deliver.
Oklahoma and Texas by sheer recruiting metrics have to be considered potential contenders, and I'm willing to give new OU head coach Brent Venables the benefit of the doubt on the defensive side of the ball. However, given Texas' history, I am inclined to give the Longhorns the opposite of the benefit of the doubt and boot them from the rank of contender to spoiler.
I put the list of likely contenders in this order (Baylor, Oklahoma State, K-State, Iowa State, and Oklahoma) based on coaching, returning production, and incoming talent. Breaking my list of contenders down further, I'd call Baylor and Oklahoma State the main contenders and the other three dark horse contenders.
CONTENDER CAVEATS
Baylor was perfect at home in 2021, but it dropped two road games, including a head-scratcher to struggling TCU. It's obviously good to protect the home field, but Baylor's road schedule is nasty next season.
Replacing Jaylen Warren at running back and Jim Knowles as defensive coordinator will be no small feat for Oklahoma State. So much of the Cowboys' 2022 season will hinge on how they handle those two transitions.
I may be too high on K-State. I'm assuming the main thing holding the Cats back in 2021, besides bad injury luck, was the offensive play-calling. While KSU's offense was efficient under former OC Courtney Messingham, KSU was so slow that it often ran far fewer plays than its opponents and lacked the ability to go up-tempo. However, the Cats have a lot of talent, and it feels like Klieman and Klein may be about to flip the switch in Manhattan.
Replacing RB Breece Hall and QB Brock Purdy would be a tall order for any team, and Iowa State has been plagued by slow season starts under Campbell. If the Cyclones can't get the new offense clicking by October, it may be a long season in Ames.
I might be overly cautious about Oklahoma. It's been a long time since OU has had such a hard reboot, but Venables was a great hire, and it's difficult to imagine a Big 12 season without Oklahoma in the thick of the title hunt. Still, it feels like the Sooners have a lot of unknowns.
POTENTIAL SPOILERS
I'm defining "spoilers" as teams that have the talent to knock a few contenders out of the title hunt but also have too many unknowns to be considered contenders themselves. In other words, they're yo-yo teams: dangerous on any given Saturday but inconsistent.
West Virginia has some intriguing players for next season, but the trend coming out of last season is downward, and it's hard to give a team that struggled so mightily along the offensive line in one season many benefits of the doubt in the next. However, Baylor's offensive line was terrible in 2020 but fantastic in 2021, so who knows?
Texas, of course, is loaded with talent, but the program continues to go through metamorphosis and there just isn't the track record to indicate success. Bijan Robinson will ball out, but what about the rest of the team?
TCU and Texas Tech both appear to have bright futures. The main question is how bright and how fast? I expect 2022 to be a stepping stone season toward contender status for both programs.
I'd rank spoiler teams in this order: WVU, TCU, Texas, and Texas Tech.
At the top of my list of spoiler teams, I feel like WVU is in the best position to improve on last season due to great recruiting and consistency at the head coaching position. I've got TCU right behind WVU because the Frogs have a lot of talent on the roster, including two good to great quarterbacks, and they made a great coaching hire that should pay dividends sooner than later.
At the bottom of my list, Texas is loaded with talent, but it devolved into a circus (including a literal monkey) last season and is dealing with a lot of turnover entering this season. Meanwhile, Texas Tech is an intriguing team with some nice pieces on offense, but the coaching feels like a complete unknown.
SPOILER SPOILERS
West Virginia will feature an all-new offensive backfield, and that could be disastrous if the offensive line doesn't improve. The Mountaineers' O-line had a couple of games last season that showed a lot of promise. We'll have to wait and see.
TCU's defensive and offensive lines struggled mightily for long stretches last season. If both don't improve, a return to the postseason and bonafide spoiler status will be difficult.
Laden with potential, Texas is the one team in the league that could finish in the top or bottom two of the standings.
In my book, Texas Tech is the biggest mystery team this offseason, and the Red Raiders could be a force to reckon with come November.
THE CLIMBER
By "climber" I mean the team that will continue to improve but likely won't impact the Big 12 race in a meaningful way.
Kansas ended 2021 better than it began, and the Jayhawks have been busy filling out their 2022 roster with transfers, so while there's no way I would consider them a title contender or even a spoiler, they *might* be able to escape the league's cellar.
Lance Leipold certainly can coach, but it seems like Kansas still has a long way to climb to escape 10th place.
My Way-Too-Early Big 12 Rankings for 2022
Baylor (2021: 12-2, 8-2 Big 12)
Oklahoma State (2021: 12-2, 8-2 Big 12)
Kansas State (2021: 8-5, 4-5 Big 12)
Iowa State (2021: 7-6, 5-4 Big 12)
Oklahoma (2021: 11-2, 7-2 Big 12)
West Virginia (2021: 6-7, 4-5 Big 12)
TCU (2021: 5-7, 3-6 Big 12)
Texas (2021: 5-7, 3-6 Big 12)
Texas Tech (2021: 7-6, 3-6 Big 12)
Kansas (2021: 2-10, 1-8 Big 12)