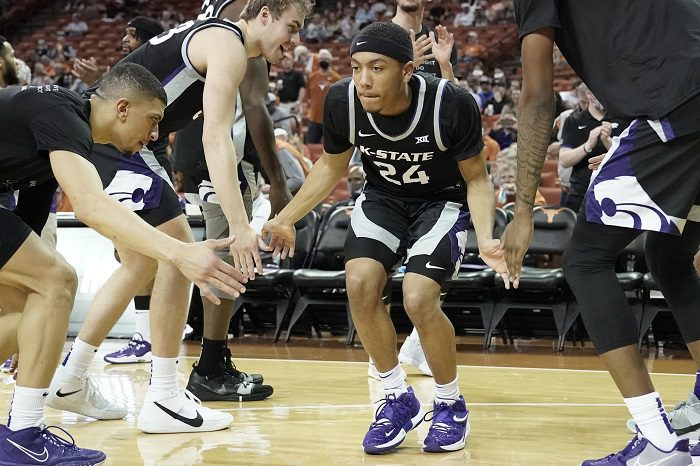 The Big 12 has eight solid bids for the NCAA Tournament, and even a ninth bubble team, in the latest NCAA Tournament Bracketology published by ESPN's Joe Lunardi on Tuesday.
The Big 12 — a league in which nine teams are among the Top 10 teams in remaining strength of schedule — has eight teams solidly in the field, as the TCU Horned Frogs moved off the bubble and reinforced their credentials last week.
The possibility of a ninth team is tantalizing and comes in the former of Kansas State, which is a bubble team for the second straight Bracketology. The Wildcats are in the 'Next Four Out' category, and at this point would be the fifth team left out of the field. Their win over Texas last week got the Wildcats on the bubble, and their near-win over Kansas at home on Saturday kept them on the bubble.
It would be tough, but the Wildcats are the only remaining eligible team in the Big 12, as the Oklahoma State Cowboys cannot play in this postseason due to NCAA penalties.
For the third straight iteration, the Big 12 remained the conference with the most bids in the Tournament, one ahead of the Big Ten and the Big East, which each had seven. The SEC, which will play the Big 12 in the Big 12-SEC Challenge this weekend, had six bids.
Iowa State continued to drop in seeding, as the Cyclones are now a No. 7 seed after two losses last week to Texas Tech and TCU. The Cyclones are still solidly in the field.
TCU moved up from a bubble team to claiming one of the last four byes in the tournament. The Horned Frogs lost to Oklahoma State last week but claimed an upset win over Iowa State on the road last Saturday.
Two future Big 12 teams are firmly in the field, as Houston is a No. 3 seed and BYU is a No. 8 seed. Another future Big 12 team, Cincinnati, is now on the bubble, among the first eight teams left out of the field
How the bracket looks for the Big 12 as of now:
Midwest Region (Chicago)
No. 11 TCU vs. No. 6 USC
No. 10 Oklahoma vs. No. 7 Colorado State
East Region (Philadelphia)
No. 2 Kansas vs. No. 15 Southern Utah
West Region (San Francisco)
No. 3 Texas Tech vs. No. 14 Seattle
No. 7 Texas vs. No. 10 North Carolina
South Region (San Antonio)
No. 1 Baylor vs. No. 16 Colgate
No. 7 Iowa State vs. No. 10 Saint Mary's
No. 11 West Virginia vs. No. 6 UConn
Future Big 12 members
Midwest Region (Chicago)
No. 3 Houston vs. No. 14 Jacksonville State
South Region (San Antonio)
No. 8 BYU vs. No. 9 Davidson
You can find Matthew Postins on Twitter @PostinsPostcard.
**Want to win a $20 gift card? Go sign up here and join our conversation! The best poster each week wins a gift card to your favorite establishment!**