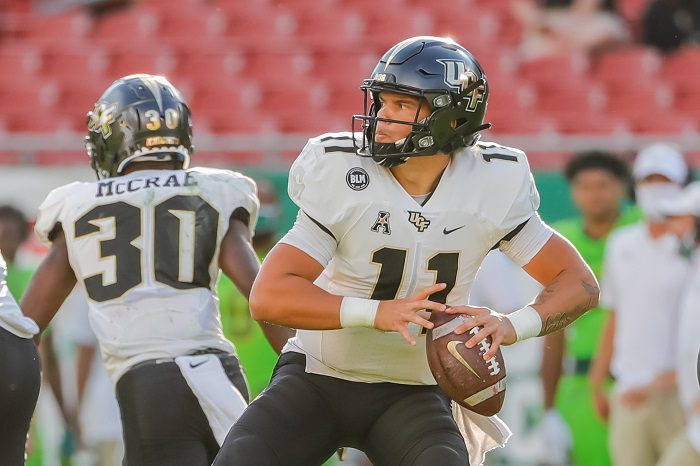 Oklahoma quarterback Caleb Williams still hasn't decided where he will play next season. Most likely, it's not going to be in Norman, and Sooner fans are ready to move on. 
The heir apparent is Dillon Gabriel, who has been under the tutelage of former Sooners. He is being reunited with new offensive coordinator—Jeff Lebby. Gabriel and Lebby were together one season at Central Florida, and they should be a tremendous asset for OU's offense since they already know each other. 
Lebby is an Oklahoma alum and former student assistant coach for the Sooners in the early 2000s. But Lebby isn't the only Sooner alum to coach Gabriel. Joey Halzle, a backup QB in Norman for three years, was Gabriel's offensive coach when Gabriel was a sophomore. Josh Heupel, former OU quarterback, and assistant coach, also was Gabriel's head coach at UCF. 
"Dillon is grinding harder than I've ever seen him," Halzle said of Gabriel's sophomore season. "We've actually had to pull him back and tell him, 'Hey, rest is important too.' We're not letting him do everything he wants to do because we need to keep him fresh — that's how hard he's grinding. 
"He wants to be the best in the country. Period. End of discussion. Not from an arrogant standpoint, but nobody's going to outwork me, no one's going to outproduce me, and that's how he's working right now." 
Gabriel improved from his freshman year (under Lebby) to his sophomore season (under Halzle). As a freshman in 2019, Gabriel completed 59.3 percent of his passes for 3,653 yards in 13 games with a TD/INT ratio of 29/7. With Halzle as his mentor, Gabriel completed 60 percent for 3,570 yards in just 10 games a year later. He also had a TD/INT ratio of 32/4.
Do the simple math, folks. Gabriel averaged 281 yards per game as a freshman and 357 as a sophomore. 3.2 TDs per outing his second year compared to 2.2 his first season at UCF.
Gabriel also was off to a darned good start his junior season under a third QB coach—G.J. Kinne, who was not a Sooner alum, but did play quarterback for Tulsa starting for three years. Gabriel broke his clavicle on the final play of his third game in 2021. And in those three games, he completed nearly 69 percent for 814 yards (271 average) with nine touchdowns to three interceptions.
Anthony Treash of Pro Football Focus had this to say about Gabriel: 
"Gabriel thrived as an underclassman with Josh Heupel as the head coach before missing most of 2021 due to injury. Heupel is widely known for his quarterback-friendly offense that provides simplistic reads for the passer. While the concepts are painless for the quarterback, the offense still needs the signal-caller to have the arm to consistently take one-on-one vertical shots down the sideline when the defense is in single-high. Gabriel has fantastic touch downfield, and that trait led to major passing success." 
Sooner Nation is growing weary of waiting word about what Caleb Williams will do. OU is also courting Jaxson Dart, a USC quarterback, who jumped into the portal. He is deciding between the Sooners, Ole Miss, and BYU. 
Regardless, most Sooner fans are ready to move on to 2022 with Dillon Gabriel at the helm. And his OU ties should help him as he gets going in Norman.