Big 12 Basketball
Five Biggest Takeaways from Week 11 of the Big 12 Women's Basketball Season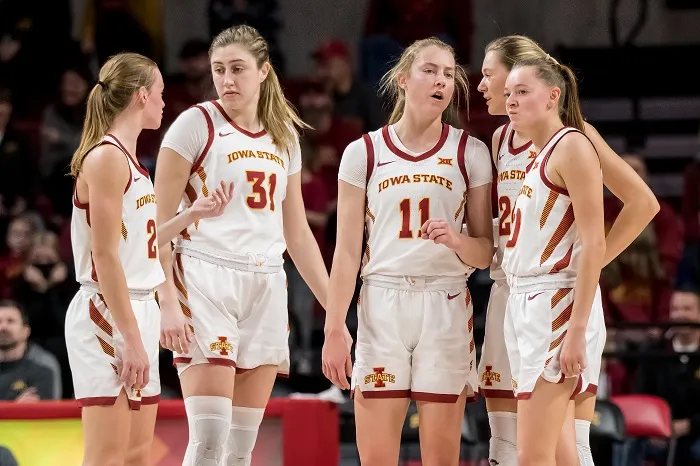 The Big 12 Conference is done with Week 11 of the 2021-22 women's basketball season. So let's dive in and check out our five takeaways for the week.
The Big 12 is Glorious Chaos
I don't know who is going to win the Big 12 regular-season title. But I know that whoever wins that title, this past week was probably a turning point.
Iowa State's two-game losing streak came at the worst time for the Cyclones, and the best time for Texas and Baylor, the two teams that handed the Cyclones those losses. That, combined with Kansas State's epic win over Oklahoma, means that:
The Big 12 now has a five-way tie at the top, as Baylor, Iowa State, Kansas State, Oklahoma and Texas all have two losses.
I'm not sure who has the advantage at this point, and that's what is awesome about this season. For the first time in a while, we're going to have an actual conference race, not everyone chasing Baylor.
We talk frequently about how good the Big 12 men are. Well, the women are right there, too.
More on Ayoka Lee
I watched every second of Ayoka Lee's 61-point game against Oklahoma. It was incredible.
She broke her single-game scoring records for the NCAA, the Big 12, Kansas State and her career in one game. She shot 23-of-30 from the floor and 15-of-17 from the free throw line. It's one thing to get the volume to impact a game like this. It's another to do it as efficiently as Lee did it. It may have looked effortless, but Oklahoma threw all it could at her, including double- and triple-teams. Nothing worked. And teams have slowed Lee down this season. It's just not easy.
So I wondered after the game who held the NCAA record. I couldn't readily find it. But ESPN's Mechelle Voepel tracked it down. It was 60 points, and two players held it — Cindy Brown of Long Beach State (1987) and Rachel Banham of Minnesota (2016). Banham was a guard and Brown, like Lee, was a center.
I'm not sure who will be the Big 12 Player of the Year. I've felt all along that Lee is on the list, along with Baylor's NaLyssa Smith and Iowa State's Ashely Joens. But Lee certainly super-charged her case with that performance. It was one of the best I've seen, and will probably ever see. It even caught the attention of a player considered by many to be the GOAT of the WNBA.
Also, and I made this point on Twitter on Sunday. At one point, after Lee had already cleared the Big 12 record that Brittany Griner held, Lee took a charge that ultimately was called as a travel on the Oklahoma player. She does everything. She's not just about offense.
The Big 12 Freshman of the Year Is …
I think the debate is down to two players — Kansas State guard Serena Sundell and Texas guard Rori Harmon.
Both are running offenses as true freshmen. Both have emerged as great two-way players. Both have a great case, and each has been a three-time Big 12 Freshman of the Week.
Sundell is logging more time on the floor than any other Wildcat (31.1 minutes), including Ayoka Lee. She is averaging 10.6 points, 3.3 rebounds, six assists and one steal per game. She has also emerged as Kansas State's most consistent 3-point shooter and has quickly built a rapport with Lee and the rest of the team. She also has 2-to-1 assist-to-turnover ratio.
Harmon is averaging 10.3 points, 4.6 rebounds, 4.4 assists and two steals per game. Like Sundell, she has a 2-to-1 assist-to-turnover ratio. While Kansas State's offense runs through Lee, Harmon is the pilot of a guard-driven offense where the inside players aren't as dynamic on offense — at least not yet. She's durable and plays great one-on-one defense.
The good news? We get a chance to get a temperature on this race when the Wildcats travel to face the Longhorns on Wednesday. One would assume Sundell and Harmon will defend each other. That will be a lot of fun to watch.
Slowing Down Oklahoma
Before the Sooners' loss to Kansas State on Sunday, the Sooners were the No. 2 scoring offense in the country. Oklahoma was averaging 88.3 points per game. Kansas State put a dent in that, holding the Sooners to 65 points.
That's the fewest points the Sooners have scored in any game this season. In fact, it's the first time the Sooners scored fewer than 70 points this season. Heck, the Sooners scored 93 points in a game earlier this season and lost 98-93 to Oregon (a team the Wildcats beat, by the way).
Lost in all the hub-bub of Ayoka Lee's day was what Kansas State did to Oklahoma defensively. This game wasn't the Sooners having a off-night. Kansas State had a plan. And, as Lee said after the game, it started with getting back on defense.
"Transition, transition, transition — that's what we talked about leading up to the game," Lee told ESPN.
Sooners head coach Michelle Baranczyk wants her team to get up and down the floor. Shooters like Taylor Robertson have a green light. Part of that is starting transition right away, especially after missed baskets. So how do you slow that down?
Well, you start by making baskets. Kansas State shot 50 percent from the floor. Second, you cut off passing lanes while you're getting back on defense, which the Wildcats did. Third, you give defenders some freedom to eschew baseline responsibilities to blanket certain players. That's what Kansas State did to Robertson, who still managed to score 19 points and make three 3-pointers. But she had little daylight to work with and the Sooners had to work more screen action than usual to get her open.
The Wildcats gave the rest of the Big 12 a blueprint for slowing the Sooners down. But that doesn't mean everyone will know how to use it or be able to execute quite the way the Wildcats did. The Sooners are still the best offense in the conference, even after one game against Kansas State.
Three Games I'm Intrigued by This Week
Kansas State at Texas, Wednesday: Texas has the interior players to slow Ayoka Lee down. Stopping her is another matter.
Kansas at Oklahoma State, Saturday: If the Jayhawks want to be a serious NCAA Tournament team, they must win games where they are a clear favorite. And they should be here.
Texas at Oklahoma, Saturday: The Red River Rivalry, women's style.
You can find Matthew Postins on Twitter @PostinsPostcard.