Big 12 News
Oklahoma State Wrestler A.J. Ferrari Involved in Car Accident, Injuries 'Not Life Threatening'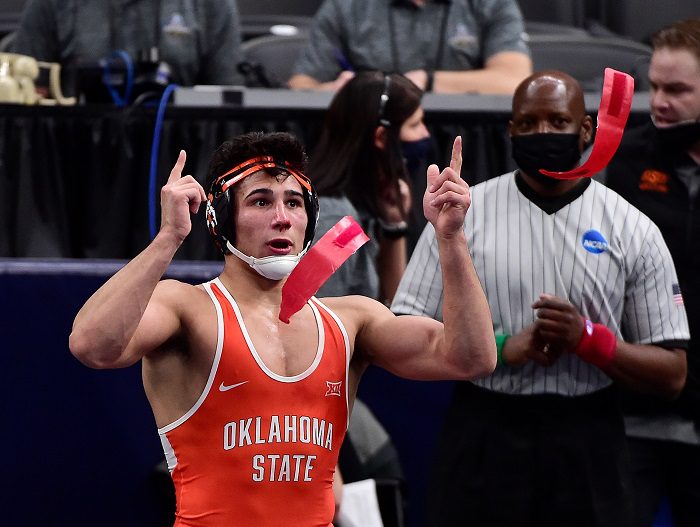 Oklahoma State national champion wrestler A.J. Ferrari was involved in a car accident on Monday.
Ferrari's father, AJ Ferrari Sr., shared a post on Facebook on Monday, writing, "Everyone please get on your knees and pray for AJ Jr.," Ferrari Sr. wrote. "I have no details but he got into a bad wreck."
Ferrari was in Cushing, Oklahoma on Monday, making an appearance at a youth practice.
The Oklahoma Highway Patrol released the crash report late Monday night. It says Ferrari struck a pickup truck head-on while trying to pass three cars in a no-passing zone just east of Perkins on State Highway 33. After hitting the vehicle, Ferrari's car turned an unknown number of time. The 56-year-old driver in the pickup truck was not injured.
Late on Monday night, OSU Athletics releases a statement noting that Ferrari's injuries were "not life-threatening." Also, OSU All-American cross-country runner Isai Rodriguez was with Ferrari and is being treated for "minor injuries."
The statement read as follows: "Oklahoma State wrestler A.J. Ferrari and runner Isai Rodriguez were involved in an auto accident at approximately 8 p.m. tonight as they were returning to Stillwater following an appearance at a youth wrestling practice in nearby Cushing. Ferrari was transported via helicopter to an Oklahoma City hospital, where he is responsive. Ferrari's injuries are not life-threatening. Rodriguez is being treated for minor injuries. According to law enforcement officials, there were no fatalities or serious injuries to anyone else involved in the accident."
Ferrari's father wrote on Facebook, "Thank you everyone for your prayers. They flew AJ to OU Medical Center. It looks like a miracle that he didn't have anything broken or any long term head issues. He has fluid in his lungs that is affecting his oxygen levels and some bad bruising with some internal bleeding, so they are keeping him here. If you saw the car and AJ, you would know this was a miracle. Thank you to the Medics and police for their care. I am so thankful to our great and powerful God. All praise to Him! I sincerely thank everyone who prayed for AJ and reached out. Please continue to pray for his oxygen levels to get back to normal, the removal of the fluid on his lung and the internal bleeding to stop. GodisGreat!"
Ferrari is the best wrestler in the country at 197 pounds and is 10-0 this season. He won a national championship as a true freshman last season at 197 pounds, becoming the third true freshman in program history to win a national title.