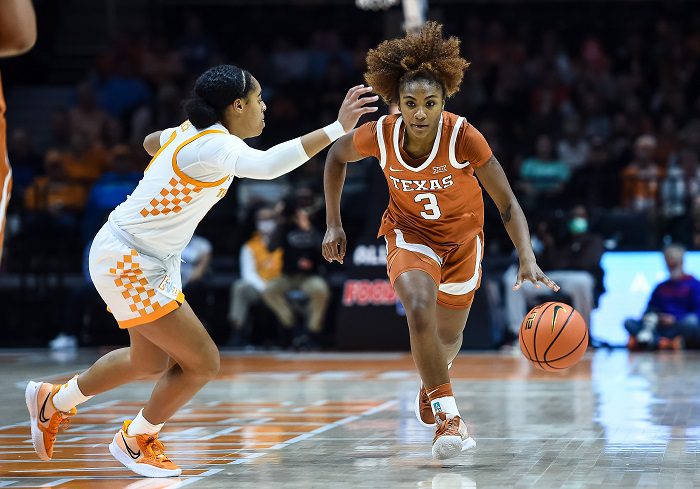 The Texas Longhorns move to No. 1 in the Heartland College Sports Big 12 women's basketball power rankings for Jan. 25. Our Power Rankings will appear every Tuesday.
1. TEXAS (14-3, 4-2 in Big 12; Last Week: 4)
The Longhorns move up a spot after a 2-0 week in which they beat Iowa State, 66-48, and TCU, 68-47. Texas didn't get to play Iowa State at full strength, but that's how it goes sometimes. With a three-game winning streak, Texas hosts Kansas State on Wednesday and then travels to Oklahoma on Saturday.
2. BAYLOR (13-4, 3-2; Last Week: 5)
The Bears are back. That victory over Iowa State on Sunday was complete and changed the trajectory of the Big 12 race. If Jordan Lewis and Sarah Andrews shoot like that every game, well, good luck. This week, the Bears are on the road all week, facing Texas Tech on Wednesday and then West Virginia on Saturday.
3. IOWA STATE (16-3, 5-2; Last Week: 1)
A rough week for the Cyclones. Losses to Texas and Baylor cause them to drop here. The Cyclones, to me, are still a potential Big 12 champion. But it also shows that losing Ashley Joens, even for a game, will have a heavy effect. Iowa State returns home on Wednesday to host Kansas, and then travels to Texas Tech on Saturday.
4. KANSAS STATE (15-4, 5-2; Last Week: 7)
Kansas State started last week with a 69-61 win over rival Kansas. Then, on Sunday, Ayoka Lee went to work and re-wrote the code for single-game scoring in NCAA history, scoring 61 points as K-State blew out Oklahoma. So, yes, the Wildcats move up. This week, KSU starts with a road game at Texas followed by a home game with TCU on Saturday.
5. OKLAHOMA (16-3, 5-2) (Last Week: 2)
Oklahoma was riding high until it got to Manhattan on Sunday. And, then, Ayoka Lee and Kansas State ended the Sooners' four-game winning streak. OU is still a quality team, but they have to drop. This week, the Sooners host Oklahoma State on Wednesday and then Texas on Saturday. It's rivalry week all week in Norman.
6. KANSAS (12-4, 3-3; Last Week: 3)
The Jayhawks split last week, falling to Kansas State, 69-61, and then beating Texas Tech, 71-57. Kansas must face Iowa State on Wednesday. But, after that, the Jayhawks have a golden opportunity to 'pad' their resume with games against Oklahoma State and TCU.
7. WEST VIRGINIA (9-7, 2-4; Last Week: 8)
The Mountaineers are another team that's trying to stay on the edge of getting into some kind of post-Big 12 Tournament postseason. As long as KK Deans and Esmery Martinez are healthy and producing, WVU has a shot. TCU and Baylor are next, and both are in Morgantown.
8. TCU (6-9, 2-4; Last Week: 9)
TCU's last-second win over Texas Tech early in the week was followed with their blowout loss to Texas. If the Horned Frogs have a surge in them, now is the time. The Horned Frogs get the Mountaineers twice in the next three games, with a game against Kansas State sandwiched in between.
9. TEXAS TECH (9-9, 2-5; Last Week: 6)
The Lady Raiders lost a heartbreaker at TCU, 51-50, and then lost to Kansas on the road, 71-57, even though Vivian Gray fired off 32 points. Texas Tech is hanging on the edge of trying to get into postseason play beyond the Big 12 Tournament.
10. OKLAHOMA STATE (6-10, 1-6; Last Week: 10)
The Cowgirls' win over Texas Tech two weeks ago is the only thing keeping them from being winless in Big 12 action. Up next is 'Bedlam' with Oklahoma and back-to-back games with Kansas.