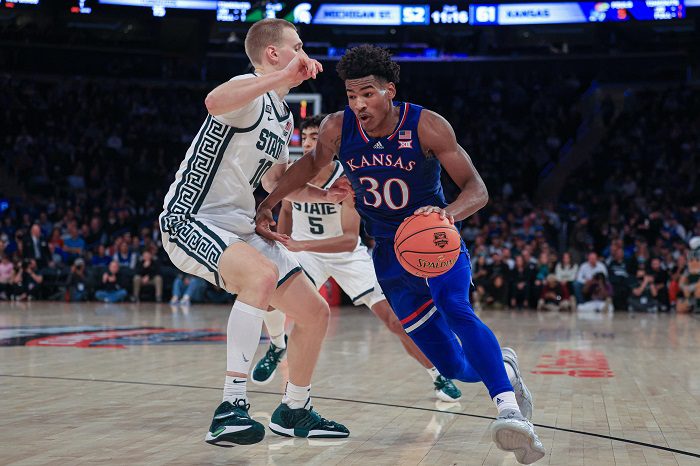 The Kansas Jayhawks defeated the Texas Tech Red Raiders, 94-91, in double overtime in a Big 12 men's basketball contest at in Lawrence, Kansas, on Monday.
It turned into a classic, with three Kansas free throws in the final minute determining the outcome.
Ochai Agbaji had another huge game for the Jayhawks (17-2, 6-1 in Big 12), as they avenged their loss to Texas Tech a few weeks ago in Lubbock. The reigning Big 12 Player of the Week finished with a career-high 37 points, including seven 3-pointers, and seven rebounds. He did struggle at the free-throw line (just 4-of-8), but Agbaji looked every bit the First-Team All-American his teammate, Christian Braun, billed him as on Saturday.
Not to be outdone, Texas Tech's Bryson Williams had an incredible 33 points in his second trip to Allen Fieldhouse in 11 months.
In double overtime neither team bolted out to a lead, as they traded missed baskets. Williams' bank 3-pointer from the top of the key gave Texas Tech a 91-89 lead with 3:05 left, and the Red Raiders held on to the lead until K.J. Adams' put-back off a Harris miss with 1:49 left tied the game at 91.
Both teams struggled to make shots, so it came down to the free-throw line. Jalen Wilson's made free throw broke the tie for Kansas with 1:06 left. After Texas Tech's Kevin McCullar lost the ball on a dribble at the other end, Kansas' Christian Braun eventually got to the free throw line with 10 seconds left and made both free throws to give Kansas a three-point lead.
Texas Tech's Terrence Shannon Jr. had a chance to tie the game with a long 3-pointer, but it hit the back iron to end the game.
It probably shouldn't have gotten to overtime.
Texas Tech (15-5, 5-3) was down by 12 points with 6:33 left in regulation and then made a furious rally to tie the game and send it to overtime. Texas Tech's Kevin Obanor had seven points in the final four minutes, and Shannon made two free throws with 12 second left to tie the game at 75.
Kansas had a chance to win. With 11.8 seconds left, Agbaji inbounded the ball to Harris. He fed Agbaji, who had to dribble backward on the wing to take a step-back 3-pointer over Tech's tallest player, Daniel Batcho. He missed, hitting the front rim and sending the game to overtime.
In overtime, Texas Tech built a five-point lead, at one point making four straight field goals. But, Kansas didn't go away. After Mylik Wilson made a free throw to give the Red Raiders a three-point lead with 23 seconds left, Kansas worked hard to get a 3-pointer set up for Agbaji. He finally worked his way to the wing and drained a 3-pointer with seven seconds remaining to tie the game at 86-all. Shannon missed a long three, which would have won the game.
For Kansas, Braun had 15 points, seven rebounds and six assists. David McCormack had 13 points. Wilson had nine points and 11 rebounds.
For Texas Tech, Obanor scored 17 points and grabbed eight rebounds, while Davion Warren added 15 points and dished out five assists. Shannon, who scored 23 points on Saturday, struggled on Monday, scoring five points.
Here are our three thoughts from the game.
Playing at Pace
Kansas had just seven fast break points when it played Texas Tech a few weeks ago. If you look at the official stat cast for the game, Kansas had just six fast break points on Monday night.
Maybe the Jayhawks didn't convert a lot of points on their initial fast break. But it was clear Kansas got the pace it wanted against Texas Tech.
For the past few weeks, Tech has used several tools to slow teams down. The two primary tools have been its 'no-middle' man-to-man defense and an extended three-quarters court zone through which Tech applied token pressure but it used effectively enough to speed teams up.
Tech head coach Mark Adams put the three-quarter court pressure back in the toolbox. Tech didn't want to speed Kansas up. And, frankly, there was little chance to slow Kansas down when their first move after a made basket is to get the ball up the floor as quickly as possible.
So what if Kansas didn't collect a lot of fast break points on Monday night? The pace benefited the Jayhawks in other ways. They collected points off secondary action off the pace — trailers in transition, swinging the ball round after initial penetration into the paint and collecting lobs off of missed Tech defensive assignments.
Collecting 'fast-break points' isn't always the point of creating pace and transition. It's about creating points, period. And Kansas did that consistently on Monday — until Texas Tech rallied in the final minutes.
Bryson in This Building
Had Bill Self known the trend, perhaps he would have been all over getting Bryson Williams to come to Kansas once the former UTEP forward hit the transfer portal.
Last season Self scheduled the Miners for a final non-conference game before the Big 12 Tournament. Williams, then with UTEP, played out of his mind, scoring 23 points and 13 rebounds.
Well, once is a coincidence. Twice is a trend. And twice came Monday night.
Williams was, frankly, Texas Tech's only offense for most of Monday night, and certainly its only consistent offense. At times unstoppable, Williams finished with 33 points, just short of his career high. He only had five rebounds.
Williams had an efficient game, shooting 14-of-19 from the floor, including a perfect 4-of-4 from the 3-point line. He was especially adept at the jump hook on the block, which gave Kansas fits all night. Kansas managed to shut him down for a bit, but in overtime Williams took the game over once again. That bank 3-pointer was something you just don't see every day.
It was a brilliant game for Williams. It just came in a loss.
Remy's Turnaround Night?
For the past month, there have been questions about Kansas guard Remy Martin. I saw him play in person in December on my trip to Allen Fieldhouse. He had a great game against Stephen F. Austin. He has an impressive overall game.
But, since his injury at the turn of the year, he just hasn't been quite there. There's a sense that the knee injury is nagging. I've also had the sense that head coach Bill Self has been frustrated with Martin. I think that frustration is about the potential Self sees in Martin in his system, but also knowing that the guard is learning his system and adapting to a new role where he isn't scoring 20 points per game, like he was last season.
On Monday, Martin may have turned a corner. For the first time since the injury, he looked more like the player I saw in person in December.
His numbers? Four points, four rebounds and five assists in 22 minutes. But there's an eye test to apply here as well. He looked confident running the offense. He made quality passes, a couple that anticipated things that only he could have seen. His defense was there, too, and Self pointed that out after the first half to ESPN's Kris Budden. By the end of the game, there were times Self had Martin and Dajuan Harris Jr. on the floor at the same time, allowing his two point guards to play together.
Harris' early foul trouble actually opened up the chance for Martin to get more playing time on Monday. He took full advantage and had his best game since the injury. Now, he has to carry that over to the Kentucky game on Saturday. And to the game after that.
You can find Matthew Postins on Twitter @PostinsPostcard.