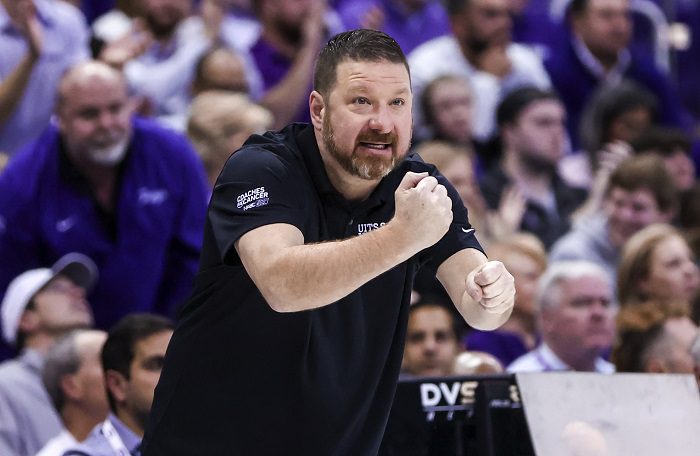 The Texas Longhorns defeated the TCU Horned Frogs, 73-50, in a Big 12 men's basketball contest at Schollmaier Arena in Fort Worth, Texas, on Tuesday.
It was one of the best performances of the season for Texas (15-5 5-3 in Big 12), which won by its widest margin at Schollmaier Arena. TCU (13-4, 3-3) found itself at the mercy of a scoring swoon that basically derailed any hope of it winning the game by halftime.
Timmy Allen led Texas with 16 points and added eight rebounds. Andrew Jones finished with 12 points, including a trio of 3-pointers. Courtney Ramey added 14 points. Christian Bishop had a team-high nine rebounds and Mitchell had a team-high five assists.
Mike Miles led the Horned Frogs with 14 points, while Miller had 13 points. TCU was coming off a win over Iowa State on Saturday, and all of that momentum they created just fell flat.
Here are our three thoughts from the game.
Texas' Most Complete Game
It would be easy to just say this was an off night for TCU, and it was. But Texas created some of that on defense. Plus, Texas on offense had one of its most complete efforts in Big 12 play.
Texas shot well from the field (44.6 percent) and from the 3-point line (44.4 percent). Their offensive flow was the best I've seen in weeks. Everyone was a willing passer, and the extra pass was made on multiple occasions. There were plenty of occasions where Texas dribbled into the paint and instead of turning it over, the Longhorns turned them into points or kick-outs for jumpers for points. Texas also owned an edge on the offensive glass (41-31) and converted 16 points off of TCU's 13 turnovers.
The key was the second half. Yes, Texas was up 20 but it didn't try to cruise home. They kept the pressure on and kept putting points on the board. I saw Timmy Allen tracking down offensive rebounds. I saw the kind of maximum effort on every possession that head coach Chris Beard wants. TCU cut it to 15 with five minutes left and the Longhorns hit a basket right away. They gave the Horned Frogs no hope of a comeback.
All of that had to make Beard feel good, because he and his Longhorns have a brutal stretch coming up. More on that below.
TCU's Awful Shooting
Down 20 at the break, to say that TCU experienced a scoring drought would be an understatement. TCU went more than eight minutes without a field goal before Emanuel Miller's layup with about 30 seconds left. That cut Texas' lead to 18 before the Longhorns pushed it back to 20.
How bad was it? TCU shot 30 percent in the first 20 minutes. But the Horned Frogs also missed all nine of their 3-pointers, were an awful 7-of-14 from the free-throw line and Miles was the only Horned Frog performing at anything close to a necessary offensive level. But Texas focused hard on making every dribble difficult for the sophomore, and it paid off. For the past few games, Miles has had help from Damion Baugh, Emanuel Miller and Chuck O'Bannon. Miller had a good game, eventually, but Baugh and O'Bannon combined for seven points. That won't work long-term in this conference.
The Longhorns' Moment of Truth
As you're aware, the Big 12 is really difficult conference. In fact, our site experienced a rather viral moment on Twitter last weekend when we posted ESPN's note about nine of the Big 12's ten teams being in the Top 10 in remaining strength of schedule. When ESPN flashed up the graphic on Tuesday, the Big 12 occupied the first nine spots. Kentucky, the one non-Big 12 team in Saturday's Top 10, dropped out.
This conference is bonkers. And Texas is about to enter a particularly brutal stretch.
It starts with Saturday's Big 12-SEC Challenge showdown with No. 18 Tennessee at 7 p.m. From there, Texas travels to No. 13 Texas Tech on Feb. 1, which will be Texas head coach Chris Beard's first meeting with the Red Raiders since he left for the Texas job. After that, the Longhorns host No. 23 Iowa State on Feb. 5, No. 5 Kansas on Feb. 7 and then travels to No. 4 Baylor on Feb. 12.
We're going to find out a lot about Texas the next five games.
You can find Matthew Postins on Twitter @PostinsPostcard.
**Want to win a $20 gift card? Go sign up here and join our conversation! The best poster each week wins a gift card to your favorite establishment!**