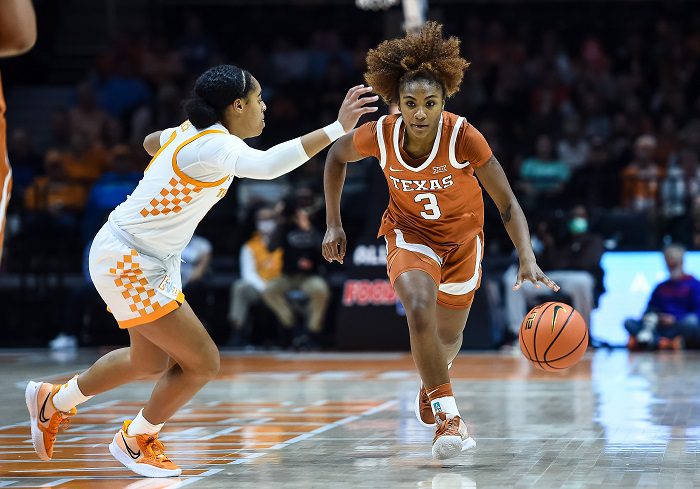 Ayoka Lee scored just 20 points against No. 9 Texas, but more importantly the Longhorns defeated the No. 25 Kansas State Wildcats on Wednesday night.
It was Kansas State's first game since Lee scored 61 points in Sunday's win over Oklahoma, which set a Division I single-game scoring mark and broke the Big 12 single-game scoring mark by 11 points. The Big 12 mark was formerly held by Brittany Griner. Lee's game brought the Wildcats a massive amount of national attention, and led her to announce on Tuesday that she would bypass the WNBA and return for her senior year.
Since that record-setting performance, Lee has been named the Big 12 Women's Basketball Player of the Week, the ESPN Women's Basketball Player of the Week and has sent her jersey and ball from the game to the Naismith Memorial Basketball Hall of Fame.
Texas (15-3, 5-2 in Big 12) hardly cared about Lee's feat. Armed with a large frontline and a pressure defense that harassed Lee's teammates, the Longhorns held her to two first-quarter points, built a 30-17 halftime lead and never allowed that lead to dip into single digits.
Lee added 11 rebounds and two blocked shots in a game in which she played for 39 minutes.
Texas won its fourth straight game and remained in a tie with Baylor, Iowa State and Oklahoma for the fewest league losses in the Big 12. Kansas State (15-5, 5-3) dropped a game behind the quartet.
Texas guards Aliyah Matharu and Audrey Warren had great games. Matharu was hot early and finished with 18 points, including four 3-pointers. Warren was near-perfect — 8-for-9 from the floor — as she finished with 16 points. Joanne Allen-Taylor added 12 points.
Kansas State's Serena Sundell had 13 points, four assists and four steals. As anticipated as Lee's visit was to the Erwin Center, the game was also a battle of two of the Big 12's top freshmen, Sundell and Texas' Rori Harmon.
Harmon finished with seven points, four rebounds, six assists and three steals.
You can find Matthew Postins on Twitter @PostinsPostcard.