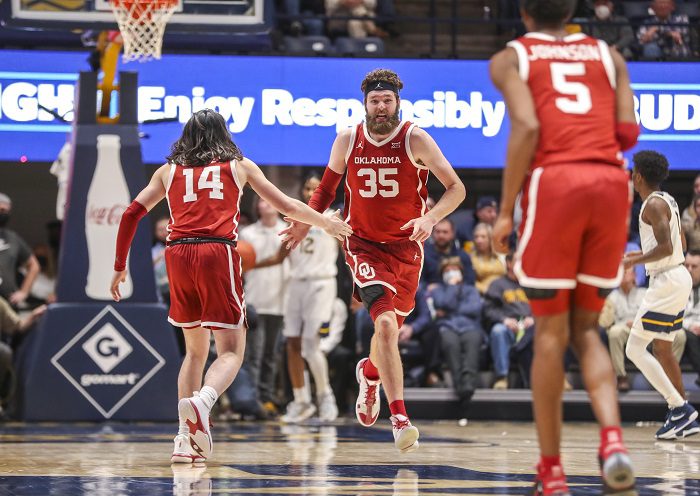 The Oklahoma Sooners defeated the West Virginia Mountaineers, 72-62, in a Big 12 men's basketball contest at WVU Coliseum in Morgantown, West Virginia, on Wednesday.
This was an important game for both teams. Oklahoma (13-7, 3-5 in Big 12) had lost its last four games and was looking for a win entering its Saturday Big 12-SEC Challenge game with No. 1 Auburn. Meanwhile, West Virginia (13-6, 2-5) was trying to heat back up after a three-game losing streak. The Mountaineers face Arkansas on Saturday.
Well, the Sooners were the team that snapped their streak in a game that OU led for nearly the entire contest. The Mountaineers made it a two-possession game in the final couple of minutes but couldn't make up the remaining deficit.
Oklahoma won its third straight in Morgantown.
Key for the Sooners was their 19-for-20 night at the free-throw line, along with a combined 33 points from Tanner and Jacob Groves. Umoja Gibson added 12 points.
Gabe Osabuohein had a career-high 17 points in just 19 minutes for West Virginia, while Taz Sherman added 11 points, but he had just two in the second half. Jalen Bridges scored 12 points. The Mountaineers shot 37.7 percent from the field to Oklahoma's 51.1 percent.
West Virginia head coach Bob Huggins coached his 500th game at his alma mater on Wednesday. He's waiting to hear if he'll be a finalist for the Naismith Memorial Basketball Hall of Fame.
Here are our three thoughts from the game.
More Groves Brothers, Please
Tanner Groves has started for Oklahoma all season. But his younger brother, Jacob, was in the starting lineup on Wednesday and they combined for 33 points. I'd like to see more of their pair in the starting lineup.
Tanner Groves was the most efficient he's been in Big 12 play, scoring 21 points on 9-of-11 shooting. He sat for a portion of the second half with foul trouble (he finished with four). While he was riding the pine, Jacob Groves helped influence the game. He scored 12 points, including two 3-pointers. One of those was LOUD. Not the shot itself. But as his half court 3 fell through the net at halftime the Mountaineers' musket went off.
The pair, naturally play well off each other. But, I also like how Jacob Groves fit into the chemistry of the starting unit. He plays well off the rest of the team and he's grown into that role as the season has gone on.
It may be time for Jacob to join his brother Tanner in the starting lineup full time.
Where is Sean McNeil?
Sean McNeil had just seven points on Wednesday night. Sure, the Sooners paid a lot of attention to one of the league's best outside shooters. But I also sensed a lack of aggressiveness. I saw it against Texas Tech, too, when the Red Raiders held him to seven points. His scoring has progressively tapered down since he dropped 26 on Kansas State on Jan. 8. The Mountaineers cannot afford it.
Along with Taz Sherman, McNeil has to be in double digits every game for this team to be competitive in this conference. It's a necessity, not an option. But he only took six shots on Wednesday and made one, a 3-pointer.
McNeil knows he's seeing some of the best defense in the Big 12. So does his coach, Bob Huggins. So how do they unlock McNeil? Perhaps more of what he did in the second half, when he drew two fouls and went 4-for-4 at the free-throw line? He's a tremendous 3-point shooter, but he's also a great free throw shooter — 78.4 percent. But he doesn't draw nearly enough fouls. He has 39 free-throw attempts this season. Sherman is close to 100. Heck, Gabe Osabuohein has more attempts.
Sherman isn't the best driver to the basket for WVU. But sometimes to shake yourself out of a rut you have to lean on something else. Getting to the free-throw line more often might help unlock McNeil's aggressive outside shot.
These Disjointed Mountaineers
I covered West Virginia's huge loss to TCU in Fort Worth a few years ago. Mountaineer fans will remember that season as the one were Huggins, eventually, went with his young players after the veterans who weren't invested in what he wanted to do left the program. Those Mountaineers finished under-.500, but they ended up getting to the semifinals of the Big 12 Tournament and played in the CBI. That WVU team, that night in Fort Worth, had one of the truly awful performances I had ever seen.
This Mountaineer team is NOT that Mountaineer team. I want to be clear about that. Better talent and better attitude. But, there is a level of disjointedness in the past three WVU games I've watched that is unsettling. There's little chemistry on this team, especially between the backcourt and the frontcourt. At times I felt those two groups were playing two different games. The Mountaineers suffer from a lack of scoring inside with the departure of Derek Culver. And that's starting to saturate the perimeter. There is no interior player for opponents to focus on defensively, so teams can devote more energy to slowing down Taz Sherman, Sean McNeil and Jalen Bridges.
It's a bad formula for the rest of the season. It means the Mountaineers will need more from their guards, or need someone from this interior group to start scoring more. If Gabe Osabuohein can sustain what he did on Wednesday night, then great. But he's never been a consistent scorer and that's a lot to ask at this stage of this season and his career.
You can find Matthew Postins on Twitter @PostinsPostcard.
**Want to win a $20 gift card? Go sign up here and join our conversation! The best poster each week wins a gift card to your favorite establishment!**