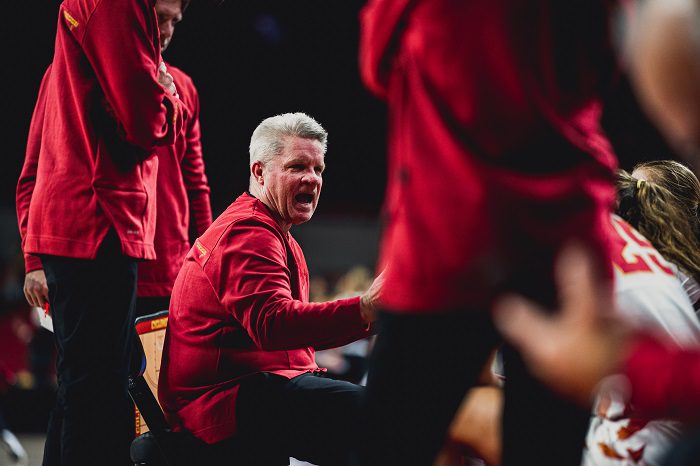 Texas, Iowa State, Baylor and Kansas State gave the Big 12 four teams among the Top 16 in the country as the NCAA Tournament Selection Committee released its preliminary rankings on Thursday.
The committee released the seeding as a barometer for where the top teams in the country stand going into the final six weeks of the season. The 68-team bracket will be revealed on March 13.
It isn't stunning to see Texas, Iowa State and Baylor among the Top 16 teams, as they've been in the AP Top 25 for most of this season. But, Kansas State has been ranked just twice this season. But this gives the Big 12 an indication of what the committee things of these teams' resumes to this point.
Texas is No. 7 overall, which would make it a No. 2 seed. Iowa State is No. 10, which would make it a No. 3 seed. Baylor is No. 13 and Kansas State is No. 16, which would make both No. 4 seeds.
Oklahoma, which is among four teams tied at the top of the Big 12, was not in the Top 16.
Texas (15-3, 5-2) is coming off a 66-48 win against Kansas State on Wednesday. The Longhorns moved up to No. 9 in the country on Monday and boasts four wins over ranked teams this season. Texas is on a four-game winning streak and has two games against Baylor next week and another against Iowa State later this season.
Iowa State (17-3, 6-2) is coming off a 77-62 win over Kansas on Wednesday and entered this week at No. 13 in the AP poll. The Cyclones were as high as No. 7 in the country last week, but that was before losses to Texas and Baylor, with the Texas loss coming without Ashley and Aubrey Joens due to COVID-19 protocols. Iowa State has a 3-2 record against ranked teams so far this season.
Baylor (14-4, 4-2) is coming off a 88-80 win over Texas Tech on Wednesday and has now won four straight games after struggling to start Big 12 play due to COVID-19 issues. Now ranked No. 11 in the AP poll, the Bears' win over Iowa State was a signal that the Bears are starting to come around as they prepare for those games with Texas. Baylor only has a 1-2 record against ranked teams.
Kansas State (15-5, 5-3) was No. 16, even after its loss on Wednesday to Texas. The No. 25 Wildcats have risen in the polls thanks to Ayoka Lee and her 61-point performance against Oklahoma on Sunday.
NCAA Women's Tournament Seeds
(as of Jan. 27)
No. 1 South Carolina
No. 2 Stanford
No. 3 NC State
No. 4 Tennessee
No. 5 Louisville
No. 6 Indiana
No. 7 Texas
No. 8 Arizona
No. 9 Michigan
No. 10 Iowa State
No. 11 UConn
No. 12 LSU
No. 13 Baylor
No. 14 Oregon
No. 15 Georgia
No. 16 Kansas State
You can find Matthew Postins on Twitter @PostinsPostcard.
**Want to win a $20 gift card? Go sign up here and join our conversation! The best poster each week wins a gift card to your favorite establishment!**