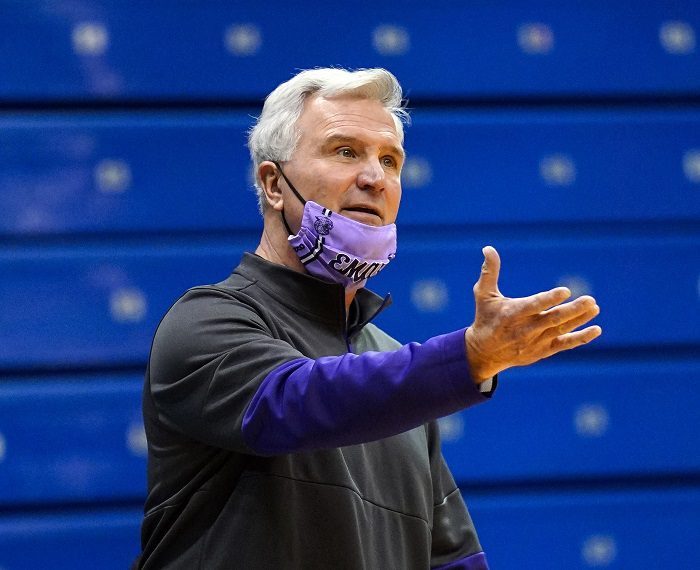 It has been another big week in the world of K-State sports. Both basketball teams are in midseason action, while the football team is trying to build on their eight-win season and close out a strong year with a promising 2022 recruiting class.
Let's take a look at everything that is going on in the Little Apple.
Ayoka Lee is Special, and She's Returning in 2022
The K-State women's basketball team is ranked in the top 25 again, entering the AP poll at number 25 after star center Akoya Lee set the NCAA women's scoring record with 61 points against an Oklahoma squad ranked in the top 25. Lee also made news this week by announcing she is planning to return to school and play next season for the Wildcats. That is pretty exciting to hear. With Lee, a likely first-team All-American, returning, along with some great young players, the sky is the limit for the Wildcats. They will return their top-six scorers from this year's team and will be well-positioned to compete for a Big 12 championship and maybe more. I have watched a couple of their games, and the lady Wildcats are a lot of fun to watch. Lee is sensational. She posts up in the paint like centers used to in college basketball. They feed it to her, and she makes a move and puts the ball in the hoop at a very high percentage. If you are a fan of old-school fundamental basketball, it is worth your time to give this team a look. Lee will likely have her jersey in the rafters someday and is the best female basketball player to ever play at K-State. Don't be the person that says "I never saw her play."
Football making Final roster Moves ahead of Signing Day
Will Honas, a transfer linebacker from Nebraska, announced that he is transferring to K-State for his final year of eligibility. Honas led the Cornhuskers in tackles the last season he played. He is an interesting story, as this will be his SEVENTH season playing college football. He played Juco his first two years, then transferred to Nebraska and was injured before playing a snap and took a redshirt year. He played two years before being injured again before the 2021 season and receiving a medical redshirt. Add the free Covid year, and he has one more season of eligibility remaining. He seems like a great linebacker that has a nose for the football and, if he can stay healthy, he will be a great addition to the Wildcat linebacker corp.
K-State football received another commitment to the 2022 recruiting class when Desert Edge High School, Arizona quarterback Adryan Lara verbally committed to the Wildcats on Monday. This commitment appears to be quite the get for Collin Klein and Chris Klieman. Lara was previously committed to Washington State and had received offers from Arizona, Fresno State, Iowa State, and Kansas. Washington State hired a new offensive coordinator, and Lara did not feel comfortable with the new coach. The more I looked into Lara, the more I found that I really liked. Lara finished his high school career with 10,652 passing yards, just over 400 yards behind Spencer Rattler's Arizona state high school record. This kid can air it out. Recruiting services have compared him to pro quarterback AJ McCarron of the Atlanta Falcons and are already projecting him as a pro prospect. He visited campus this past weekend and attended the K-State/KU basketball game and loved the atmosphere, the campus, and the people. It did not take him long to commit. K-State has a pretty crowded quarterback room, but I think the competition will do nothing but help all of them. With the transfer portal being what it is nowadays, having a lot of options is a good thing.
Inconsistent Play and Bad Finishes Continue to Doom Men's Basketball
The KU game on Saturday was very disappointing because K-State got out to a big 16 point lead at halftime and looked great in doing it. It was likely the best half of basketball that K-State is capable of, and it kind of came out of nowhere. Nijel Pack was on fire, finishing with 35 points, but it was not enough, as KU came back and won the game by three points. The second half collapse did not surprise me, as I have come to expect it watching this basketball program.
Then came the game last night at Baylor. As Bruce Weber's teams often do, K-State started slow, couldn't rebound, and got way behind early in the game. K-State was never in it. The only thing I wondered throughout the game was how many points they were going to lose by. Last year Baylor won by 50 points. This year they won by 25 points. It's still a butt-kicking no matter how you look at it. There are 11 regular-season games left. I hope these are the last 11 games of the Bruce Weber era.