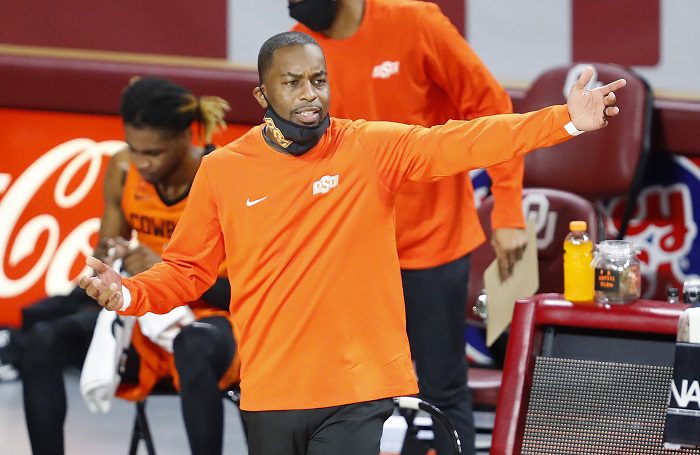 The Louisville Cardinals have moved on from Chris Mack as their head basketball coach. It's a prominent job in college basketball and it will attract some big names.
The question from a Big 12 perspective is whether or not any of the 10 coaches could find themselves in the conversation to take over the Cardinals.
According to Bill Bender at Sporting News, Oklahoma State's Mike Boynton could be on the short list, writing:
"Boynton, 40, is one of the up-and-coming coaches in the Big 12. The Cowboys are ineligible for postseason play this year. Boynton did get Cade Cunningham to play at Oklahoma State, and that led to a NCAA tournament run last season. Would Boynton be able to handle the level up? He does have a 31-41 record in Big 12 play."
Well, given the state of things at Louisville, it's highly debatable as to whether or not this is actually a "level up". In fact, all indications are the Big 12 is, by far, the best basketball conference in college hoops this season, and it's not all that close.
In fact, check out the latest NET rankings in college basketball and where the Big 12 and ACC ranks.
So while Louisville may have a ton of money to spend, Louisville is not desirable right now. As Bender notes, Louisville also is working with an interim athletic director in Josh Heird, who replaced Vince Tyra in December. The school also does not have a full-time president.
Would Mike Boynton leave Stillwater for that?
I'd be shocked, but we have been shocked in college sports plenty over the last several months.