Big 12 News
Texas Longhorns Picked as Big 12 Baseball Preseason Favorite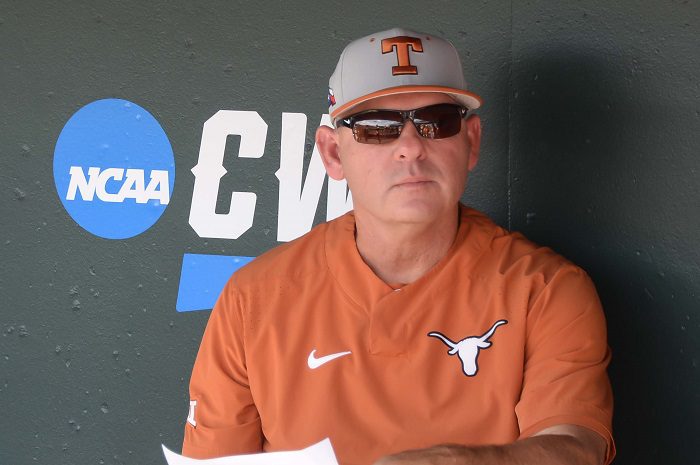 The 2022 Big 12 Baseball season is nearly upon us with the first pitch of the season scheduled for February 18th. There will be some fantastic games that day, including a top 10 matchup in Nashville when No. 7 Oklahoma State takes a road trip to No. 3 Vanderbilt.
The preseason No. 1 team in the country, the Texas Longhorns, start a three-game series with Rice on that same day, and look to start off a promising season with a strike in the win column. There has been quite a bit of preseason hype surrounding Texas and for good reason. The Longhorns are returning several key pieces from a 2021 campaign that saw them into the semifinals in Omaha and look like a strong candidate to make it there once again.
However, they will have to make it through a challenging Big 12 Conference that landed four teams in the preseason Top-25: Texas (1), Oklahoma State (7), Texas Tech (14), and TCU (17). According to their piers, Texas looks to do just that, as they were the unanimous selection as the Big 12 preseason favorite. Since coaches were not permitted to vote for their own teams, Texas received eight of eight possible votes, with Oklahoma State receiving the ninth and final vote (Iowa State does not have a baseball program).
Here is a look at how the projected standings played out, courtesy of the Big 12 Conference.
| | |
| --- | --- |
| Place/Team | Points |
| 1. Texas (8) | 64 |
| 2. Oklahoma State (1) | 52 |
| 3. Texas Tech | 49 |
| 4. TCU | 48 |
| 5. Baylor | 33 |
| 6. Oklahoma | 25 |
| 7. Kansas State | 23 |
| 8. West Virginia | 20 |
| 9. Kansas | 10 |