Baylor Bears
Big 12 Basketball Mailbag: Big 12 NCAA Tournament Bids and Surprise Teams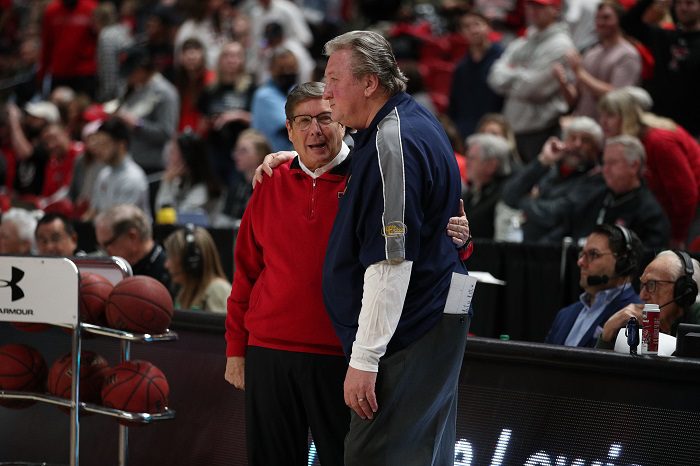 Welcome to the HCS Big 12 basketball mailbag, our fourth of the 2021-22 Big 12 men's and women's basketball season.
This mailbag is for all you basketball junkies out there who root for a Big 12 school that not only have questions about your team, but other teams in the conference. So, join me, grab your favorite drink (I'm getting back to the Tito's and soda, finally), and relax as I answer all your Big 12 questions.
For those interested, I will send out a tweet (@PostinsPostcard) Wednesday night and you'll have until Thursday at 5 PM CT to send in your questions to be answered every Friday right here at Heartland College Sports. And our site owner, Pete Mundo, will solicit questions on our Facebook page.
I want to thank each one of you who submitted a question this week and for those of you that are reading. For future reference, feel free to answer questions about men's and women's basketball, as we've added women's Big 12 coverage to our HCS content this season.
So many great questions, and we have time for five.
Robert Mills from Facebook asks: Seven or Eight Teams in NCAA Tournament?
I believe it will end up being seven. The competition in the Big 12 is top-level and we're already starting to see that attritive effect that we see as we get into February. It really depends on how many teams end up with overall winning records. The NCAA Tournament Committee doesn't take teams with a losing record overall, no matter how 'good' they might be. I think eight Big 12 teams will finish with winning records. But the committee will take just seven, ultimately.
As far as the Big 12 women go, I think it ends up being six. West Virginia is probably the one team that is on the outside of Bracketology right now that can play its way in. But if they do, it may be at the expense of Kansas, as the pair play twice next month.
Roy RJ Denjen II on Facebook asks: Can WVU made the NCAA Tournament?
If you had asked me that a few weeks ago I would have said 'absolutely.' Now? I still think the Mountaineers can get in, but as I wrote on Wednesday night, they look disjointed right now. Head coach Bob Huggins actually apologized for the loss. To me, it's looking like TCU and West Virginia will be the two teams competing for that 'seventh' bid to March Madness I alluded to the previous question. And they play each other twice in the final three weeks of the season. My guess? The Mountaineers find a way to get in.
Jaden O'Neal on Facebook asks: Who's the surprise team so far this year?
Now that we're a few weeks into the Big 12 season, for the men I'll say Texas Tech. I'm not surprised by how well they're playing defense. But I wondered if they had the pieces to be competitive offensively. Well, the Red Raiders have put those concerns to rest. Texas Tech has scored at least 65 points in six of its last seven games. Naturally, Iowa State is on the list, and they were my pick when I was asked this question a few weeks ago. But their struggles on offense haven't been that surprising to me.
For the women, it's Kansas. The Jayhawks haven't been to the NCAA Tournament since 2013, have had just one winning season under head coach Brandon Schneider and are playing at a level where it would be disappointing if they don't get into the NCAA Tournament. They've already won in Austin for the first time in a decade and nearly upset Baylor.
It's ice fishing season! on Twitter asks: With all Big 12 teams playing such a grindhouse schedule, which teams look the strongest coming closer to the Big 12 tourney … taking into account bench, late season schedule (possible rest), etc…?
Naturally, this could change with more than a month until Kansas City (by the way, my plane tickets are booked). For the men, obviously Kansas looks the best positioned, and it's not just Ochai Agbaji. This is the deepest team head coach Bill Self has had in five years and he's using that depth to perfection. I don't like their end-of-season schedule, though — four games in eight days, including games with Baylor and Texas. Keep an eye out for that.
For the women, Baylor bears watching. I think the Bears have figured out new head coach Nicki Collen's offense, and the team's guards are finally starting to hit 3-pointers with regularity. Baylor also has a 'gentle' stretch at the end of the season, with one ranked opponent in its final seven games.
BobStrawn1 on Twitter asks: Which B12 Team will fall the farthest from their present standing by season's close?
That's a good question. With the men, you almost have to consider teams that currently have losing records in league play because, well, the league is just so competitive. Plus, everyone has played at least seven games, so we're nearly halfway through league action. TCU would be my pick. The Horned Frogs are 3-3 and they still have two games each with Kansas, Texas Tech and West Virginia.
For the women, my choice is West Virginia. The Mountaineers are 3-4 in league play, and they're good enough to be in every game, but not quite good enough to finish better than .500 this season.
You can find Matthew Postins on Twitter @PostinsPostcard.