Baylor Bears
Big 12 Defensive Players Who Made Pro Football Focus Top 10 Position Rankings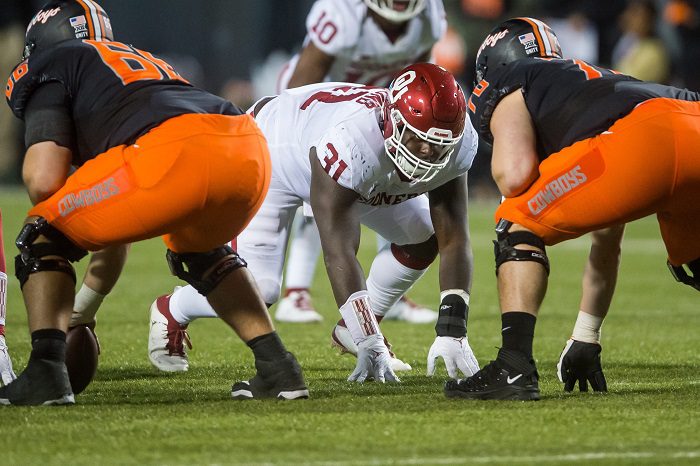 Interior Defensive Line
#4 Jaxon Player (Baylor)
Baylor added a big-time transfer with Jaxon Player from Tulsa. Last season Player led the Golden Hurricane with 14 tackles for loss and was second on the team in sacks. He created a ton of havoc last season for opposing offensive linemen and PFF graded him with an 85 as a run defender and as a pass rusher. I fully expect Jaxon to be a significant impact player for the Baylor defense next season.
#8 Jalen Redmond (Oklahoma)
After opting out of the 2020 season, Jalen Redmond didn't skip a beat this past season. Although he missed some time due to injury, Jalen still managed to be in PFF's good graces with a grade of 78.4. After his return in week nine, Jalen had the highest-pressure rate among power five interior defensive linemen. Now fully healthy, Jalen should be making plenty of noise in 2022 and should see more pass rushing opportunities.
Edge Defender
#6 Felix Anudike-Uzomah (Kansas State)
There were plenty of surprises in college football last season, but I didn't see Felix's dominance to be one of them. Anudike-Uzomah had eleven sacks last season which was the second highest in the entire Big 12. Felix is also a solid player against the run and with him coming back, he should be on plenty of preseason award watch lists.
Linebackers: None
Cornerbacks: None
Safeties: None
Complaints
For those who have followed me over the years know that I have a bit of a love/hate relationship with Pro Football Focus. Sometimes their rankings are spot on and other times they make me scratch my head questioning their decisions. While the Big 12 offensive players were relatively spot on, I do have some issues with their defensive picks.
How is Iowa State defensive end Will McDonald IV not on the list? If Felix Anudike-Uzomah is in the top five, then I fully believe Will McDonald IV should at least be in the top ten for returning edge rushers. Will led the Big 12 in sacks last season and was an All-American. I know PFF has their own special grading system but for Will not to make the list is an absolute crime in my book. Another name that could have been brought up is Collin Oliver from Oklahoma State.
As far as linebackers and safeties go, I don't have any complaints because the conference lost some good ones after last season. The Big 12 was loaded with talented linebackers but now some fresh faces need to step up.
Lastly, I was a little shocked when I didn't see a single Big 12 cornerback make the top ten. TCU's Tre'Vius Hodges-Tomlinson should have bee on there somewhere. PFF has raved about him numerous times and he is a good lock down corner. In fact, he is the best corner in the Big 12 and one of the best corners in the entire country. How he didn't make the top ten is something I don't understand.