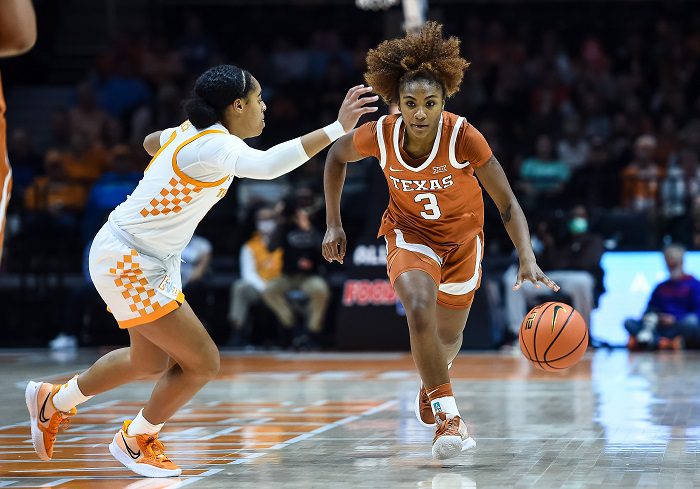 The Big 12 women are set to play all five of their conference games this Saturday and here are five things to watch as the league's 10 teams hit the floor.
Schedule (all times central)
No. 13 Iowa State at Texas Tech, 12:30 p.m., BIG12|ESPN+
No. 11 Baylor at West Virginia, 1 p.m., BIG12|ESPN+
Kansas at Oklahoma State, 1 p.m., BIG12|ESPN+
No. 9 Texas at No. 18 Oklahoma, 2 p.m., Bally's Oklahoma
TCU at No. 25 Kansas State, 6:30 p.m., BIG12|ESPN+
Audrey's Near-Perfect Night
It's unlikely to happen again, but as I watched the final minutes of Texas' complete win over Kansas State on Wednesday, I had hoped to see a little perfection. But then Audrey Warren had to miss a layup. She couldn't have left 8-for-8 alone and become a part of Texas history, as pointed out by the Austin American-Statesman's Danny Davis?
Sneaky Upset to Watch
When Texas Tech plays a ranked team, things get a little nuts, and they're hosting their second straight ranked team on Saturday against Iowa State. Here's the rundown:
The Lady Raiders beat then-No. 9 Texas on the road on Jan. 5;
The Lady Raiders beat then-No. 25 Kansas State on Jan. 15;
The Lady Raiders pushed No. 11 Baylor to the brink on Wednesday, losing 88-80.
Texas Tech also scored 91 points in a 97-91 loss to then-unranked Oklahoma on Jan. 2.
The point is the Lady Raiders, led by Vivian Gray, can score. The under.-500 record is a bit of a misnomer. They can give the No. 13 Cyclones all kinds of trouble if Iowa State isn't ready.
The Trap Game in Morgantown
Here is Baylor on the road in the Big 12 so far this season:
A 68-59 loss to Kansas State on Jan. 2;
An 83-77 loss to Oklahoma on Jan. 12;
An 82-79 win over Kansas on Jan. 16;
An 88-80 win over Texas Tech on Jan. 26.
Even now that the Bears are healthy and playing better, they're finding it hard to win on the road. Don't discount West Virginia. WVU Coliseum is a tough place to play, and the Mountaineers are fighting for their NCAA Tournament lives.
The Kansas Collection Stretch
Part of making the NCAA Tournament is collecting wins where you can get them, especially against teams where, at least on paper, you have an edge. Kansas, coming off a loss to Iowa State, is hitting a three-game stretch where, in all honestly, it can solidify its NCAA Tournament hopes.
The Jayhawks have back-to-back games with Oklahoma State on Jan. 29 and Feb. 2, followed by a home game with TCU on Feb. 6. Every team in this league is tough. But the Cowgirls and the Horned Frogs are under-.500 and the Jayhawks are 12-5. Win all three and Kansas is 15-5 with eight games left. And, when you consider that their last four games are against Iowa State, Baylor, Texas and Oklahoma, the Jayhawks need these next three wins so they can dance on March 13.
And Y'all Complain About ESPN+
The best game of the day on paper is the Texas-Oklahoma game. I won't be watching it. Not because I don't want to. But because I don't get Bally's because my streaming provider doesn't play well with Sinclair, the company that owns Bally's. Some of you may not like ESPN+, but at least you don't get blacked out of those games entirely.
You can find Matthew Postins on Twitter @PostinsPostcard.