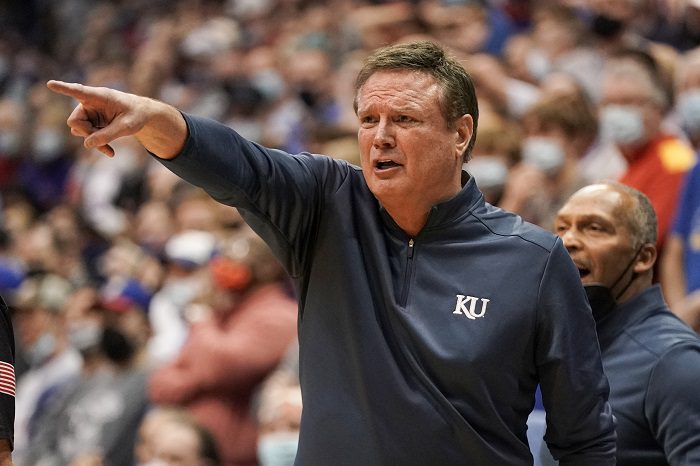 The Kentucky Wildcats defeated the Kansas Jayhawks, 80-62, in the Big 12-SEC Challenge at Allen Fieldhouse in Lawrence, Kansas, on Saturday evening.
It was billed as a battle of bluebloods, as No. 5 Kansas (17-3, 6-1 in Big 12) and No. 12 Kentucky (16-4, 6-2 in SEC) are two of the game's winningest programs. Plus, the programs are connected by the game's history, as Adolph Rupp, Kentucky's most recognizable coach, played for Kansas' 'Phog' Allen, who in turn played for the game's creator, James Naismith.
But Kentucky put a hurt on Kansas in the first half, building a 20-point lead at halftime of Allen Fieldhouse. Kansas didn't give up on the game, of course, and cut into the lead in the second half. But the Jayhawks never got to a point where they had a reasonable chance to make it a game.
It was a forgettable evening for Kansas coach Bill Self, who lost his 16th home game as Kansas head coach. That's not a typo. Just 16 losses at home.
Christian Braun and Ochai Agbaji led the Jayhawks with 13 points each. Agbaji, a player many believe is a player of the year candidate, did not have that type of evening, shooting 4-of-14 as Kentucky paid extra attention to him.
Keion Brooks Jr. led the Wildcats with 27 points. Oscar Tshiebwe added 17 points and 14 rebounds for Kentucky, which had not beaten a Top 5 team on the road since 2014.
Here are our three thoughts from the game.
What Was That First Half?
Kansas down by 20 at the break? How. Well …
Kentucky shot 61.8 percent from the floor and 50 percent from the 3-point line. Kentucky outrebounded Kansas 23-12. Kentucky outscored Kansas 28-18 at the half. While Kansas shot 40 percent from the field and 44 percent from the 3-point line, the Wildcats rendered both Ochai Agbaji and David McCormack inert in the first 20 minutes. McCormack has been inconsistent all season. But Agbaji with just three first-half points? That was just … plain … unexpected.
And Kansas never recovered. Plus, Kentucky didn't let up that much. The Wildcats still shot 50 percent for the game.
Not the Same Oscar
Oscar Tshiebwe played two seasons at West Virginia, so he was quite familiar with Kansas entering Saturday's game. Heck, Kansas was quite familiar with him. In his last game against Kansas in December of 2020, Tshiebwe had just three points and five rebounds.
But that previous knowledge didn't give the Jayhawks any sort of edge.
I had seen a couple of Kentucky games earlier this season, so I knew coming in he Tshiebwe was a different player. He's more confident with the ball in his hands. He still doesn't have significant shooting range, though he showed that he's building some range with his performance on Saturday. But what he already did well at WVU he now does with more force and assertiveness. He's a better defensive player now. He's also a better rebounder, and part of that is not having to share the paint with another post player, as he did at West Virginia with Derek Culver.
It's almost as if Kansas forgot that during Tshiebwe's freshman year at WVU he averaged 15.5 points and 13 rebounds in two games against the Jayhawks.
Tshiebwe's transfer to Kentucky has yielded a positive result for both that program and Tshiebwe's improvement as a player. He put all of that on display at Allen Fieldhouse.
The David McCormack Question
I'm not sure Kansas head coach Bill Self can wait any longer on David McCormack to return to the player he was last season, when he was the Big 12's most improved player. The maddening inconsistency continued on Saturday, when he had three points and one rebound in 16 minutes. He can't be dominant against, say Kansas State (11 points, 15 rebounds) and then disappear against Kentucky or even Oklahoma (six points, four rebounds).
The thing is, Self doesn't have a bunch of options. I see three:
First, release McCormack of the need for him to score and just tell him to rebound (if Self hasn't already tried that tactic). There is more than enough offense on this team to compensate. When McCormack has 10 or more rebounds, the Jayhawks tend to win.
Second, start him but basically cap his minutes. Maybe ask him to play just 20 minutes per game and have him give maximum energy.
Third, bench him and start either Mitch Lightfoot or KJ Adams and bring McCormack off the bench (something Self has already tried).
You can't just bench McCormack completely. Why? He is THE player that can make the difference between the Jayhawks having a good NCAA Tournament run or a great NCAA Tournament run. His inconsistency has now pinned Self in a corner from which he must find an escape.
You can find Matthew Postins on Twitter @PostinsPostcard.