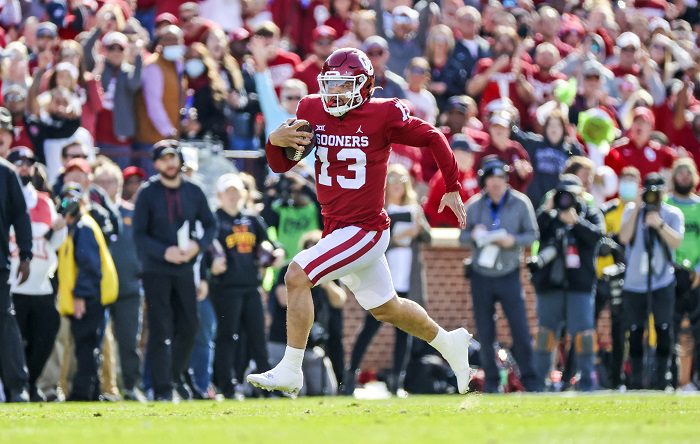 When news came out in recent days that the Wisconsin Badgers were in play for former Oklahoma QB Caleb Williams, it still seemed like a longshot.
However, that may not be the case anymore.
The Badgers are making a real run at Williams and their recent staff addition proves as much. The news broke from Bruce Feldman on Saturday that Wisconsin was hiring Baltimore Ravens TE coach Bobby Engram as offensive coordinator.
Now why would that matter to Caleb Williams?
Well, Engram's son, Dean, is a cornerback at Wisconsin and in high school he played wide receiver in the D.C. area where he caught touchdowns from, you guessed it, Caleb Williams.
And those who are closest to the Wisconsin program are also starting to believe that Caleb Williams heading to Camp Randall is a real possibility.
Jon McNamara is the editor of Badger Blitz and shared this tweet on Saturday.
Boy, wouldn't it be poetic justice of Caleb Williams blindsides Lincoln Riley in a way that can only be matched by the way Lincoln Riley blindsided Oklahoma?
Williams was perceived to be a lock to join the former Oklahoma coach at USC, but that now seems far from a done deal.
As a freshman with the Sooners in 2021, Caleb Williams threw for 1,912 yards with 21 touchdowns and four interception, adding 442 rushing yards and six touchdowns. He took over the starting job after a breakout performance in the Red River Rivalry that led OU to a comeback victory.
Meantime, Wisconsin finished 9-4 in 2021, including a 6-3 record in the Big Ten. Sophomore Graham Mertz started for the Badgers throughout the season. He finished the 2021 season with 1,958 passing yards, 10 touchdowns and 11 interceptions.
In other quarterback transfer news, former USC quarterback Jaxson Dart officially left the Trojans on Saturday and is joining the Ole Miss Rebels.
Lincoln Riley has got to be having some restless nights this week. Now he knows how Sooner Nation felt in December.