Baylor Bears
Baylor vs. Oklahoma Women's Basketball: Preview and Prediction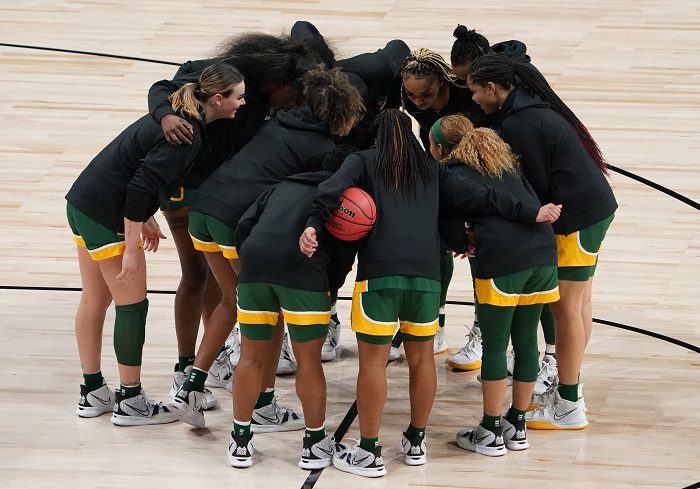 Here is everything you need to know about the Oklahoma Sooners and the Baylor Bears in our Oklahoma vs. Baylor Big 12 women's basketball preview.
7 p.m. Central Time, Wednesday, Feb. 2, 2022, Ferrell Center, Waco, Texas
TV: Big 12/ESPN+
Records: Oklahoma: 18-3 (7-2 in Big 12); Baylor: 15-4 (5-2).
Ranking: Oklahoma: No. 18 (Associated Press) Baylor: No. 9 (Associated Press).
Last game: Oklahoma: def. Texas, 65-63 (Jan. 29); Baylor: def. West Virginia, 87-54 (Jan. 29).
Previous meeting: Oklahoma 83, Baylor 77 (Jan. 12).
Key players
Oklahoma
G Taylor Robertson: If you don't gear your defense to keep track of Robertson, well then you deserve to lose, in all honesty. There is no better 3-point shooter in the Big 12, and perhaps the country, than the senior. She leads OU with 85 made 3-pointers, shoots an incredible 47.8 percent from the arc and is the Big 12's leading all-time 3-point shooter, male or female. She's not a one-trick player, either. She's a quality defender who averages 17.8 points 4.6 rebounds, more than three assists and one steal per game.
F Madi Williams: She is Oklahoma's leading scorer, averaging 18.4 points per game. The 5-foot-11 forward also leads the Sooners with 7.9 rebounds per game. She can stretch defenses to the 3-point line and averages more than two assists and one steal per game. In the wake of the injury to Ana Llanusa, the Sooners' third-leading scorer, Williams has scored at least 20 points in three of her last five games.
F Liz Scott: The 6-foot-2 Scott hit the game-winning layup with four seconds left against Texas on Saturday, a game in which she scored only two points. But they ended up being incredibly important. She's had big games this season, including a 22-point outing against Oklahoma State. But her value is on the glass, where she averages nearly five rebounds, and defending the rim, where she has a team-high 15 blocks.
Baylor
F NaLyssa Smith: The reigning Wade Trophy winner, given to the nation's top player, is a walking double-double, averaging 20.3 points and 11.4 rebounds per game. Last week Smith, 6-foot-4, scored 23 points against Texas Tech and 20 points against West Virginia. In the last meeting with the Sooners, she had a whopping 30 points. The best you can hope for is to slow her down.
C Queen Egbo: She's not always the most consistent scorer, but on those night when Smith doesn't post a double-double, it's usually because Egbo is owning the glass. She averages 10.8 points and 8.3 rebounds per game, and her high mark for the season was her career-high 21 rebounds against Iowa State, a game where she also scored 14 points. The 6-foot-3 center can be a real problem. She just doesn't venture out to the wing and stretch the defense like Smith does.
G Jordan Lewis: The 5-foot-7 Alabama transfer has integrated nicely into Baylor's new-look offense. Against West Virginia she became just the third player in Baylor history to record a triple double, with 10 points, 10 rebounds and 11 assists. For the season she's averaging 12.3 points, 3.5 rebounds, 5.4 assists and one steal per game.
Key storylines
Oklahoma
First-year Sooners head coach Michelle Baranczyk has changed the mindset of a program that her predecessor, Sherri Coale, turned into a perennial NCAA Tournament team. That mindset is offense. The Sooners are the nation's No. 2 scoring offense, averaging nearly 90 points per game. Between Taylor Robertson, Madi Williams, Skylar Vann and Kelbie Washington, the Sooners have four players that are averaging a combined 54 points per game. Vann and Washington have made up nicely for the loss of Ana Llanusa to injury (who was averaging 17 points per game when she was hurt). The Sooners are not the most defensively-minded team, as they give up 74 points per game. But they're fun to watch.
Baylor
The Bears lost their first two games, shorthanded in part due to COVID-19 health and safety protocols. Then, after a pause, the Bears returned and have now won five straight games. The big one was the home win over Iowa State, where the Bears took advantage of a short-handed Cyclones team and equalized the Big 12 race. The Bears are still in the running for a regular-season title, but they'll need more than NaLayssa Smith, Queen Egbo and Jordan Lewis to do it. The wild cards are Sarah Andrews and Ja'Mee Asberry, who have a combined 76 3-pointers. If one of them catches fire, the Bears have a starting five that is nearly impossible to deal with.
Fun fact
While Baylor won the 2021 Big 12 Tournament and NaLyssa Smith was the MVP, Oklahoma has not won the Big 12 Tournament since back-to-back titles in 2006-07, with Courtney Paris the MVP both of those tournaments.
Prediction
Baylor 84, Oklahoma 77. I think you have to expect a lot of points in this game. I mean, OU needed 84 to win the last meeting. This won't be a defensive showcase.
You can find Matthew Postins on Twitter @PostinsPostcard.