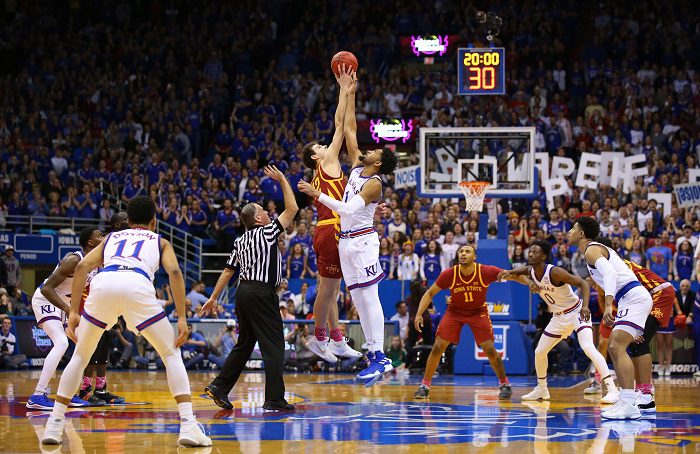 Here is everything you need to know about the Kansas Jayhawks and the Iowa State Cyclones in our Kansas vs. Iowa State Big 12 men's basketball preview.
6 p.m. Central Time, Tuesday, Feb. 1, 2022, Hilton Coliseum, Ames, Iowa
TV: ESPN
Records: Kansas: 17-3 (6-1 in Big 12); Iowa State: 16-5 (3-5).
Ranking: Kansas: No. 10 (Associated Press); Iowa State: No. 20 (Associated Press).
Last game: Kansas: lost to No. 12 Kentucky, 80-62 (Jan. 29); Iowa State: def. Missouri, 67-50 (Jan. 29).
Previous meeting: Kansas 62, Iowa State 61 (Jan. 11)
Key players
Kansas
G Ochai Agbaji: He's coming off a 13-point game in Kansas' disappointing loss to Kentucky. But he's still All-America and Big 12 Player of the Year worthy. He still leads the Big 12 with 20.9 points per game and is second in the Big 12 by firing 46.4 percent from the 3-point line. His performances against Kansas State and Texas Tech in the lead-up to the Kentucky loss should not be forgotten. He's a career night waiting to happen. And the NBA is waiting.
F Mitch Lightfoot: His numbers aren't stellar — 5.2 points and 3.3 rebounds per game. But the sixth-year senior may be the player head coach Bill Self trusts the most inside, in the wake of David McCormack's season-long downturn in play. He plays quality defense, rarely makes mistakes and gives Kansas 12 important minutes per game.
G Christian Braun: He isn't Agbaji's equal from the 3-point line (he shoots just 32 percent), but he averages 15 points per game and is one of the conference's best free-throw shooters at 81.4 percent. So whenever he drives to the basket he's looking for contact. Meanwhile, the 3-pointers he does hit are timely and he's one of the best shot-blocking guards in the conference.
Iowa State
G Izaiah Brockington: Well, he did transfer from Penn State to go someplace where he could be the man, right? Well, he's a two-time Big 12 Player of the Week who averages more than 16 points per game. When the Cyclones need a basket, he's the first option. What was unexpected was Brockington also leading the Cyclones in rebounding (7.8 per game). It's rare for a guard to lead his team in both categories.
G Tyrese Hunter: The true freshman is growing into a quality player, averaging 10.6 points, 4.7 assists and two steals per game. And he's earning national attention, as his defense has earned him a spot on the Naismith Defensive Player of the Year Award watch list. He's turned into the perfect complement to Brockington.
G Caleb Grill: The Cyclones have this rotation of players that seems to step up at different times, and Grill falls onto that list. He's bounced back and forth between Iowa State, UNLV and then Iowa State again, and what he's become is the team's best 3-point shooter at nearly 40 percent. Brockington may shoot a slightly better percentage, but Grill has him beat on volume by a 2-to-1 margin. If the Cyclones need a 3 late, they'll turn to this guy.
Key storylines
Kansas
The Jayhawks would be best to put their loss to Kentucky in the rear-view mirror. It was, without question, Kansas' worst game of the season. But, it came at a time where it didn't impact the Jayhawks' standing in the Big 12 race. But, losing to the Cyclones could do exactly that. Kansas is just a game ahead of the field in the Big 12. Kansas is happy to see the play of guard Remy Martin come around, though they don't need to be reliant on him for scoring right now. The Jayhawks' main issue is how to get the most out of forward David McCormack, who is as likely to post a double-double as he is to be irrelevant on any given night.
Iowa State
Since that 12-0 start, the Cyclones have won just four games. But let's dissuade any outsiders that the Cyclones aren't competitive, especially with the top-shelf talent in this conference. The Cyclones lost to Kansas by one on the road, lost to Baylor by five points at home and fell by 12 points at Texas Tech, which was after the Cyclones beat the Red Raiders at home by four. Iowa State has won the last two games, and they showed they can put up points, scoring 84 against Oklahoma State. But they're more comfortable when they can use their defense to influence the game.  
Fun fact
Kansas beat Iowa State in their first meeting coming off a loss. Kansas is 52-6 in its last 58 games coming off a loss.
Prediction
Kansas 67, Iowa State 62
The Cyclones want a little justice after the ending Lawrence. Kansas wants a little redemption after the Kentucky loss. Even with it on the road and being at Hilton, I'll take Kansas.
You can find Matthew Postins on Twitter @PostinsPostcard.