Baylor Bears
Texas Tech is the New No. 1 in Big 12 Men's Basketball Power Rankings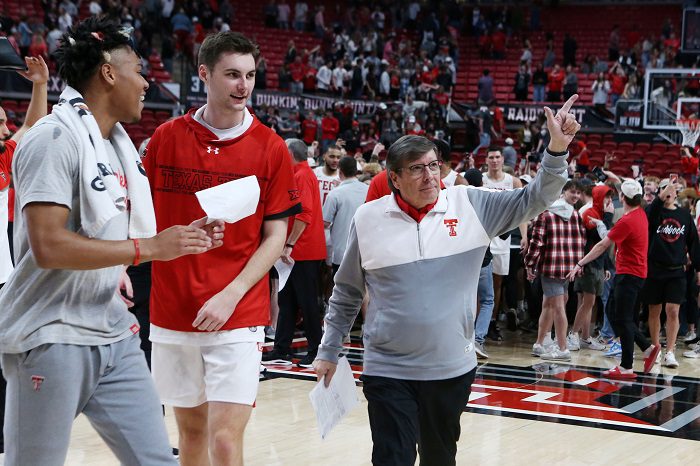 The Texas Tech Red Raiders are No. 1 in the Heartland College Sports Big 12 men's basketball power rankings after Week 12 of the 2021-22 season.
Our Power Rankings will appear every Monday.
1. TEXAS TECH (16-5, 5-3) (Last Week: 2)
Welcome the Red Raiders to the top of the power rankings, just in time for them to host Texas on Tuesday. Yes, the Red Raiders did lose to Kansas last Monday. But the Red Raiders forced double overtime and only lost by three on the road. Kansas? Well …
2. KANSAS (17-3, 6-1) (Last Week: 1)
Well, that loss to Kentucky was … awful? A wake-up call? Probably both. I would keep Kansas at No. 1 if that had been a two- or three-point game. But the Jayhawks didn't show up, so they get a little bit of punishment.
3. IOWA STATE (16-5, 3-5) (Last Week: 5)
A good, stabilizing week for the Cyclones, who needed overtime to survive Oklahoma State but handled Missouri, winning by 17. The Cyclones are good enough for the NCAA Tournament. I think the real question now is whether they'll finish above-.500 in Big 12 play.
4. BAYLOR (18-3, 6-2 in Big 12) (Last Week: 3)
Baylor cruised past Kansas State, but then hit a speed bump in their road loss to Alabama in the Big 12-SEC Challenge. Of greater concern is the health of LJ Cryer, who missed the Alabama game with an issue related to his surgically-repaired ankle.
5. TEXAS (15-5, 5-3) (Last Week: 6)
Sure, Texas beat TCU by 23 last Tuesday. But nearly blowing that lead against Tennessee at home? The Longhorns played like they had never seen a press before. That undid some of that goodwill here, but given that Texas won both games, it slides up a couple of spots.
6. TCU (14-4, 3-3 in Big 12) (Last Week: 4)
What a week for the Horned Frogs. First, it was a 23-point loss to Texas at home, their worst home loss to Texas. Then, on Saturday, the Horned Frogs beat a ranked SEC team for the first time in more than 50 years when they upset LSU. That could be the win that puts the Horned Frogs in the NCAA Tournament. It was their second win over a ranked team in eight days. But, you can't lose to Texas by 23 and hold pat.
7. OKLAHOMA (13-8, 3-5) (Last Week: 10)
The win over West Virginia helped get the Sooners back into a groove in Big 12 play The loss to No. 1 Auburn, well, that was expected. And OU played well in stretches. The inconsistency of Tanner Groves is a bit maddening for Porter Moser. It might serve the Sooners well to put more of the offense in the hands of Jordan Goldwire and Umoja Gibson right now.
8. KANSAS STATE (10-10, 2-6) (Last Week: 7)
I think that loss to Kansas sucked the momentum out of the Wildcats. Baylor blew them out and then they missed a shot at a road win over Ole Miss in the Big 12-SEC Challenge. Mark Smith and Nijel Pack are playing out of their minds.
9. OKLAHOMA STATE (10-10, 3-5) (Last Week: 8)
A rough week for OSU, with a loss in overtime to Iowa State and then a road loss to Florida when they had a double-digit halftime lead. This is the time of the season when you would expect a team with nothing to play for to hit a wall.
10. WEST VIRGINIA (13-7, 2-5) (Last Week: 9)
The Mountaineers fall back to the bottom of these rankings after an 0-2 week in which they lost to Oklahoma and Arkansas. The Mountaineers are not in a good place. Usually, I have trust in Bob Huggins to fix it. But, the tool box looks pretty limited right now.