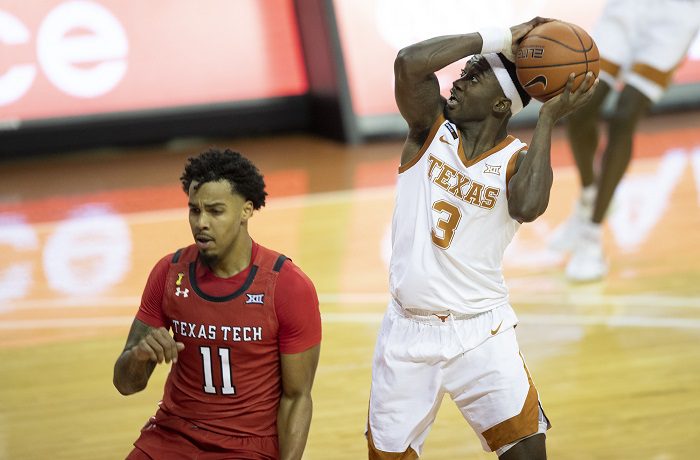 Here is everything you need to know about the Texas Longhorns and the Texas Tech Red Raiders in our Texas vs. Texas Tech Big 12 men's basketball preview.
8 p.m. Central Time, Tuesday, Feb. 1, 2022, United Supermarkets Arena, Lubbock, Texas
TV: ESPN2
Records: Texas: 16-5 (5-3); Texas Tech: 16-5 (5-3 in Big 12);
Ranking: Texas: No. 23 (Associated Press); Texas Tech: No. 14 (Associated Press);
Last game: Texas: def. Tennessee, 52-51 (Jan. 29); Texas Tech: def. Mississippi State, 76-50 (Jan. 29);
Previous meeting: First meeting of the 2021-22 season.
Key players
Texas
F Timmy Allen: One of several transfers to join the Texas program this offseason, Allen has been the most consistent of the frontcourt players that head coach Chris Beard took in. Allen, who previously played at Utah, averages 11.8 points and 6.5 rebounds per game. He leads Texas in both categories. He's one of the most versatile forwards in the Big 12, as he can play low on the block or come out and exploit defenses with a mid-range jumper.
G Andrew Jones: Incredibly, Jones is in his sixth season at Texas. He surrendered nearly two seasons' worth of time to his fight with leukemia, and he recently announced he would donate 10 percent of NIL earnings to the V Foundation for Cancer Research. On the court, Jones is third on the Longhorns with 10.1 points per game. He's adapted nicely to the new offensive wrinkles and improved his defense under Beard and his staff.
G Courtney Ramey: He is fourth on the team in scoring, averaging 9.8 points per game. But, lately, the offense has gone more through Ramey on the perimeter. He's emerged as Texas' top 3-point option, shooting 37.5 percent from the arc, and is driving to the basket more than ever before. It's a crowded backcourt with Jones and Marcus Carr, but Ramey is coming off an 18-point performance against Tennessee.
Texas Tech
G/F Kevin McCullar: McCullar has emerged as one of the best defensive players in the country, as evidenced by his appearance on the watch list for the Naismith Defensive Player of the Year. He has one of the most balanced games in the Big 12, averaging 10.5 points, 5.6 rebounds, 3.6 assists and 1.5 steals per game. When he told reporters in October he was training to be a point guard, he wasn't joking. The Red Raiders' offense now flows through him.
F Bryson Williams: He was a known quantity when he came to Texas Tech from UTEP. But he's continued his steady play with the Red Raiders, averaging a team-leading 13.5 points, along with 4.6 rebounds per game. His night against Kansas was incredible, as he scored 33 points and was a perfect 4-for-4 from the 3-point line. He is capable of being that player every night, but his adaption to Tech's mindset on defense means he fits the program like he's been there for years.
G Adonis Arms: Arms' game is coming on. The season totals say he only averages 8.4 points per game. But, he's coming off a 16-point game against Mississippi State and has hit double figures in three of his last seven games. He's tied for the team lead with 23 made 3-pointers with Terrence Shannon Jr. and shoots 36 percent from distance. He's a perfect weapon off the bench.
Key storylines
Texas
Since the Longhorns lost at home to Kansas State two weeks ago, the Longhorns have won three straight. Texas doesn't seem to care about style points, either. They won an aggressive defensive contest with Oklahoma State that went down to the wire. Then, Texas blew out TCU on the road. Finally, they nearly blew a double-digit lead before beating Tennessee. Chris Beard has built a culture of defense at Texas, and the Longhorns are No. 1 in scoring defense in the NCAA. But, this offense is prone to stretches where it doesn't score points. Still, the defense helps them ride out those valleys. Forwards Tre Mitchell and Dylan Disu are the forwards most likely to make an impact outside of Timmy Allen.
Texas Tech
The buzz on campus for this one would lead you to believe that the Red Raiders are hosting an Elite Eight NCAA Tournament game on campus. Instead, it's a battle for third place in the Big 12. The Red Raiders have been lining up since Saturday night to get a seat for Chris Beard's first game in Lubbock since leaving the Red Raiders for Texas. In his place is head coach Mark Adams, a West Texas lifer who has a Texas Tech degree and has maintained the Red Raiders' standard for defense. Adams, like Beard, has used the transfer portal to augment a core of Terrence Shannon Jr., Kevin McCullar and Marcus Santos-Silva. In many ways, the two teams are mirror images of each other.
Fun fact
Texas Tech is No. 11 and Texas is No. 17 in NCAA Net rating as of Jan. 30. Those are the third and fourth-best NET ratings in the Big 12, after Baylor (No. 4) and Kansas (No. 9).
Prediction
Texas Tech 71, Texas 70 (OT)
Chris Beard will come back to Lubbock and the Red Raider faithful are going to let him know about it. It may be, pound-for-pound, the most memorable Big 12 game of the season. And I write that knowing full well that I may have watched the Big 12's most memorable game a week ago between Kansas and Texas Tech.  
You can find Matthew Postins on Twitter @PostinsPostcard.