Baylor Bears
Three Thoughts on Baylor's 81-77 Win Over West Virginia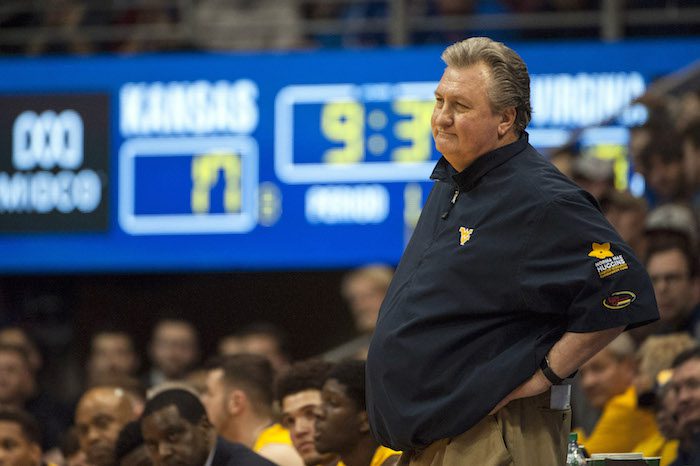 The Baylor Bears defeated the West Virginia Mountaineers, 81-77, in a Big 12 men's basketball game at the Ferrell Center in Waco, Texas, on Monday night.
West Virginia (13-8, 2-6 in Big 12) entered the game on a horrible trajectory having lost five straight games. Baylor (19-3, 7-2) was coming off its Big 12-SEC Challenge loss to Alabama but was on a three-game winning streak in Big 12 action.
So, naturally, the game went down to the wire because this is the Big 12.
Baylor was down to two scholarship guards with both L.J. Cryer and Adam Flagler out with injuries. While there was good news attached to Cryer's injury — he just needs rest — both being on the bench left the Bears without a good chunk of their perimeter offense.
The Mountaineers took advantage, building as much as a 10-point lead early in the second half and maintaining it until midway through the second half, when Baylor took the lead. The game's drama kept building from there, and with 3:57 left, the game changed.
West Virginia guard Taz Sherman — who at the time already had a career-high 29 points — was attempting to drive to the basket and received an wrist across the left side of his face from Baylor forward Jeremy Sochan. The blow was enough to stagger Sherman and send him to the bench. He applied ice for a few minutes before he left for the locker room. Baylor was up two at that point.
While Sochan's contact didn't appear intentional, West Virginia head coach Bob Huggins certainly wasn't happy with play continuing after the injury.
The Mountaineers kept scoring without Sherman, desperate for a win. Baylor was undaunted too, trying to claim one more win before Saturday's huge game with Kansas. It was Matthew Mayer's second effort on a put-back rebound to make it 77-71 Bears with 37 seconds left that seemed to put the game out of reach. The Mountaineers fought, though, cutting the lead to three points with seven seconds left before a James Akinjo free throw finally put the game away.
Along with Sherman, Sean McNeil was in double figures with 16 points.
Akinjo led the Bears with 25 points, while Jonathan Tchamwa Tchatchoua scored 14 points and Sochan added 13 points. He nearly had a double-double with nine rebounds.
Here are our three thoughts from the game.
Taz vs. James
That's what it seemed to come down to in this game, two incredible performances by West Virginia's Taz Sherman and Baylor's James Akinjo. Or at least that was the trajectory before Sherman's injury.
Along with Sherman's 29 points, he poured in six 3-pointers and shot 10-of-15 from the floor. He also went 3-for-5 from the free-throw line. He played like the Sherman we saw before he had to sit out in early January due to COVID-19 health and safety protocols. West Virginia head coach Bob Huggins has said that Sherman lost quite a bit of weight due to COVID. So, it's a shame that he couldn't finish the game due to the injury.
Akinjo had to be the scorer on Monday with Cryer and Flagler both out of the game. He started slower than Sherman, but he ended up shooting 7-of-17 from the floor, including four 3-pointers, most of which came in the second half. Akinjo also went 7-for-8 from the free-throw line, several of which came down the stretch.
Both came up clutch for their respective teams. But we're left wondering 'what might have been' in the final few minutes after Sherman's injury.
That WAS a 16-1 West Virginia Run
At the end of the first half I had to search the memory back to figure out who Seth Wilson was. The freshman guard from Lorain, Ohio, drained a 3-pointer from Taz Sherman distance to give the Mountaineers a 39-31 lead, which capped a 16-1 run to end the half.
I mean, wow. How did that happen?
At one point Baylor had a 20-10 lead with 11:20 left in the first half. They appeared to be in control. Baylor's James Akinjo made two free throws and the Bears were up 30-23.
And then …
Two Isaiah Cottrell free throws.
A 3-pointer from Sherman that was about 25 feet out.
Another 3-pointer from Sherman, which was a little bit closer.
A 3-pointer from Sean McNeil (something the Mountaineers desperately need more of).
Then, Baylor's Jeremy Sochan broke up the run with a second-chance free throw.
But, then a free-throw by Sherman, another by Gabe Osabuohein and then Wilson's buzzer-beating 3-pointer after a two-minute drought.
After that, the Bears were on the defensive and Bob Huggins told ESPN's Kris Budden, "Well, we played."
I desperately want to hear Huggy do analysis for a full college basketball game. If that finally gets him into the Basketball Hall of Fame, let's give him a night off.
But, seriously, West Virginia needed that run for so many reasons.
Dale Bonner's Night
With both L.J. Cryer and Adam Flagler out, Dale Bonner made his first Division I start for the Bears.
Bonner was the 'other' transfer guard the Bears took in this past offseason (with James Akinjo being the other). Bonner was an absolute stud … at Fairmont State in Fairmont, West Virginia, which is a Division II school. Last season he averaged 20.2 points and led his team with 4.5 assists. He also shot 44 percent from the 3-point line. Fairmont State went 38-12 with Bonner on the team.
Bonner is trying to do the same thing that Freddie Gillespie did a few years ago when Gillespie transferred to the Bears from Division III Carleton in Minnesota. Gillespie had the benefit of sitting out a year due to the transfer rules at the time. Bonner has been able to contribute immediately. Up until Monday, it had been as a backup that averaged 2.3 points per game.
Baylor needed more from him against the Mountaineers. He played 36 minutes and scored just five points. He did draw a key charge down the stretch of the game.
It was way too much to ask that Bonner be the Bonner he was at Fairmont State. Baylor coach Scott Drew has been clear that he sees Bonner as a player that needs this season to transition to Division I ball. But I saw enough on Monday to believe that Bonner could be more helpful to the Bears in March than originally anticipated. And next season? Let's just say I'm a bit more bullish than I was entering the evening.
You can find Matthew Postins on Twitter @PostinsPostcard.