Baylor Bears
Baylor Is No. 1 in Big 12 Women's Basketball Power Rankings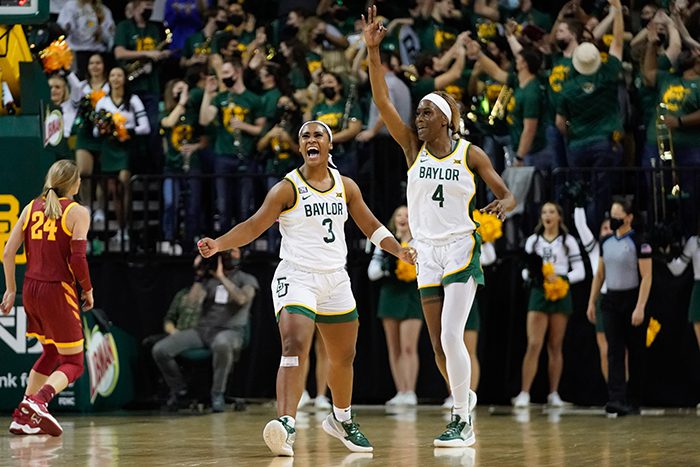 The Baylor Bears move to No. 1 in the Heartland College Sports Big 12 women's basketball power rankings for Feb. 1. Our Power Rankings will appear every Tuesday.
1. BAYLOR (15-4, 5-2; Last Week: 2)
The Bears won a pair of road games last week against Texas Tech and West Virginia. Now, it's the BIG week for the Bears — home against Oklahoma and then home AND road against Texas. Three games in five days that could well define the Bears' season. Good news? Baylor is starting to score points in bushels. The Bears will need it. Baylor is the league's hottest team, having won five straight after an 0-2 start in Big 12 action.
2. IOWA STATE (18-3, 7-2; Last Week: 3)
A return to normalcy for the Cyclones, who beat Kansas and Texas Tech last week. The consistency of Emily Ryan as a scorer now, and not just a facilitator, can be a difference-maker for the Cyclones in March.
3. OKLAHOMA (18-3, 7-2) (Last Week: 5)
The Sooners claimed a big win over Texas to stay in that first-place tie with Iowa State. Now the Sooners get a second crack at Baylor. OU won the first matchup. Can the Sooners sweep the Bears, who have found their shooting stroke and look like the team we thought they would be?
4. TEXAS (15-4, 5-3 in Big 12; Last Week: 1)
Well that four-game winning streak was fun while it lasted. The loss to Oklahoma drops the Longhorns off their No. 1 perch. Still, this is a team that has potential for greatness. But the OU game showed that the Longhorns' offense, at least for right now, has a ceiling.
5. KANSAS STATE (16-5, 6-3; Last Week: 4)
Kansas State had the misfortune of losing to Texas at mid-week. The reason the Wildcats are below the Longhorns here is the quality of the loss for the two teams. Texas blew out Kansas State, but only lost to Oklahoma by two points. It's a small thing. But, that was my logic.
6. KANSAS (13-5, 4-4; Last Week: 6)
The Jayhawks split for the week, falling on the road to Iowa State and then beating Oklahoma State. Kansas faces Oklahoma State again, followed by TCU. I made this point last week — these are games where KU needs to pick up 'easy' wins to pad their NCAA Tournament case.
7. WEST VIRGINIA (10-8, 3-5; Last Week: 7)
A split week for the Mountaineers. WVU is still keeping things above .500, but how long can it stay there? I see them as an WNIT team, if the Mountaineers can post a winning record by the end of the Big 12 Tournament.
8. TCU (6-11, 2-6; Last Week: 8)
The Horned Frogs lost both games this week, and with the two teams below then both losing twice last week, we'll keep TCU where it is for the time being.
9. TEXAS TECH (9-11, 2-7; Last Week: 9)
The Lady Raiders hosted a pair of ranked teams and lost both games, though they really pushed Baylor in the mid-week game. They're a fun offensive team to watch. But they haven't been able to close the deal.
10. OKLAHOMA STATE (6-12, 1-8; Last Week: 10)
Oklahoma State has now lost six straight and they'll be looking for some revenge against Kansas in Lawrence on Wednesday.