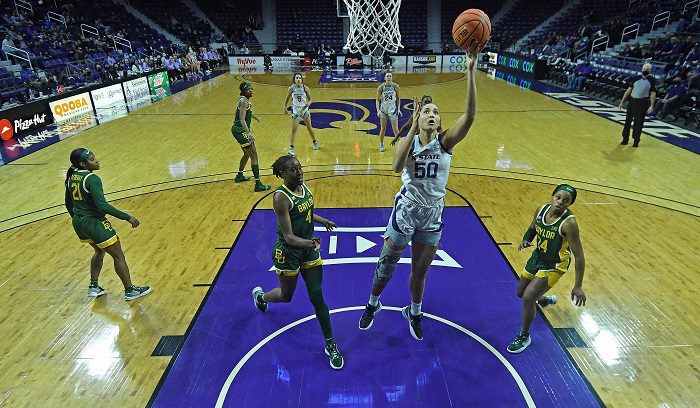 The Big 12 Conference is done with Week 12 of the 2021-22 women's basketball season. So let's dive in and check out our five takeaways for the week.
Welcome to 'Separation Week'
In four days this week, the Big 12 will either have a clear leader or remain muddy at the top of the standings. This is, in part, thanks to Baylor's COVID-19 pause right after the start of the Big 12 season. That forced the Bears to reschedule a couple of games, one of which is being played this weekend.
Entering this week, Iowa State and Oklahoma are both 7-2 in league action, with Baylor at 5-2, Kansas State at 5-3 and Texas at 5-3.
So, how does the week unfold?
Kansas State goes to Iowa State and Oklahoma goes to Baylor on Wednesday. Iowa State can get some clearance from the field with a win, but only if Baylor beats OU. And, of course, the Bears would still only have two league losses. If Iowa State loses, then the winner of the Baylor-OU game is the only remaining team in the league with two losses.
Then, it's Friday and Texas is at Baylor. That's the make-up game for the one postponed due to COVID-19. Then, just for good measure, the Longhorns and Bears play in Austin on Sunday.
I don't see one team or the other sweeping those two games. What I expect is a split.
There are so many variables it's hard to know how this will go. But there is opportunity for the Cyclones, the Bears, the Longhorns or the Sooners to take control of this race — or leave the top of the Big 12 a muddled mess for another week.
You know? Chaos isn't so bad, right?
Ashley Joens Record Check
Ashley Joens is still on track to become Iowa State's all-time leading scorer this season. When I last checked, I thought it might come this week. But after Joens missed the Texas game due to COVID protocols, and needed a little time to get sharp again, let's take a look at where she stands going into this week.
Career Points Scored in Iowa State History:
1. Angie Welle (1999-02) — 2,149
2. Bridget Carleton (2016-19) — 2,142
3. Ashley Joens (2019-present) — 2,081
Points remaining to pass Welle — 69
Joens would have to have a huge week to pass Welle this week. But if there was ever a time to do it, this would be it, as Iowa State hosts Kansas State and Oklahoma State. That way, the Hilton Coliseum faithful could see her do it.
If she doesn't do it this week, then it would 'probably' happen at TCU on Feb. 12, or at Texas on Feb. 16.
But, the point is that it's going to happen. At some point soon, the record will be Joens'.
Any Hot Seat Coaches?
Right now there are three coaches that one might perceive to be in trouble — West Virginia's Mike Carey, Oklahoma State's Jim Littell and TCU's Raegan Pebley.
Thing is, I don't think any of them are on a hot seat.
Carey is the only one of the three with a winning record right now, and he's coming off an NCAA Tournament appearance behind Kysre Gondrezick, who was the No. 4 overall pick in the WNBA Draft last summer. Carey is a West Virginia native and has coached the program since 2001. He had 431 wins at WVU through last season and has taken them to postseason action 16 out of 20 seasons.
Littell took over after the passing of Kurt Budke in 2011. He's won 195 games at OSU and has eight postseason appearances, including a WNIT title.
Pebley is in her eighth season at TCU. She's won at least 20 games three times and reached the WNIT four times.
These are three solid coaches who are experiencing an anomaly based on their past history at their programs. If they're gone after this season, it's because they decided to move on to something else and not because they're let go.
Liz's Lay-up
One more look at Liz Scott's clutch layup with four seconds against Texas on Saturday. Watch Sooners head coach Michelle Baranczyk push her players off the floor in the aftermath.
Three Games I'm Intrigued by This Week
Kansas State at Iowa State, Wednesday: The first one ended with an incredible Iowa State comeback.
Oklahoma at Baylor, Wednesday: OU won the first meeting and its offense isn't slowing down. First one to 80 wins?
Texas at Baylor; Friday; Baylor at Texas, Sunday: Two of the conference's best teams play each other twice in three days.
You can find Matthew Postins on Twitter @PostinsPostcard.