Big 12 News
Former Oklahoma QB Caleb Williams Transfers to USC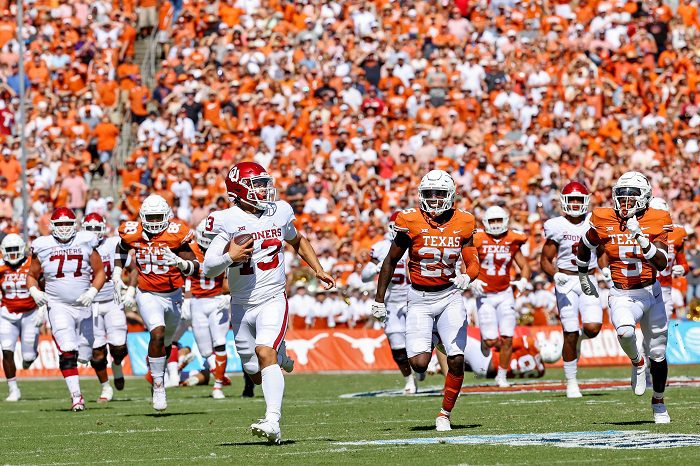 Oklahoma freshman-phenom Caleb Williams will not return to Norman next season as he hinted was a possibility and will transfer to USC to play for Lincoln Riley in Los Angeles.
According to ESPN's Pete Thamel, the former Sooners quarterback told ESPN that he is transferring to USC and will start classes there today.
Who could've seen this coming? How about literally everyone.
Although Oklahoma fans now have a true disdain for the pride of Muleshoe, Texas, there is one thing they can't refute: Lincoln Riley develops quarterbacks. Riley had three quarterbacks leading NFL franchises this season. Kyler Murray and Jalen Hurts have their teams in the playoffs this season, while Baker Mayfield led the Cleveland Browns to their first playoff win since 1994 last season.
Although it stings for Sooner Nation, it's hard to argue the fact that Williams' best odds to be picked first overall in the 2024 NFL Draft will be if he is developed by Lincoln Riley.
In just seven starts Williams was fantastic, accumulating 2,354 total yards and 27 touchdowns as a true freshman. It's not hard to see why the football world is so crazy about the five-star quarterback from Gonzaga High School in Washington D.C. He's an electric playmaker with all-world talent at the quarterback position, and that is why Lincoln Riley burned every bridge he ever made with Oklahoma to get Williams to the West Coast.
That's not the only Williams that USC will inherit from the heartland in this saga either, as former five-star wideout Mario Williams is already enrolled at USC. The duo of five-star recruits were the jewels of Oklahoma's 2021 recruiting class and will be very hard to replace.
However, Oklahoma still has elite options in the locker room. UCF transfer quarterback Dillon Gabriel brings experience in the Jeff Lebby offense to Norman, and dangerous pass-catchers like Marvin Mims and Theo Wease are still on the roster.
They may take a small step back in 2022 but don't feel sorry for the Sooners. While this hiccup may cost them in the short term, it is still Oklahoma. Brent Venables and Co. have done a fantastic job of calming the storm that Riley left behind and look to be contenders again in 2022.
OU should have another top 10 class in 2022 and is in play for several big names in the transfer portal. Before long Caleb Williams and Lincoln Riley will be a memory around the Sooner State, and a reminder of the time that the storied program had a bombshell dropped on it but remained standing tall on the prairie.