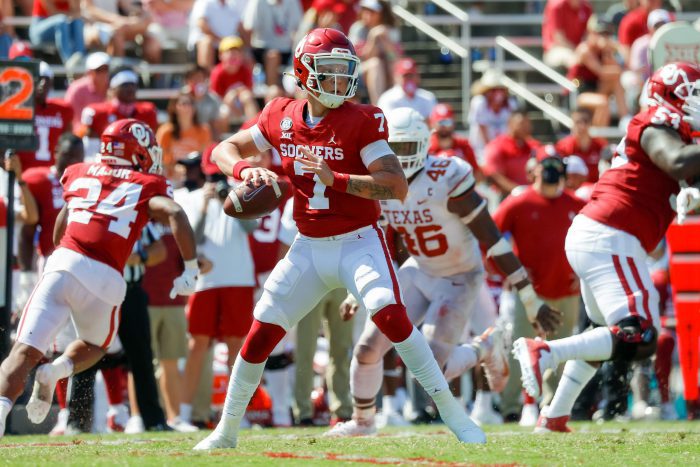 Do you ever wonder what's going on inside a locker room, regardless of what is said behind a podium? If so, one example of this was the QB room at Oklahoma during the 2021 season.
Rumors about Spencer Rattler and Caleb Williams not liking one another started to leak out, leaving then head coach Lincoln Riley to shut down anything speculation that he had drama behind-the-scenes.
Fast forward to February first, and nobody in the trio that mentioned is even in Norman, and Spencer Rattler and Caleb Williams literally couldn't get further apart if they tried. Both quarterbacks play for USC's on opposite coasts and look prepared to thrive in new situations.
However, don't think for a second that Spencer wasn't paying attention to what was going on in Norman after he left, because for a few minutes he appeared to let it be known how he felt about the coach/quarterback combo reuniting in Southern California.
The tweet was quickly deleted, but as with everything else, when you put something on the internet, it's there forever.
It's not hard to imagine what he meant here, and honestly, I can't fault him for feeling that way. Lincoln Riley was supposed to develop Spencer into a Heisman winner in 2021, and that never came to fruition.
Now, after all the dust has settled, it's not crazy to think that Riley's mind was elsewhere this season and the only reason that Caleb Williams had more success than Rattler is that Williams is more of a threat with his feet when plays break down.
Rattler can make throws that few quarterbacks in the country are capable of replicating, I expect him to be successful in 2022, and maybe even contend for that trophy he was a shoo-in to win in 2021.
He is better off in South Carolina than he would've been if he followed Riley like many speculated would happen. Turns out, he wants no part of that clown show, and his response to the Caleb Williams drama tells me everything I need to know about the QB room in Norman in 2021.