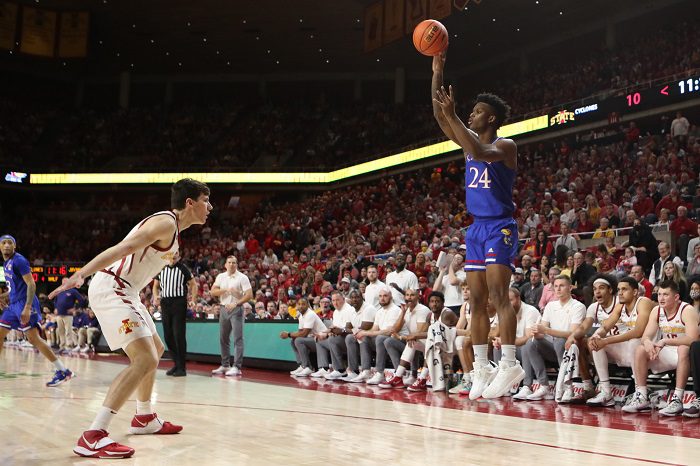 Tuesday night was one of the most anticipated slates of back-to-back games in the Big 12 this season with the Iowa State Cyclones starting off the action, followed by Chris Beard's return to Lubbock when Texas Tech hosted Texas.
Kansas and Iowa State met a couple of weeks ago in Lawrence, where Kansas held on for a 62-61 victory in a game that was wasn't without controversy, with a possible missed goaltending leading to KU hanging on. But regardless, it was on to Part 2 with the teams meeting in Ames.
However, this one didn't come close to living up to the hype, as the Jayhawks, despite being short-handed without leading Big 12 Player of the Year candidate Ochai Agbaji and Remy Martin, went on to win the game 70-61.
So here are three thoughts on the game.
1. A Balanced Attack
Without Agbaji and Martin, who was going to pick up the scoring for Bill Self? Well the answer was everyone.
It was a balanced attack for the Jayhawks, as four players finished in double digits on the night. David McCormack led the way with 14 points, while going an incredibly efficient 7-7 from the floor, including a couple of 15-footers. Plus, McCormack had his just his fourth double-double in Big 12 play, as he finished with 13 rebounds.
Dajuan Harris also tied a season-high with 14 points, while Jalen Wilson and Christian Braun each added 13. Also of note that may get overlooked, Jalen Coleman-Lands hit two early three-pointers against his former team that helped settle KU down in the first half. He finished with just those six points, but given KU was on the road without their top player, these early buckets helped ease KU's offense out of the gates.
2. Brockington Held in Check
If you glance at the box score, you may think otherwise as he scored 24 points. But it was an inefficient 24 points from Izaiah, as he finished 11-28 from the field and 0-4 from three-point range, while also having a pair of turnovers. He forced throughout the night, especially as Iowa State found itself in a hole from the get-go.
As a team, Iowa State was just 5-22 from three, while also shooting just 41% from the field, and the Cyclones didn't have that one big run in them that they needed. They had some spurts that pulled them close a couple of times, but not the one they needed to get the game back to even.
3. The Big 12 Race
The Jayhawks continue to maintain their lead in the Big 12 race at 7-1 in league play, a half-game ahead of Baylor, as the 1-2 punch of KU and BU appears to be separating themselves. With that being said, injuries are impacting both of top teams in the Big 12, and in a league this deep, one bad week and you'll find yourself in trouble. Speaking of these two, they will meet on Saturday in Lawrence with first place on the line.
As for Iowa State, they're still ranked in the Top 25 this week, but at 3-6 in the Big 12, you wonder if this overachieving group may have already played its best hoops of the season. The good news is that Iowa State's Big 12 schedule was front-loaded as they've already finished their two games against Kansas and Teas Tech. They have a stretch coming up where they will need to pick up some wins with Texas, West Virginia, K-State, TCU and Oklahoma on the schedule.