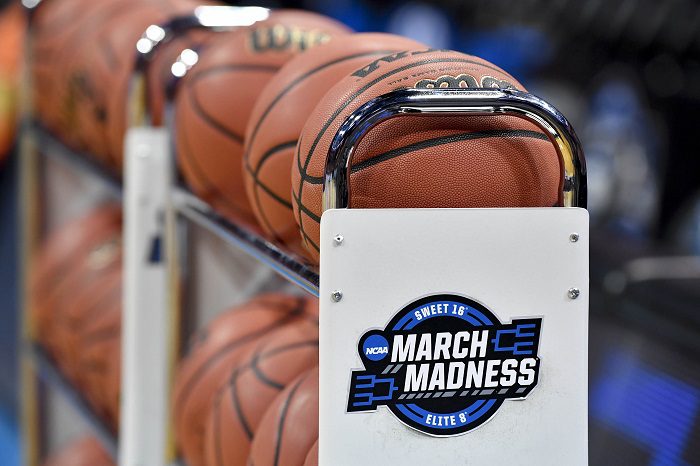 The West Virginia Mountaineers' near-victory over No. 9 Baylor aside, they would be the first team out of the NCAA Tournament, if it started today.
ESPN released its latest Bracketology on Tuesday, and the Mountaineers — who have been in ESPN's field the entire season — fell out for the first time. The Mountaineers have lost five straight games, but nearly upset Baylor on the road Monday night.
The Mountaineers still have time to get back into the field, but they're waiting to hear on the condition of guard Taz Sherman, who scored a career-high 29 points on Monday before suffering what Bob Huggins called a concussion.
That puts the Big 12 at seven tournament teams for the first time in three weeks.
Other takeaways:
Moving up: TCU moved from a No. 11 to a No. 8 seed, a result of the Horned Frogs' upset of ranked LSU on Saturday and then their win over Oklahoma on Monday. This is the highest the Horned Frogs have been seeded since they entered Bracketology three weeks ago. Texas also moved up a seed line to No. 6 as a result of a three-game win streak, that included a win over ranked Tennessee.
Moving down: Kansas fell a spot to a No. 2 seed, as a result of its loss to Kentucky on Saturday.
Holding steady: Baylor remained a No. 1 seed after eking out a win over West Virginia. Texas Tech remained a No. 4 seed going into its game with Texas on Tuesday. Iowa State remained a No. 7 seed entering its game with Kansas on Tuesday. Oklahoma remained a No. 9 seed, despite two straight losses.
How the bracket looks for the Big 12 as of Feb. 1:
Midwest Region (Chicago)
No. 2 Kansas vs. No. 15 Longwood
No. 9 Oklahoma vs. No. 8 Miami (FL)
East Region (Philadelphia)
No. 6 Texas vs. No. 11 Davidson
No. 8 TCU vs. No. 9 Saint Mary's
West Region (San Francisco)
No. 4 Texas Tech vs. No. 13 South Dakota State
South Region (San Antonio)
No. 1 Baylor vs. No. 16 Norfolk State/UNC Wilmington winner
No. 7 Iowa State vs. No. 10 Loyola Chicago
Future Big 12 members
South Region (San Antonio)
No. 4 Houston vs. No. 13 North Texas
No. 9 BYU vs. No. 8 Wake Forest
You can find Matthew Postins on Twitter @PostinsPostcard.