Baylor Bears
Baylor AD Mack Rhoades on Dave Aranda's New Contract: 'It's Done'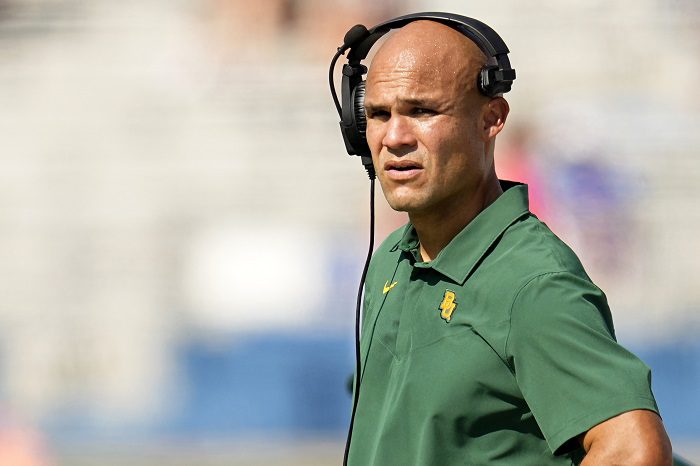 Good news, Bears fans. It sounds like Dave Aranda is all but locked down for the long haul, according to Baylor Athletic Director Mack Rhoades.
After leading Baylor to its best season in program history, head coach Dave Aranda was due for a "contract enhancement" and it sounds like he is getting just that, the timing just needs to be right. In an interview on SicEm365 Radio, Rhoades said that the contract has been completed.
"I'll take it one step further than maybe a week ago," Rhoades said. "We're just looking for the right date, but Baylor family can rest easy. It's done.
"We'll provide a few more details at the right date."
According to Rhoades, the conversations about said contract began when it was announced that Ed Orgeron would not be returning to LSU in 2022. Although that is where the conversations started, that's where they also ended.
"Actually, it was really the Sunday after LSU announced that that that Orgeron would not be coming back," Rhoades said. "We had that conversation and some subsequent conversations, but he told me right off the bat he wasn't going anywhere and I take him for his word.
"He's one of the people certainly in my life that I take for his word."
So if it's done, then what's the wait? Well, if there was ever a good reason, it's because Aranda wants to avoid any distractions and if it were up to him there wouldn't be any kind of announcement. That's just the way he likes to do things.
"If he had his way there would be no conversation about it," Rhoades said. "There would be no declaration that it's done. There would be no formal announcement. And it's not because he doesn't understand that it's important, but it's because it's not about him."
Soon enough there will be an announcement and all of this will become a thing of the past, but one thing will remain the same: Dave Aranda will likely be the head coach for the Baylor Bears for the foreseeable future.