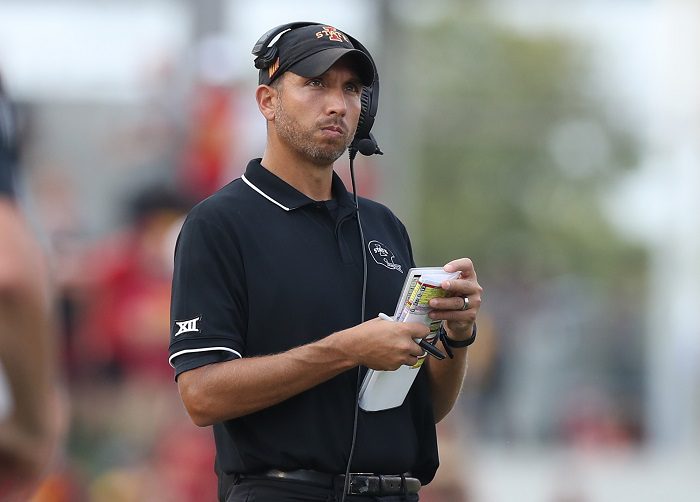 Jace Gilbert, Hunter Deyo and Greg Gaines led the recruiting haul signed by the Iowa State Cyclones for the 2022 football recruiting class.
The Cyclones signed a five-star kicker in Jace Gilbert, and two four-star recruits, in Deyo and Gaines.
Gilbert is listed as the nation's 18th-best kicker and 13th-best punter and is a native of Marlow, Oklahoma. He signed with the Cyclones today and is listed at 6'1″ 190 pounds.
Deyo, a 6-foot-3, 270-pound interior defensive lineman from Lewis Central in Council Bluffs, Iowa, was courted by Iowa, Arkansas, Kansas State, and Minnesota before committing to the Cyclones. Gaines, a 6-foot-2, 185-pound wide receiver from Tampa Bay Tech in Tampa, Florida, considered Indiana, Kansas State, Maryland, and Alcorn State before choosing the Cyclones.
The vast majority of the remaining class is made up of three-star players, as rated by 247Sports.com. that includes linebacker Jacob Imming out of Sergeant Bluff, Iowa; tight end Andrew Keller out of Waunakee, Wisconsin; and quarterback Rocco Becht from Wiregrass Ranch High School in Zephyrhills, Florida. Becht is the son of former NFL player Anthony Becht.
The Cylcones finished the 2021 season with a 7-6 record after losing to Clemson in the Cheeze-It Bowl.
2022 Iowa State Signing Class
Class listed by 247Sports.com player ranking
Five-Star Players
K Jace Gilbert, Marlow (Marlow, OK) 6'1″ 190 pounds
Four-Star Players
DL Hunter Deyo, Lewis Central (Council Bluffs, IA), 6-foot-3, 270 pounds
WR Greg Gaines, Tampa Bay Tech (Tampa, FL), 6-foot-2, 185 pounds
Three-Star Players
OT James Neal, Independence C.C. (Independence, KS), 6'6", 300 pounds
DL Domonique Orange, North Kansas City (Kansas City, MO) 6'4″ 300 pounds
LB Jacob Imming, Sergeant Bluff-Luton (Sergeant Bluff, IA), 6-foot-2, 215 pounds
TE Andrew Keller, Waunakee (Waunakee, WI), 6-foot-6, 210 pounds
QB Rocco Becht, Wiregrass Ranch (Zephyrhills, FL), 6-foot-1, 190 pounds
S Trevon Howard, IMG Academy (Bradenton, FL), 6-foot-1, 200 pounds
WR Jason Essex, Winnetonka (Kansas City, MO), 6-foot-3, 192 pounds
LB Will McLaughlin, Harlan Community (Harlan, IA), 6-foot-3, 220 pounds
Edge Ikenna Ezeogu, Blue Springs (Blue Springs, MO), 6-foot-6, 220 pounds
RB Quaron Adams, Chandler (Chandler, AZ), 5-foot-8, 150 pounds
RB Cartevious Norton, Ware County (Waycross, GA), 5-foot-11, 210 pounds
S Jeremiah Cooper, Andress (El Paso, TX), 5-foot-11, 170 pounds
IOL Deylin Hasert, Marshall (Marshall, MN), 6-foot-5, 280 pounds
TE Gabe Burkle, Prairie (Cedar Rapids, IA), 6-foot-7, 240 pounds
LB Carson Willich, Blue Springs (Blue Springs, MO), 6-foot-2, 200 pounds
ATH Terrell Crosby, Lakewood (Saint Petersburg, FL) 6'0″ 178 pounds
Edge Tommy Hamann, Wayzata (Minneapolis, MN) 6'3″ 225 pounds
ATH Jontez Williams, Bradford (Starke, FL) 5'11" 175 pounds
P Tyler Perkins, Norwalk (Norwalk, OH), 6-foot, 184 pounds
Transfers
LB Colby Reeder, Delaware University, 6-foot-3 220 pounds
DL MJ Anderson, University of Minnesota, 6-foot-3 285 pounds