Big 12 News
Kansas Football: 2022 Recruiting Class Rundown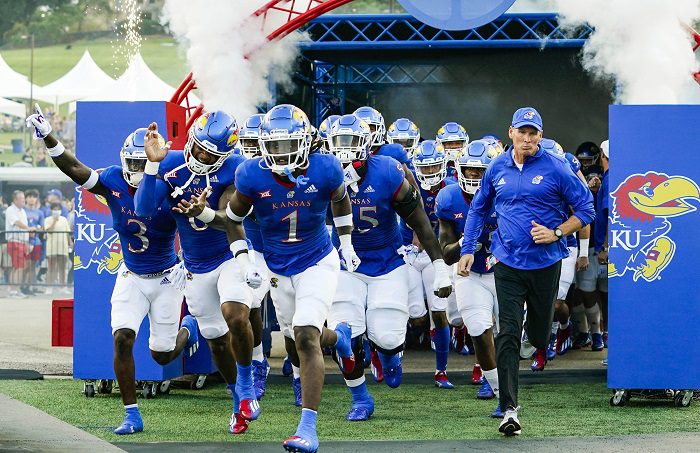 Kaleb Purdy led the recruiting haul signed by the Kansas Jayhawks for the 2022 football recruiting class, but the real story with this class is the transfers, as seven players from Division-I programs pledged to play for Lance Leipold next season.
Minnesota transfer running back Ky Thomas leads the pack, followed by Miami (OH) edge rusher Lonnie Phelps. Former UCF linebacker Eriq Gilyard and Ohio State transfer safety Craig Young figure to make an impact for the Jayhawks defensively.
The Jayhawks landed a group of three-star recruits, as rated by 247Sports.com. Purdy, a 5-foot-10, 170-pound safety from DeSmet High School in St. Louis, Missouri, settled on Kansas after considering Kansas State, Iowa State, Michigan, and Missouri before settling on the Jayhawks.
The Jayhawks also snagged a potential future offensive lineman in Southlake Carroll (Carroll, Texas) lineman Joe Baker. The 6-foot-4, 250-pounder considered Colgate and Colorado State before committing to Kansas.
The Jayhawks finished 2-10 on the season Leipold, who is in his first year on the job. He didn't take over as head coach until May, so this is his first recruiting class. The highlight of the season for the Jayhawks was their overtime win over Texas in Austin, snapping one of the longest conference road-loss streaks in the country.
2022 Kansas Signing Class
Class listed by 247Sports.com player ranking
Three-Star Players
S Kaleb Purdy, DeSmet (Saint Louis, MO), 5-foot-10, 170 pounds
OT Joe Baker, Southlake Carroll (Southlake, TX), 6-foot-4, 250 pounds
OT James Livingston, Dexter (Dexter, MI), 6-foot-7, 275 pounds
QB Ethan Vasko (Chesapeake, VA), 6-foot-3, 180 pounds
TE Tevita Noa, Snow College (Ephraim, UT), 6-foot-3, 250 pounds
ATH Mason Ellis (Mulvane, KS), 6-foot-2, 188 pounds
CB Brian Dilworth, Chaminade-Madonna Prep (Hollywood, FL), 5-foot-10 175 pounds
Transfers
RB Ky Thomas, University of Minnesota, 5-foot-11 205 pounds
Edge Lonnie Phelps, Miami (OH), 6-foot-3 235 pounds
LB Eriq Gilyard, UCF, 5-foot-11 228 pounds
OT Nolan Gorczyca, Buffalo University, 6-foot-6 275 pounds
S Craig Young, Ohio State University, 6-foot-4 200 pounds
RB Sevion Morrison, Nebraska University, 5-foot-11 196 pounds
CB Kalon Gervin, Michigan State University, 5-foot-11 180 pounds