Big 12 News
Kansas State Football: 2022 Recruiting Class Rundown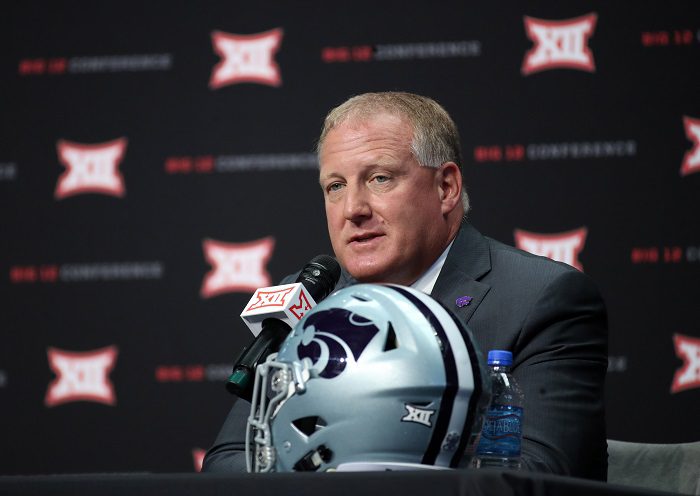 Kansas State added five players via the Transfer Portal, all of which should make an impact for the Wildcats in 2022. Nebraska transfer quarterback Adrian Martinez highlights the list alongside four-star transfer linebacker Branden Jennings from Miami (OH).
Jalen Klemm and Tobi Osunsanmi led the recruiting haul signed by the Kansas State Wildcats during the opening day of the early signing period for the 2022 football recruiting class.
Most of the Wildcats' signees were rated as three-star players, per 247Sports.com.
The Wildcats snagged Osunsanmi, a 6-foot-2, 210-pound linebacker from East High School in Wichita, Kansas, to bolster their defense's future. Osunsanmi considered Akron, Kansas, Northern Iowa and South Dakota State before settling on the Wildcats.
Meantime, Klemm is a 6-foot-6, 260-pound offensive lineman from Gibsonia, Pennsylvania, who picked the Wildcats over Arizona, Arizona State, and Colorado.
The Wildcats also snagged two other linebackers — Buford, Georgia, product VJ Payne and Owasso, Oklahoma, product Jake Clifton.
The Wildcats finished 8-5 on the season under head coach Chris Klieman and topped off the year by blowing out LSU in the Texas Bowl.
2022 Kansas State Signing Class
Class listed by 247Sports.com player ranking
Three-Star Players
OT Jalen Klemm, Pine-Richland (Gibsonia, PA), 6-foot-6, 260-pounds
QB Adryan Lara, Desert Edge (Goodyear, AZ) 6-foot-2 215 pounds
LB Tobi Osunsanmi, East (Wichita, KS), 6-foot-2, 210 pounds
Edge Donovan Rieman (Enid, OK), 6-foot-4, 230 pounds
LB VJ Payne, Buford (Buford, GA), 6-foot-2, 180 pounds
TE Brayden Loftin (Council Bluffs, IA), 6-foot-five, 210 pounds
LB Jake Clifton, Owasso (Owasso, OK), 6-foot-2, 205 pounds
IOL John Pastore, Erie (Erie, CO), 6-foot-5, 270 pounds
ATH Jordan Perry, Jefferson (Jefferson, GA), 6-foot-2, 180 pounds
OT Drake Bequeaith (Grapevine, TX), 6-foot-5, 260 pounds
S Kobe Savage (Tyler, TX), 5-foot-10, 205 pounds
CB Colby McCalister, Clear Brook (Friendswood, TX), 5-foot-11, 175 pounds
TE Garrett Oakley, Scotus Central Catholic (Columbus, NE), 6-foot-5, 210 pounds
WR Sterling Lockett, Blue Valley (Stilwell, KS), 5-foot-10, 155 pounds
ATH Jacob Parrish, Olathe North (Olathe, KS) 5-foot-11 165 pounds
DL Vaai "Uso" Seumalo, Garden City CC (Maunaloa, HI) 6-foot-4 305 pounds
ATH Tyson Struber, Canton-Galva (Canton, KS) 6-foot-2, 185 pounds
Transfers
QB Adrian Martinez, Nebraska, 6-foot-2 205 pounds
LB Branden Jennings, Miami (OH), 6-foot-3 225 pounds
S Shawn Robinson, Missouri, 6-foot-2 225 pounds
CB Joshua Hayes, Virginia, 6-foot 175 pounds
LB Will Honas, Nebraska, 6-foot-2 225 pounds