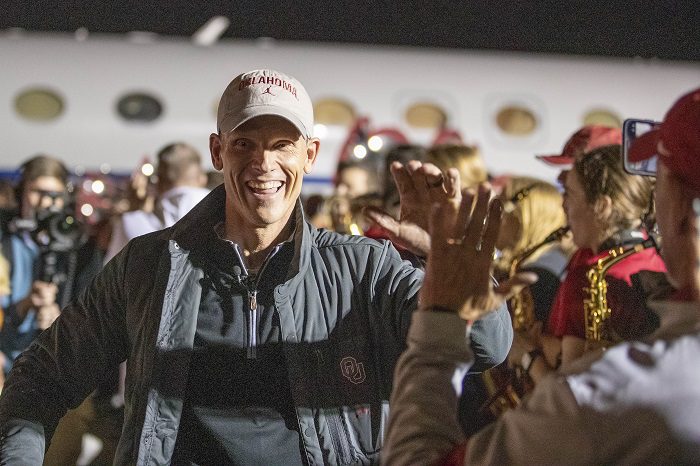 Gentry Williams and Gavin Sawchuck lead a class chock full of four-star recruits signed by the Oklahoma Sooners for the 2022 football recruiting class.
Gentry Williams, a cornerback out of Booker T. Washington in Tulsa, Oklahoma, is the top player in the state and the Sooners' top-rated signee in the 2022 class. Williams is listed by 247Sports as the 11th best corner in the 2022 class and the 92nd overall player.
Sawchuck, a running back out of Valor Christian in Littleton, Colorado, was the Sooners' second-highest-rated signee, as 247Sports.com rated him as the No. 97 player in the country and the No. 7 running back.
While the Sooners lost a pair of five-star recruits late in the process after its coaching change, the Sooners did manage to reel in 16 four-star players, including Flower Mound, Texas, quarterback Nick Evers, who was committed to Florida until the Gators had a coaching change.
Oklahoma also landed a whopping 10 transfers via the portal, with UCF quarterback Dillon Gabriel and UNC cornerback Trey Morrison highlighting the list.
The list of other four-star players includes linebacker Kobie McKinzie, wide receiver Jayden Gibson, tackles Jake Taylor and Jacob Sexton, running back Javontae Barnes, athlete Jaren Kanak, wide receiver Nicholas Anderson, linebacker Kip Lewis, safety Robert Spears-Jennings, cornerback Jayden Rowe, tight end Kaden Helms, Edge R Mason Thomas, and defensive lineman Gracen Halton.
The Sooners finished the 2021 season with an 11-2 record after defeating Oregon 47-32 in the Alamo Bowl. Lincoln Riley left the program after the regular season and took the head-coaching job at USC. The Sooners replaced Riley with Brent Venables.
2022 Oklahoma Signing Class
(Class listed by 247Sports.com player ranking)
Four-Star Players
CB Gentry Williams, Booker T. Washington (Tulsa, OK), 6-foot, 170 pounds
RB Gavin Sawchuk, Valor Christian (Littleton, CO), 5-foot-11, 185 pounds
RB Javontae Barnes, Desert Pines (Las Vegas, NV) 6-foot, 190 pounds
LB Kobie McKinzie, Cooper (Lubbock, TX), 6-foot-2, 245 pounds
ATH Jaren Kanak, Hays (Hays, KS), 6-foot-2, 210 pounds
WR Jayden Gibson, West Orange (Winter Garden, FL), 6-foot-5, 185 pounds
QB Nick Evers, Flower Mound (Flower Mound, TX), 6-foot-3, 188 pounds
OT Jake Taylor, Bishop Gorman (Las Vegas, NV), 6-foot-6, 290 pounds
OT Jacob Sexton, Deer Creek (Edmond, OK), 6-foot-5, 285 pounds
DL Gracen Halton, St. Augustine (San Diego, CA), 6-foot-3, 270 pounds
WR Nicholas Anderson, Katy (Katy, TX), 6-foot-3, 195 pounds
LB Kip Lewis, Carthage (Carthage, TX), 6-foot-1, 200 pounds
S Robert Spears-Jennings, Broken Arrow (Broken Arrow, OK), 6-foot-1, 195 pounds
CB Jayden Rowe, Union (Tulsa, OK), 6-foot-3, 210 pounds
TE Kaden Helms, Bellevue West (Bellevue, NE) 6-foot-5, 225 pounds
Edge R Mason Thomas, Cardinal Gibbons (Ft. Lauderdale, FL), 6-foot-2, 215 pounds
Three-Star Players
TE Jason Llewellyn, Aledo (Aledo, TX), 6-foot-5, 240 pounds
ATH Jamarrien Burt, Forest (Ocala, FL), 6-foot-1, 175 pounds
DL Cedric Roberts, Hendrickson (Pflugerville, TX), 6-foot-3, 275 pounds
DL Alton Tarber, Deerfield Beach (Deerfield Beach, FL), 6-foot-1, 305 pounds
Transfers
QB Dillon Gabriel, UCF, 5-foot-11, 186 pounds
CB Trey Morrison, North Carolina, 5-foot-10, 195 pounds
OT Tyler Guyton, TCU, 6-foot-6, 275 pounds
DL Jeffery Johnson, Tulane, 6-foot-3, 312 pounds
TE Daniel Parker, Missouri, 6-foot-3, 235 pounds
CB Kani Walker, Louisville, 6-foot-2, 194 pounds
CB CJ Coldon, Wyoming, 6-foot-1, 175 pounds
LB T.D. Roof, Appalachian State, 5-foot-11, 224 pounds
DL Jonah La'ulu, Hawaii, 6-foot-6, 280 pounds
IOL McKade Mettauer, California, 6-foot-4, 305 pounds