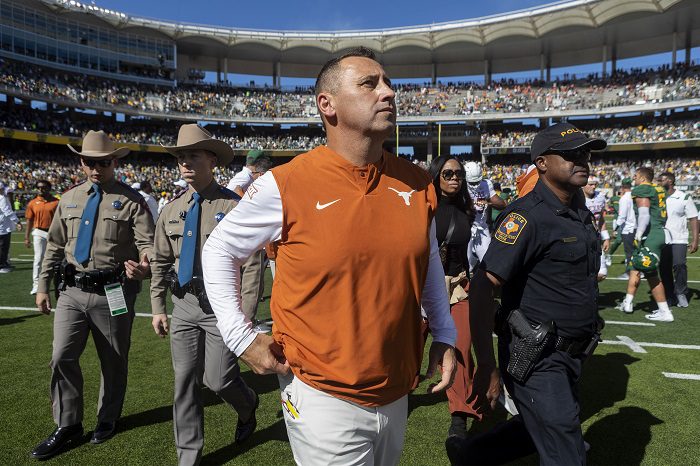 Devon Campbell, Kelvin Banks, and Quinn Ewers lead a class heavy on Texas-raised players as the Texas Longhorns signed more than 30 players in the 2022 recruiting class.
Banks, out of Humble, Texas, was the first of three five-stars to sign with Texas and is listed as the No. 15 player in the country according to 247Sports.com. Banks committed to Texas after considering LSU, Oklahoma State, Oregon, and Texas A&M, among others.
Campbell, who announced his commitment on signing day, is the top interior offensive lineman in the '22 class and should start immediately for the Longhorns. His final two schools were Texas and arch-rival Oklahoma.
More than half of the class is made up of four-star players, and more than half of the class is made up of prep players from Texas. At least one of the signees, quarterback Maalik Murray of Junipero Serra High School in Gardena, California, has made it clear he intends to enroll in January in order to try and compete for the starting quarterback job in 2022. Casey Thompson and Hudson Card shared those duties in 2021. Plus, Quinn Ewers was the No. 1 player in the 2022 class before he re-classified for 2021 and enrolled at Ohio State last fall. Ewers is quite possibly the most sought-after quarterback prospect since Trevor Lawrence.
The Longhorns finished the 2021 season with a 5-7 record in their first season under head coach Steve Sarkisian. The Longhorns had one of the longest losing streaks in program history during the season, and only a win over Kansas State to end the campaign kept the Longhorns from losing each of their final seven games.
2022 Texas Signing Class
Class listed by 247Sports.com player rankings
Five-Star Players
OT Kelvin Banks, Summer Creek (Humble, TX), 6-foot-5, 300 pounds
OT Devon Campbell, Bowie (Arlington, TX), 6-foot-3, 310 pounds
Four-Star Players
CB Terrance Brooks, Little Elm (Little Elm, TX), 5-foot-11, 190 pounds
WR Brenen Thompson, Spearman (Spearman, TX), 5-foot-10, 165 pounds
S Bryan Allen Jr., Aledo (Aledo, TX), 6-foot, 185 pounds
Edge Justice Finkley, Hewitt-Trussville (Trussville, AL), 6-foot-2, 255 pounds
IOL Neto Umeozulu, Allen (Allen, Texas), 6-foot-4, 285 pounds
Edge J'mond Tapp, Ascension Catholic (Donaldsonville, LA), 6-foot-3, 245 pounds
QB Maalik Murphy, Junipero Serra (Gardena, CA), 6-foot-4, 225 pounds
CB Jaylon Guilbeau, Memorial (Port Arthur, TX), 5-foot-11, 175 pounds
DL Jaray Bledsoe, Marlin (Marlin, TX) 6-foot-4, 270 pounds
RB Jaydon Blue, Klein Cain (Houston, TX), 5-foot-11, 205 pounds
S Larry Turner-Gooden, Bishop Alemany (Mission Hills, CA), 6-foot, 179 pounds
S Austin Jordan, Ryan (Denton, TX), 6-foot, 190 pounds
DL Kristopher Ross, North Shore (Houston, TX), 6-foot-3, 280 pounds
Edge Derrick Brown, Texas High (Texarkana, TX), 6-foot-3, 210 pounds
OT Malik Agbo, Todd Beamer (Federal Way, WA) 6-foot-5, 320 pounds
DL Aaron Bryant, Southaven (Southaven, MS), 6-foot-4, 306 pounds
IOL Cole Hutson, Frisco (Frisco, TX), 6-foot-5, 312 pounds
DL Zac Swanson, Brophy College Preparatory (Phoenix, AZ), 6-foot-4, 255 pounds
EDGE Ethan Burke, Westlake (Austin, TX), 6-foot-7, 225 pounds
Three-Star Players
OT Cameron Williams, Duncanville (Duncanville, TX), 6-foot-7, 360 pounds
ATH X'Avion Brice, Seguin (Arlington, TX), 6-foot-1, 175 pounds
LB Trevell Johnson, Martin (Arlington, TX), 6-foot-1, 200 pounds
IOL Connor Robertson, Westlake (Austin, TX), 6-foot-4, 296 pounds
WR Savion Red, Grand Prairie (Grand Prairie, TX), 5-foot-10, 210 pounds
ATH Xavion Brice, Seguin (Arlington, TX), 6-foot-1, 175 pounds
K Will Stone, Regents School (Austin, TX), 6-foot, 175 pounds
Two-Star Player
LS Lance St. Louis, Williams Field (Gilbert, AZ), 6-foot-1, 215 pounds
Transfers (as listed by Texas)
QB Quinn Ewers, Carroll/Ohio State (Southland, TX), 6-foot-3, 200 pounds
CB Ryan Watts, Ohio State, 6-foot-2, 187 pounds
WR Isaiah Neyor, Wyoming, 6-foot-3, 210 pounds
TE Jahleel Billingsley, Alabama, 6-foot-4, 230 pounds