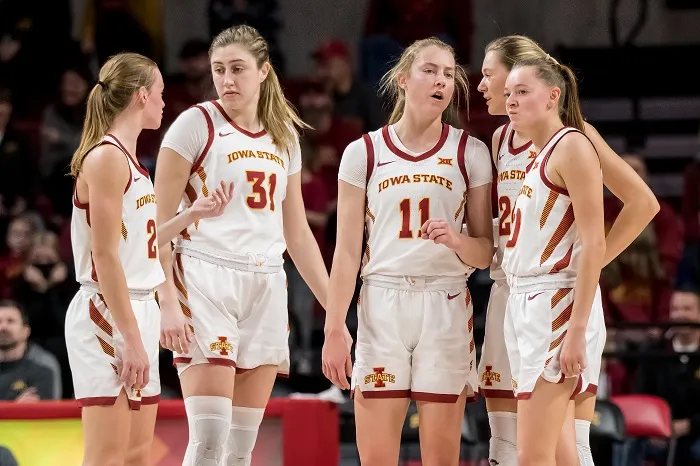 The No. 11 Iowa State Cyclones defeated the No. 25 Kansas State Wildcats, 70-55, in a Big 12 women's basketball game at Hilton Coliseum in Ames, Iowa, on Wednesday night.
The Cyclones (19-3, 8-2 in Big 12) blew open a close game in the third quarter, outscoring the Wildcats (16-6, 5-4) 20-2 to end the third quarter. From there, the Cyclones cruised past the midway point of the conference season.
Guards Emily Ryan and Lexi Donarski each led the Cyclones with 15 points. Ryan also had six rebounds and eight assists. Ashley Joens had 11 points, 12 rebounds and four assists. Nyamer Diew added 10 points.
Kansas State center Ayoka Lee, who had 38 points in the first meeting with Iowa State, had just 12 points and eight rebounds. Brylee Glenn was the only other Wildcat in double figures with 19 points.
Here are our three thoughts on the game.
Pushing Lee Away From the Basket
As mentioned, Ayoka Lee had a huge game against Iowa State. So the Cyclones needed a plan. It turned out to be deceptively simple — do everything possible to prevent Lee from setting up close to the rim. That sounds easy. But it's not. Give the Iowa State defense a lot of credit, including Morgan Kane and Beatriz Jordao. They ended up doing the hard work on Lee, being physical without fouling and pushing Lee into uncomfortable territory.
Lee's game is so good within four to five feet away from the basket that, if she gets the ball in her preferred place, she can pivot and use her array of post moves and just hurt you. The key for Iowa State was to push her defensively just a couple of feet further away from the basket. Just that subtle adjustment made it harder for Lee to score because her mid-range game is less consistent than her post-up game. Upcoming opponents are going to look at this tape, see the subtle adjustments and add it to their defensive game plan.
And they'd better do it now because guess what Lee is going to work on for next season? A more consistent mid-range jumper, which is going to make her that much more dangerous.
One Year CAN Make a Difference
Kansas State is very young. That youth is also some of its best talent. Guard Serena Sundell is a three-time Big 12 Freshman of the Week. Brylee Glenn has won the award twice. Jaelyn Glenn has won it once.
But there will be nights like Thursday night when members of that freshman trio struggle. While Brylee Glenn had 19 points, Sundell, who is Kansas State's second-leading scorer, had just three points. When you start three freshmen, sometimes you have to live with nights like that.
Iowa State knows the feeling. Last season the Cyclones had three freshmen who played big roles for them last season — Emily Ryan, Lexi Donarski and Aubrey Joens. Just one year later, Donarski and Ryan are averaging seven more points combined than last season. Both have more mature games, specifically Ryan's passing. Aubrey Joens is a quality 3-point shooter and one of three Cyclones with at least 50 made 3-pointers.
If the Wildcats want a glimpse of what their future could be next season, the Cyclones would be a good template to work by.
Ashley Joens' Versatile Night
Ashley Joens is one of the Big 12's most versatile players. And, admittedly, with the chase to overtake Angie Welle as Iowa State's all-time leading scorer, one can forget that. Well, Joens had just 11 points on Wednesday. But she also had 12 rebounds and four assists, and all of those assists came in the second half. One was a perfect example of making her teammates better. She drove to the basket from the wing and drew both her defender and Lee, who was in the paint. Joens pivoted and found Morgan Kane, who had slipped underneath the basket, for a layup. She used penetration a few possessions later to kick out to Donarski for a 3-pointer.
There's a reason why Joens is on practically every Player of the Year watch list. And it's not just her scoring.
You can find Matthew Postins on Twitter @PostinsPostcard.