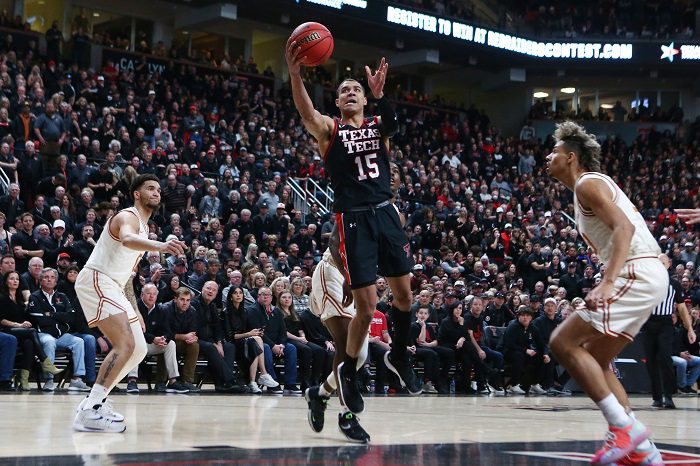 The Texas Tech Red Raiders defeated the Texas Longhorns, 77-64, in a Big 12 men's basketball game at United Supermarkets Arena in Lubbock, Texas, on Tuesday night.
It was the most anticipated game in the Big 12 this season. It was three days' worth of build-up in Lubbock, including students camping outside the arena to get in, Tech fans confronting the Texas bus at shootaround on Monday and Tech fans booing Chris Beard as he entered the court. The game itself — at least before tip-off — was almost secondary.
Oh, and Ric Flair was there.
But, once the game started, Texas held the lead for all of 29 seconds.
Every seat was filled and a highly-partisan Tech crowd was treated to a victory where Tech (17-5, 6-3 in Big 12) was clearly the better team on this night. Kevin McCullar — one of the few holdovers from Beard's time at Tech — led with 19 points, including 12-of-15 at the free throw line. Kevin Obanor had 17 points, including five 3-pointers. Bryson Williams scored 16 points and Davion Warren added 10 points. Adonis Arms had just one point, but the guard also pitched in nine rebounds and a team-high four assists.
Texas (16-6, 5-4) guard Marcus Carr led with 18 points, while Courtney Ramey had 12 points and Christian Bishop added 11 points. Timmy Allen, the Longhorns' leading scorer, had just five points.
With the victory, Texas Tech assumed third place by itself in the Big 12.
Here are our three thoughts from the game.
Texas Tech's Offense Deserves Discussion
All season we've praised Texas Tech's defense, and deservedly so. But, it's time we recognized what Texas Tech has done on offense, not just Tuesday night but really since Big 12 play began.
The injury to Terrence Shannon Jr. back in December — which kept him out a month — allowed players like Kevin Obanor, Bryson Williams and Davion Warren to get increased playing time and find their role in this offense. It's no surprise that all three were in double figures Tuesday night, along with Kevin McCullar. This isn't to minimize what Shannon brings to the table. Heck, he had 23 points in a recent game as he tried to work his way back from the back injury (he played late in the game on Tuesday, scoring two points).
Shannon was their leading scorer when he got hurt. A team can go two ways when that happens — down or up. Tech went up. The Red Raiders have now scored 65 or more points in eight of their last nine games. This offense isn't built around one or two players. It's built around several, and it's built in a way in which Shannon can fit in once he's fully healthy.
You pair this offense with this defense and you have a team built for March. Or, well, maybe April.
Texas Needs to Figure Out Its Rotation Now
A couple of weeks ago in my weekly thoughts article I wrote that it's time for Texas coach Chris Beard to pick his 'ride-or-dies,' the eight or nine players that will take this team as far as it can go.
He clearly hasn't figured that out.
Beard played 11 players on Tuesday. Nine of them played double-digit minutes. The chemistry was way off where it was a week ago against TCU, when Texas looked its best offensively the past few weeks. Playing Avery Benson early in the first half was obviously geared to be a 'gamesmanship' move because Benson played at Tech, but it was also a complete waste of time. Beard has underused holdover guard Jase Febres all season, one of the program's better 3-point shooters the past three seasons (he's shot at least 37 percent from there each of the last three seasons). Other players like Devin Askew need more time to develop in the college game.
I think the biggest problem right now is that, game-to-game, Beard just doesn't know which eight or nine guys are going to be consistently there for him on the offensive side. And when that happens, you can do one of two things. You can hope it corrects itself or you can force the issue, and doing the latter means picking your 'ride-or-dies' and sticking to it.
My unsolicited opinion? Play Marcus Carr, Andrew Jones, Courtney Ramey and Jase Febres at guard, and play Timmy Allen, Tre Mitchell, Christian Bishop and Dylan Disu inside. Roll with those eight and give the rest mop-up minutes. Because the time is now for Texas to get consistent on offense or its time in the NCAA Tournament in March will be short, no matter how well the Longhorns play defense.
Tech's Group Therapy Session
Full disclosure — I didn't get to watch the game live. I was already committed to a hockey game weeks ago and watched it after I got home.
The build-up to this game was like nothing I've seen in the Big 12 in the five years I've written about basketball for this web site. Yes, there are rivalries in this league when it comes to basketball. And there is animosity in those rivalries. But it was nothing like this. Nothing like what I saw in watching this game.
It reminded me of the Big East games I used to watch in the 1980s growing up — Georgetown vs. Syracuse with Patrick Ewing and Pearl Washington, or that Georgetown-St. John's game at Madison Square Garden in 1985. Those games came with animosity and build-up. Those games had hate. Tuesday's game had that, but it never bubbled over into something on Tuesday that one would consider over the top. And, I admit, I was worried that might happen with this crowd, especially after the thing with the bus on Monday. But it didn't. Tech fans just screamed their lungs out — and they're really good at that.
This game also came with pent-up frustration. Tech fans have spent the past 10 months stewing about Chris Beard's exit from Lubbock and what they might do if they had the chance to tell him about it.
Well, for the past three days, that's what Tech fans have been doing, and that's what they did Tuesday night inside the arena. It wasn't just a basketball game. It was a cathartic moment for a fan base that felt disrespected by someone they thought was family. Everyone can relate to that. It's family — or the people that you think are family — that can hurt you the most.
Texas Tech will go to Austin later this season to play Texas. These two teams will meet again for the next few seasons before Texas heads to the SEC. Sure, when the Longhorns go back to Lubbock next season there will be animosity and ire and atmosphere, and very likely a sellout crowd once again. But it won't be quite like the cathartic moment the Red Raiders' fan base had on Tuesday night.
You only get to work out the pain for the first time one time.
You can find Matthew Postins on Twitter @PostinsPostcard.