Big 12 News
West Virginia Football: 2022 Recruiting Class Rundown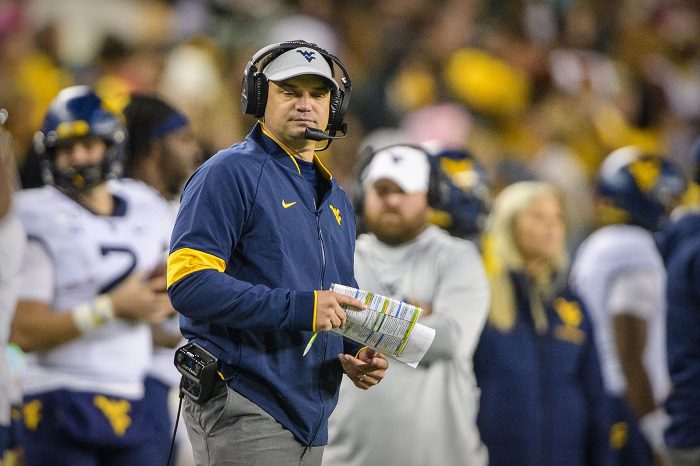 Jacolby Spells leads two four-star recruits signed by the West Virginia Mountaineers during the opening day of the early signing period for the 2022 football recruiting class.
Spells, a 5-foot-11, 170-pound cornerback from American Heritage High School in Fort Lauderdale, Florida, committed to the Mountaineers on July 4. He passed on offers from Indiana, Miami (FL), Arizona State, Arkansas and a host of other schools to commit to West Virginia.
The other four-star player is quarterback Nicco Marchiol, a 6-foot-2, 216-pound quarterback from Hamilton High School in Chandler, Arizona. Marichol weighed offers from Arizona State, Michigan State, Florida State, Arkansas, Colorado, Florida and Georgia before committing to the Mountaineers in June.
West Virginia also added four players via the transfer portal, highlighted by former four-star Clemson running back Lyn-J Dixon.
The Mountaineers finished the 2021 season with a 6-7 record after dropping the Guaranteed Rate Bowl to Minnesota, 18-6.
2022 West Virginia Signing Class
Class listed by 247Sports.com player ranking
Four-Star Players
CB Jacolby Spells, American Heritage (Fort Lauderdale, FL), 5-foot-11, 170 pounds
QB Nicco Marchiol, Hamilton (Chandler, AZ), 6-foot-2, 216 pounds
Three-Star Players
LB Travious Lathan, Gulliver Prep (Miami, FL), 6-foot-1, 205 pounds
ATH Christion Stokes, Harper Woods (Harper Woods, MI), 6-foot, 180 pounds
LB Lee Kpogba, East Mississippi CC (Scooba, MS), 6-foot-2, 210 pounds
TE Corbin Page, Spring Valley (Huntington, WV), 6-foot-5, 257 pounds
IOL Landen Livingston, Leo HS (Leo, IN), 6-foot-4, 280 pounds
WR Jarel Williams, Saraland (Saraland, AL), 6-foot-3, 175 pounds
LB Raleigh Collins III, Neumann Goretti (Philadelphia, PA), 6-foot-3, 205 pounds
Edge Aric Burton, Clearwater Academy International (Clearwater, FL), 6-foot-5, 210 pounds
OT Sullivan Weidman, Dexter School (Brookline, MA), 6-foot-6, 300 pounds
IOL Maurice Hamilton, Cleveland Heights (Cleveland, OH), 6-foot-4, 345 pounds
S Mumu Bin-Wahad, Grayson (Loganville, GA), 6-foot, 180 pounds
S Marques McLaurin (Ellisville, MS), 6-foot-2, 200 pounds
Edge Asani Redwood (Suwanee, GA), 6-foot-4, 240 pounds
S Tyrin Woodby, St. Frances Academy (Baltimore, MD), 6-foot-1, 170 pounds
IOL Charlie Katarincic, Choate Rosemary Hall (Wallingford, CT), 6-foot-5, 280 pounds
P Oliver Straw, ProKick Australia (Australia, AUST), 6-foot-3, 220 pounds
WR Jeremiah Aaron, Navarro College (Corsicana, TX), 6-foot, 185 pounds
TE De'Carlo Donaldson, Gulliver Prep (Miami, FL), 6-foot-2, 215 pounds
WR Cortez Braham, Hutchinson CC (Hutchinson, Kansas), 6-foot-2, 200 pounds
Transfers
RB Lyn-J Dixon, Clemson, 5-foot-10, 194 pounds
TE Brian Polendey, Colorado State, 6-foot-5, 230 pounds
CB Marcis Floyd, Murray State, 6-foot, 188 pounds
SDE Zeiqui Lawton, Cincinnati, 6-foot-3, 240 pounds