Baylor Bears
Baylor vs. Texas Women's Basketball: Preview and Prediction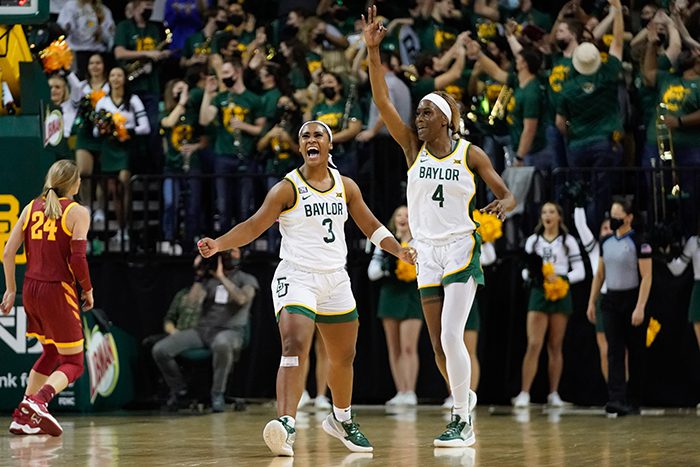 Here is everything you need to know about the Texas Longhorns and the Baylor Bears in our Texas vs. Baylor Big 12 women's basketball preview.
Game Info
7 p.m. Central Time, Friday, Feb. 4, 2022, Ferrell Center, Waco, Texas; 3 p.m. Central Time, Sunday, Feb. 6, 2022, Frank Erwin Center, Austin, Texas.
TV: Both games are on ESPN2
Records: Texas: 15-4 (5-3 in Big 12); Baylor: 15-5 (5-3).
Ranking: Texas: No. 13 (Associated Press) Baylor: No. 9 (Associated Press).
Last game: Texas: lost to Oklahoma, 65-63 (Jan. 29); Baylor: lost to Oklahoma, 78-77 (Feb. 2).
Previous meeting: These will be their only two meetings in the regular season. The two programs' initial meeting in early January was postponed due to COVID-19 health and safety protocols in Baylor's program.
Key players
Texas
G Aliyah Matharu: This is the ONE player you do not want to get hot from the 3-point line. If Matharu does, she can completely upend a game. She averages more than two made 3-pointers per game but ask Stanford and Tennessee about her ability to destroy a team from the 3-point line. Matharu averages 15.2 points per game and seems to bring her best games against ranked teams.
G Rori Harmon: She's one of two serious contenders for Big 12 Freshman of the Year (the other being Kansas State's Serena Sundell). Harmon is averaging 10.9 points, 4.7 rebounds, 4.6 assists and more than a steal per game. She's actually third on the Longhorns in rebounds. Head coach Vic Schaefer has called her one of the rebounding guards she has ever coached. She's a 39 percent 3-point shooter, but she doesn't take many.
F DeYona Gaston: When Aaliyah Moore went down with an injury early in the season, Gaston was the biggest beneficiary of playing time, and she's carved out a prominent role in the Longhorns' frontcourt. She has started nine games, played in 12 overall, and is averaging 10 points and 4.8 rebounds per game. Right now she's capable of starting or coming off the bench, whatever Schaefer needs.
Baylor
F NaLyssa Smith: The reigning Wade Trophy winner, given to the nation's top player, is a walking double-double, averaging 20.3 points and 11.5 rebounds per game. Against Oklahoma she scored 19 points and grabbed 12 rebounds in 38 minutes. With Baylor's lack of depth, Smith doesn't lack for playing time, especially in Big 12 play.
G Sarah Andrews and Ja'Mee Asberry: They're the least-talked about members of Baylor's starting five, but they're emerging as critical pieces at the right time. They're Baylor's most productive 3-point shooters, with Asberry having made 49 and Andrews having made 42. Andrews shoots the higher percentage (45.2) and scores more points (12.5). Asberry shoots a higher volume, scores nearly 10 points per game had has more assists than Andrews.
G Jordan Lewis: The 5-foot-7 Alabama transfer has integrated nicely into Baylor's new-look offense. For the season she's averaging 11.9 points, 3.6 rebounds, 5.1 assists and one steal per game. A game removed from her triple double against West Virginia, Lewis had five points, five rebounds and three assists in the loss to the Sooners.
Key storylines
Texas
The Longhorns played one of the toughest non-conference schedules in the country, one included a trip to Stanford (win), a trip to Tennessee (loss) and a trip to Texas A&M (win). The Longhorns would have played Arizona had it not been for COVID issues. Plus, Texas beat a ranked Kansas State last week, and lost to a ranked Oklahoma on Sunday by only two points. With a Schaefer-coached team you know what you're getting — a defense-first team that works to impose its will on the other team. Defense is also where it gets its offense. Forwards Lauren Ebo and Aaliyah Moore will be counted on to be strong presences inside, even if they don't score much.
Baylor
The Bears lost their first two Big 12 games, shorthanded in part due to COVID-19 health and safety protocols. Then, after a pause, the Bears returned and had now won five straight games before the loss to the Sooners. The big one was the home win over Iowa State, where the Bears took advantage of a short-handed Cyclones team and equalized the Big 12 race. The Bears are still in the running for a regular-season title, but the loss to the Sooners puts the Bears in a corner, a game back and having been swept by OU. A split is preferable to being swept by Texas, especially as Baylor tries to preserve its decade-long streak of winning or sharing the Big 12 regulars-season title.
Fun fact
The Longhorns own a 58-46 advantage over the Bears in the all-time series but have lost their last 11 meetings with the Bears, dating back to Feb. 6, 2017.
Prediction
Baylor 72, Texas 68 (Friday); Texas 67, Baylor 62 (Sunday). The split is predictable here. Both teams are evenly matched, though Texas has more depth. Neither wants to be swept because it probably means curtains in pursuit of a Big 12 regular-season title.
You can find Matthew Postins on Twitter @PostinsPostcard.