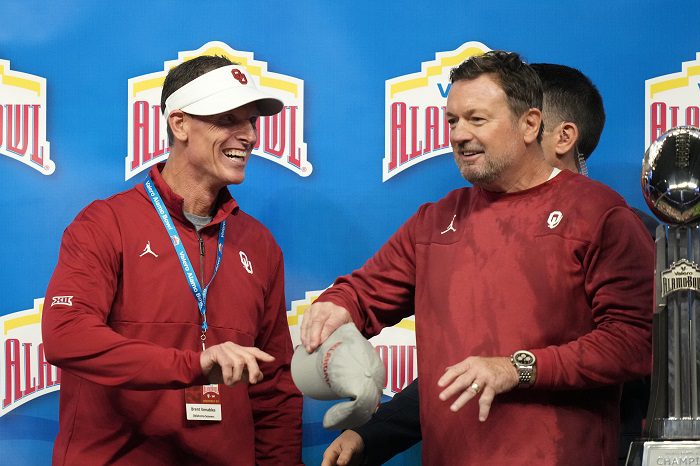 On December 17, 2021, Brent Venables was interviewed by News 9's Dean Blevins and was asked if he expected Caleb Williams to be the quarterback at Oklahoma in 2022.
"Well, I do," Venables said. "I'd be surprised if he wasn't."
45 days later, Caleb Williams announced that he had transferred to USC, to no one's surprise, including Coach Venables. So, what happened? Well, the Sooners' head coach opened up about that yesterday during a Signing Day Special on Sooner Sports TV.
"Obviously, our intentions were to allow him some autonomy," Venables said. "He didn't choose me, he didn't choose Coach [Jeff] Lebby. Part of it's understandable. That hey, you probably need to re-evaluate things, you could probably re-evaluate things without going out into the portal, you know, being in the circles and knowing what other people's situations are. Whether it's [the] scheme, or whether it's the situation at quarterback. I think you probably have a good idea, you and I both can go find out what we need to know without maybe going into the portal.
"So again, to me, once you get into the portal, there's a line that you cross. And again, my assumption is that I have to assume not that you're coming back. I have to assume that you're not going to be here after you make that decision. I think after a few days — we didn't have the kind of communication we thought would be necessary, that would allow us to think about an opportunity moving forward. Communication wasn't where it needed to be
"I don't know exactly how many days, but at some point in time we began moving forward."
While it may not be the case, it certainly seems like Williams' allegiance was more with Riley than it ever was with the University of Oklahoma. He certainly didn't have to play in the bowl game, so he deserves credit for that, but at the end of the day, it is easy to conclude that Williams committed to Lincoln Riley and not OU.
Which, in hindsight, is a business move, and while Riley may not be the "Good Ol' Boy" we all thought him to be, he damn sure knows how to develop a quarterback.