Big 12 News
Oklahoma OC Jeff Lebby Names Dillon Gabriel QB1: "Dillon's Our Guy"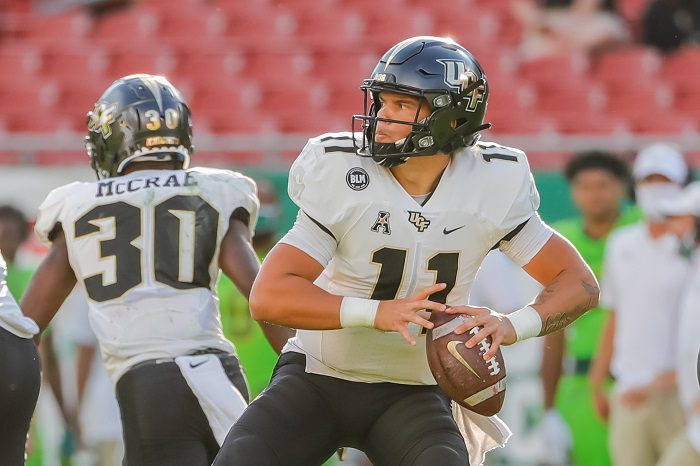 With Caleb Williams now in Los Angeles, Oklahoma is left with one quarterback on the roster with true collegiate experience, and that is UCF transfer, Dillon Gabriel.
Gabriel has 913 pass attempts over two and a half seasons at UCF and completed around 61% percent of those passes for 8,037 yards and 70 touchdowns and 14 interceptions.
His experience, coupled with his knowledge of Oklahoma offensive coordinator Jeff Lebby's system has made him the clear-cut QB1 in Norman.
"Dillon's our guy right now," Lebby said. "We got one guy on our roster that's thrown a college football pass. Obviously, he's thrown a bunch of 'em. He's thrown 'em really, really well."
What's crazy though, is Oklahoma almost didn't get him. Lebby talks about the process of getting Gabriel to Norman in an interview with KFOR News in Oklahoma City.
It's hard to imagine what Oklahoma's quarterback situation would look like if Gabriel would've started classes at UCLA. Would they have landed Jaxson Dart over Ole Miss in that scenario? Or, would they have been stuck with incoming freshman Nick Evers, walk-on Ralph Rucker, and Penn State transfer Micah Bowens, who was unable to crack the three-deep even ahead of Rucker?
There's really no way of knowing, but it just goes to show you how wild things have been for Oklahoma since the month of November. If I told you back in September that Oklahoma was going to have quarterback issues, you'd have laughed in my face. After a string of Mayfield, Murray, Hurts, Rattler, and Williams the last thing that Oklahoma has had to worry about has been quarterback play. Well, they were that close to having big issues, but now you can add Gabriel to that list.
It seems there will be no "quarterback battle" this season at OU, which is refreshing to anyone associated with the media. No more dodging questions about naming a starter, or reprimanding student reporters for doing their jobs. Dillon Gabriel is the man at Oklahoma, and you can take that to the bank.