Baylor Bears
NaLyssa Smith Pours in 25 Points As Baylor Beats Texas, 75-63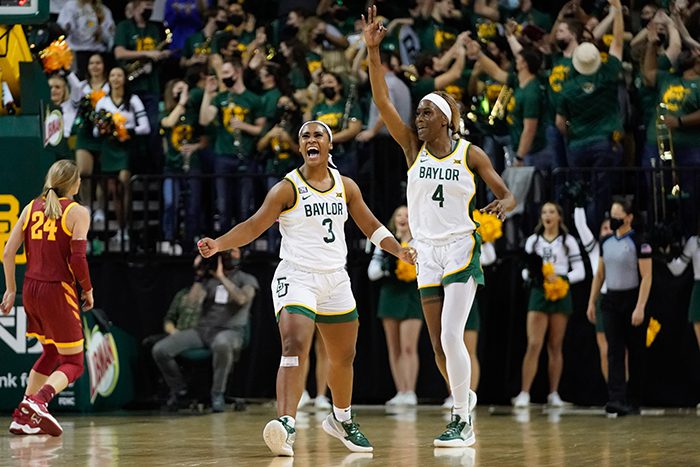 NaLyssa Smith scored 25 points to lead the No. 9 Baylor Bears past the No. 13 Texas Longhorns, 75-63, in their first meeting of Big 12 play on Friday night.
It's the first of two meetings between the two teams this weekend. They'll meet again at 3 p.m. in Austin, with the game broadcast on ESPN2. Like Friday's game, it's critical for both teams.
With the win, the Bears (16-5, 6-3 in Big 12) remained one loss behind both Iowa State and Oklahoma, which lead the Big 12. The Bears have won or shared the Big 12 regular-season crown the last 11 seasons. Texas (15-5, 5-4) is now two games behind the field and a loss on Sunday would put the Longhorns three games behind, assuming both Iowa State and Oklahoma win on Saturday.
Smith, the reigning Wade Trophy winner, had a near-perfect game. She scored 25 points, going 9-of-11 from the field, making her one 3-point attempt — which came at the end of the game — and went 4-of-4 from the free-throw line.
Baylor shot nearly 50 percent from the field and led nearly the entire game, thanks to a balanced offense that included 17 points from Sarah Andrews and 15 points from Ja'Mee Asberry, the latter of which had four 3-pointers in the contest. Jordan Lewis had just four points, but she had six assists. Andrews also had eight assists and seven rebounds.
Texas hung around and had one chance to draw even with Baylor. The Longhorns cut the Bears' lead to 48-45 with 2:22 left in the third quarter. But things got away from Texas, as the Bears went on an 8-0 run to end the quarter, with Andrews scoring the last four points for Baylor.
Texas shot 37 percent from the floor and Texas head coach Vic Schaefer made the decision to bring his leading scorer, Aliyah Matharu, off the bench in the second quarter as opposed to starting her.
Matharu ended up leading the Longhorns with 17 points in just 18 minutes, including four 3-pointers. But foul trouble dogged her all night. In fact, several players had three or more fouls, with Baylor's Queen Egbo and Texas' Lauren Ebo both fouling out in the fourth quarter.
Rori Harmon added 10 points for Texas.
The Longhorns' frustrations against the Bears continued, even after coaching turnover at Baylor, with Nicki Collen replacing Kim Mulkey. The Bears have now won 12 straight, and 26 of their last 27 games, against Texas.
You can find Matthew Postins on Twitter @PostinsPostcard.