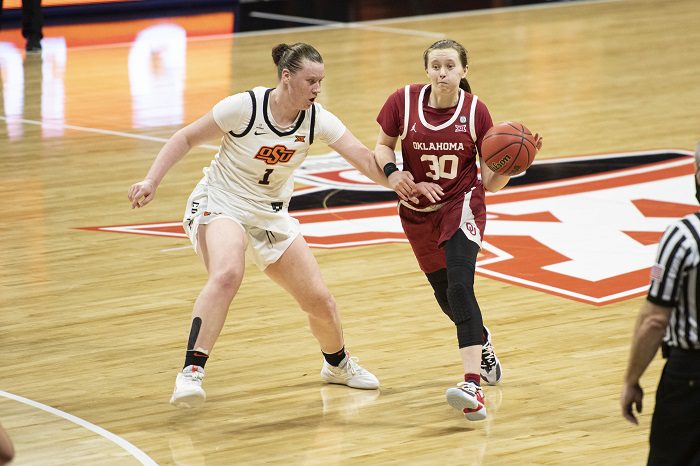 The Oklahoma Sooners moved into one of the Top 16 seeds in the NCAA Women's Basketball Tournament in ESPN's latest Bracketology, released on Friday.
The Sooners defeated Baylor on Wednesday night, 78-77, and that impacted both teams in the latest 68-team field put together by Charlie Crème. The Sooners moved up to a No. 4 seed, while the loss actually dropped Baylor from a No. 3 to a No. 4 seed.
The Bears could see further change in their seeding between now and the next release, as the Bears face Texas twice in three days, starting Friday.
The Big 12 held steady with six teams in the projected field. The ACC and the SEC each had eight teams in the tournament, while the Pac 12 have seven teams and the Big Ten, along with the Big 12, had six teams. Between those five conferences, they had a combined 35 of the field's 68 bids.
Other Takeaways:
Moving up: Oklahoma was the only Big 12 team to move up a seed line.
Moving down: With the loss to Iowa State, Kansas State moved to a No. 5 seed. Kansas — which has won its last two games, both against Oklahoma State — actually fell a seed line to a No. 11 and is one of the 'last four byes' into the tournament.
Holding steady: Texas did not play early this week and remained as a No. 2 seed. Iowa State's win over Kansas State kept the Cyclones at a No. 3 seed.
How the bracket looks for the Big 12 as of Feb. 4:
Bridgeport Region
No. 3 Iowa State vs. No. 14 Mercer
Greensboro Region
No. 2 Texas vs. No. 15 Boston University
No. 5 Kansas State vs. No. 12 Toledo
Wichita Region
No. 4 Baylor vs. No. 14 New Mexico
No. 11 Kansas vs. No. 6 BYU
Spokane Region
No. 4 Oklahoma vs. No. 13 Southern Illinois
Future Big 12 members
Wichita Region
No. 6 BYU vs. No. 11 Kansas
Bridgeport Region
No. 8 UCF vs. No. 9 Missouri
You can find Matthew Postins on Twitter @PostinsPostcard.