Big 12 News
Arch Manning Eliminates a Key Team From Consideration, Down to Four: Report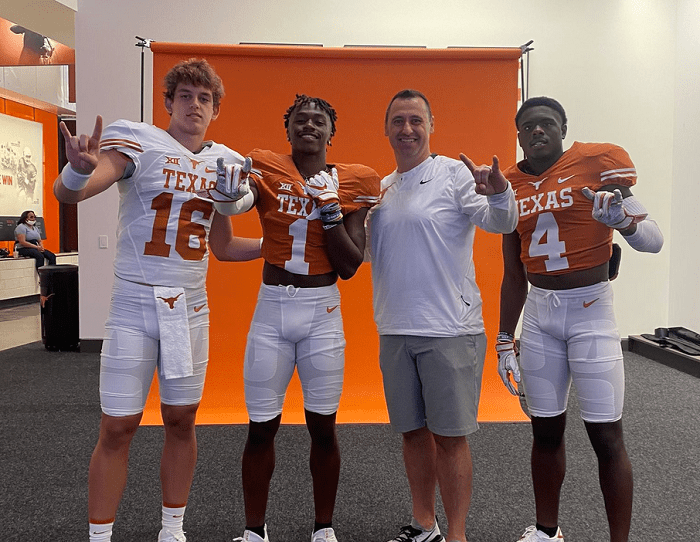 The recruitment of 2023 QB Arch Manning is one of the most closely watched in recent college football memory. He's a five-star prospect and the consensus No. 1 recruit in America in next year's class.
And with that, a new report from 247Sports says Manning has eliminated Clemson from consideration after a pair of visits.
"Manning is currently playing basketball and did not take any visits in January," Steve Wiltfong wrote. "There is evidence he is also narrowing his list recently removing Clemson, another program he visited twice, from consideration."
Without Clemson under consideration, Manning's final list is believed to include the Texas Longhorns, along with Georgia, Alabama and Ole Miss. Obviously Ole Miss has the family connection, with grandfather Archie, father Cooper and uncle Eli all playing for the Rebels.
The Longhorns did add former five-star QB Quinn Ewers this offseason, but Manning has said he won't let that move impact his decision.
"I think there are going to be good players everywhere," Manning said in an interview with On3.com. "You can't really look at it based off other players and depth charts. I think you just have to find the best place for you. [Ewers] is a really good player. I stay in touch with him. He's a good guy. I'm excited to see what he can do this year and hear all about it."
Manning also said in late December, "I'm not really looking to make a decision any time soon because of all the stuff that goes on. Changes with coaches and everything, it's been crazy."
It should also be noted that Manning has received visits recently from LSU's Brian Kelly and Florida's Billy Napier, while Oklahoma is also trying to make a run as new OC Jeff Lebby paid a visit last month.
But with Manning in no rush, this will remain the most-watched recruitment in recent memory over the coming months.